Former CBS News anchor Dan Rather on Sunday had some words of advice -- and caution -- for journalists covering presumptive GOP nominee Donald Trump.
Rather criticized cable news networks' wall-to-wall coverage of the real estate mogul and warned that they may have been "complicit" in Trump's rise to the top of the GOP field.
"What I worry about is, in a way, the media is a political partner, a business partner of Donald Trump," Rather said on CNN's "Reliable Sources."
"The media wants the ratings," he went on. "Trump delivers the ratings. In a way, they're business partners."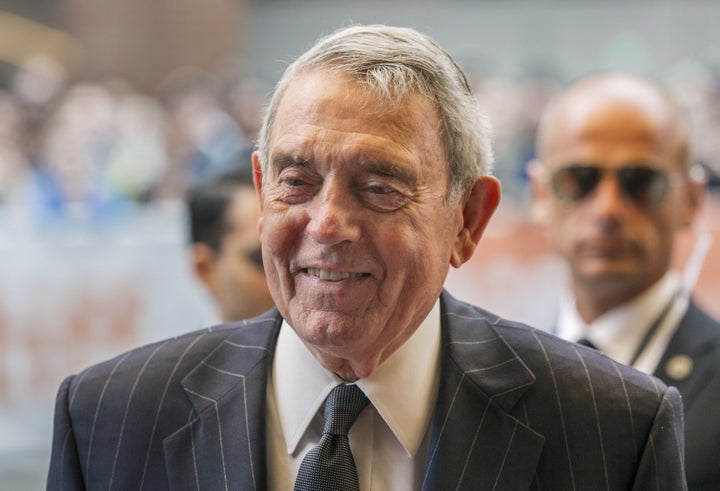 "I think there has been some media complicity in the rise of Trump. It's not the only factor, but it has been a factor of providing him so much airtime, and in some cases being complicit in arranging that airtime," he said.
The former anchor stopped short of recommending a cable news "blackout" of Trump, but suggested that the networks should try to afford an equivalent amount of airtime to other candidates.
"The role of the journalist is to be an adversary, so I think the defense is, make an editorial judgment, make sure you offer the same to the other side," he said. "I'm not sure you want to have him live three times a day for an hour and a half at a time."
Rather acknowledged that Trump is "very media-savvy," particularly in making himself available to the cable news networks, and suggested that Trump purposely schedules press conferences and events when viewers are paying attention. Trump also conducts frequent television interviews, often via phone. 
This is one area in which the real estate mogul excels in comparison to his Democratic opponent Hillary Clinton, Rather said. And it could make it possible for Trump to defeat her in November.
"I'm of the belief, having covered politics for a long time, that people by and large go by the tone of the person," Rather said.
"People can come out of a Trump speech and say, 'What do you think about him saying, possibly rearming the Japanese with a nuclear weapon?' 'I don't know, I didn't hear all that clearly, but I like the guy.' That's tone, and Trump has mastered it," he went on. "It's one reason that if you're a Democrat and want Hillary Clinton elected, you should be very, very afraid coming into November."
Calling all HuffPost superfans!
Sign up for membership to become a founding member and help shape HuffPost's next chapter
BEFORE YOU GO
PHOTO GALLERY
Anti-Trump Street Art From Around The World