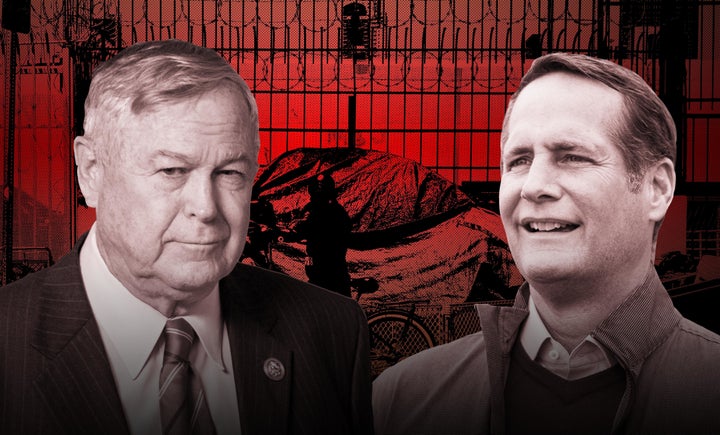 Rep. Dana Rohrabacher, the surfing, pro-pot California Republican famous for being recruited by Russian spies, has represented most of ultra-wealthy Orange County for nearly 30 years. During that time, Rohrabacher, who views homelessness as a choice, has worked tirelessly to keep homeless people out of his district. Now, with a blue wave threatening, he's facing a tough race for the first time in years — and his challenger is a man who once helped open a homeless shelter.
The re-election contest hasn't prompted Rohrabacher to take a more compassionate tone on homelessness. Far from it: "As a parent who owns a modest home in an Orange County neighborhood [Ed. note: it's listed at $1.6 million], I join the outrage that we are assuming responsibility for homeless people, taking care of their basic needs and elongating their agony by removing the necessity to make fundamental decisions about the way they live their lives," he wrote in March in a furious response to Orange County supervisors' plan to create emergency homeless shelters in the county.
"Yes, we are sympathetic with anyone and everyone suffering in such awful circumstances, but realize we do not do any good by making it easier for someone to make a decision to change self-destructive behavior and we certainly don't want more such confused and demoralized people trekking through our neighborhoods, day and night," Rohrabacher continued. "And especially, we don't want to encourage more to head in our direction."
Although housing advocates criticize Rohrabacher's not-in-my-backyard attitude, it is a politically savvy stance for a man who represents a warren of gated communities, where plenty of residents agree with him. After county supervisors decided in March to create more homeless shelters, more than 1,000 protesters gathered outside the supervisors' next meeting carrying signs that read: "No Tent City in Irvine" and "No Drugs Near Our Schools," the Wall Street Journal reported. About a week after the vote ― and under pressure from Rohrabacher and his allies ― county supervisors reversed their plan for the new shelters.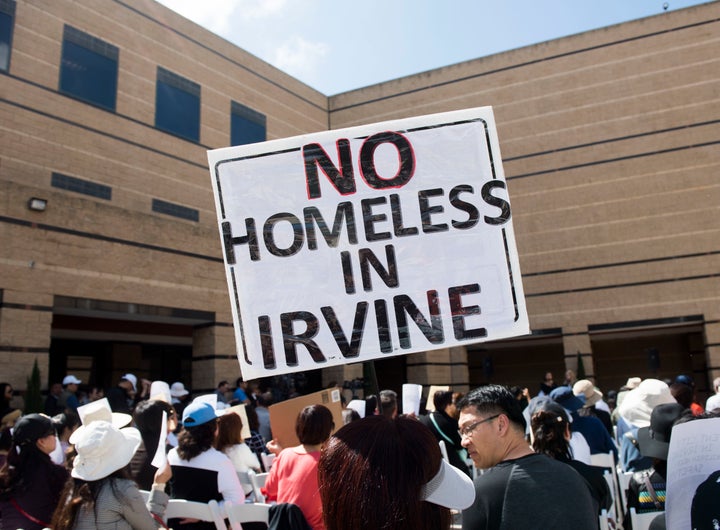 "Everyone will say we need to give people housing, it just shouldn't be here," said Linda Lehnkering, a member of the Anaheim Poverty Task Force, which works to alleviate homelessness and poverty in the city.  
Standing up for homeless people in Orange County could be a political risk. But Rohrabacher's opponent, businessman Harley Rouda, has called for more federal funding to provide housing for homeless residents in the area. Lawmakers in Washington need to "show compassion and moral leadership on the issue of homelessness," Rouda wrote in an August Los Angeles Times op-ed. 
Rohrabacher declined to be interviewed. His campaign spokesman Dale Neugebauer blamed the Democrats for the area's homelessness problem. "Housing prices are very high in Southern California, largely due to the failed policies enacted by Democrats who control of [sic] the state government which impede [sic] new construction and make [sic] it more expensive," Neugebauer wrote in an email.
Neugebauer claimed that Rohrabacher is "one of the poorest members of Congress" and that Rouda's wealth shields him "from the impacts of homelessness, unchecked illegal immigration and the proliferation of sober living homes."
"It's no surprise Harley Rouda wants to throw more money at the problem.  It's hard to imagine any group he wouldn't shower with our tax dollars," Neugebauer said. "After all, he's already on the record saying he'd use funds intended for Americans to provide Medicare and Medicaid benefits to illegal aliens (which would attract millions more here)."
In response, Rouda campaign spokesman Jack d'Annibale suggested  Rohrabacher participate in a public debate with Rouda.  
Rouda's interest in homelessness policy dates back to the 1980s, when his wife read a New Yorker article that described how gender-specific shelters often forced families to split up after losing their home — "Much like we're seeing now at the southern border," Rouda said in an interview — so he and his wife opened a new shelter in Columbus, Ohio, where families could stay together.
Since then, he has seen firsthand how easily working-class families can lose their homes — and how a modest amount of support can help them get back into a stable living situation, he said. Last spring, Rouda visited Colette's Children's Home, a shelter in Orange County, to meet with the director. During his visit, a professionally dressed woman came in and told the director that she and her daughter had stayed at the shelter several years ago after she lost her real estate job and was diagnosed with a serious illness. She had returned to the shelter to show the director her daughter's diploma from Duke University and her acceptance letter to Oxford University.
"This was not a lifestyle decision," Rouda said of the woman who visited the shelter. "It was a life-or-death situation and someone with compassion recognized that she needed a helping hand."
Her experience isn't uncommon. Job loss and the high cost of housing are the top two factors that lead to homelessness, a 2017 University of California, Irvine study found.
Despite the growing homeless population in Orange County, homelessness policy is not at the forefront of either Rohrabacher or Rouda's campaigns. But it is an issue voters care about. In an Orange County voter survey from last year, respondents listed "affordable housing/living" and "homelessness/poverty" as the biggest issues facing the county. And with a lawsuit challenging the county's policies on the matter, it will becoming increasingly hard for politicians to ignore.
We certainly don't want more such confused and demoralized people trekking through our neighborhoods, day and night.

Rep. Dana Rohrabacher (R-Calif.), referring to people who are homeless
Orange County's exceptionally high cost of living and extreme shortage of affordable housing has created  a "perfect storm for homelessness," Eve Garrow, an ACLU homelessness policy analyst, wrote in a 2016 report. The county doesn't do a good job tracking how many residents are homeless, but the last estimate from a January 2017 survey documented 4,792 homeless people, a 5 percent increase from the previous count in 2015. The numbers from those "point-in-time" surveys are likely much lower than the actual number of homeless people, Susan Price, Orange County's homeless czar, told reporters in August. Orange County is planning to conduct a more thorough count over a 10-day period in January.
The county has floated the idea of ramping up investment in affordable housing for years. County officials approved a draft plan in 2010 to invest in affordable housing, but implementation has stalled. In the absence of providing housing or shelter, Orange County officials have primarily dealt with homelessness by enforcing anti-camping ordinances that essentially criminalize the inability to afford a home.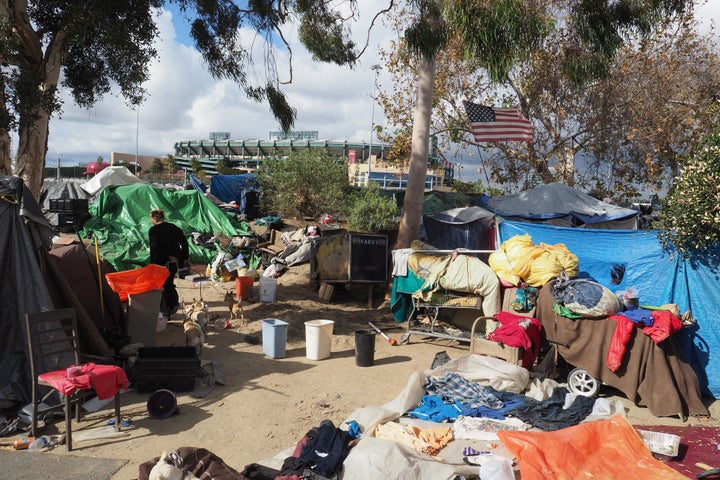 In January, advocates for homeless residents sued in federal court to block county officials from arresting or citing people who sleep in public spaces. The complaint alleged that city and county policies were punishing residents who were forced into homelessness by local government policies. The judge presiding over the case appeared to agree: He ordered county officials to find shelter for the hundreds of people who were forced out of a homeless camp near the Santa Ana riverbed. County supervisors voted in March to fund permanent housing for the homeless and temporary shelters. Then the protests started, Rohrabacher weighed in, and the supervisors reversed their decision.
But Orange County won't be able to ignore its homelessness problem much longer. The judge presiding over the federal lawsuit has instructed the county to create shelters with at least 1,550 additional beds by the end of the year — enough for 60 percent of the unsheltered homeless population, according to a 2017 count.
Adding shelter beds is a good first step, "but shelters are only as successful as there is housing for folks to exit the shelter into," Lehnkering said.
Rouda thinks he can convince voters that it is in their best interest to get behind housing for the homeless — even if they are not motivated by humanitarianism. In his August op-ed, he pointed to the UC Irvine study, which found that the county could save $42 million a year by moving people who are homeless into subsidized housing.
"You can have a debate about where's the best place to provide shelters and services — but the right way to do it isn't to say, 'Not in my backyard,'" Rouda said. "It's already in our backyard!"
Rohrabacher, who did not respond to a request for comment, has a different solution in mind. "The Board of Supervisors need to send buses to the Orange County homeless occupants," he wrote in March. "Put these folks onto the buses and drop them on the steps of [Governor] Jerry Brown, or perhaps on the front lawn of [House Minority Leader] Nancy Pelosi's mansion."
Calling all HuffPost superfans!
Sign up for membership to become a founding member and help shape HuffPost's next chapter
BEFORE YOU GO