In October 1993, a truck driver fell asleep on the Maine Turnpike and killed Daphne Izer's son, Jeff.
Izer learned the horrifying details of her son's death soon enough. He and four other teenagers -- Jeff was 17 -- had parked in the breakdown lane after their car started to overheat. A tractor-trailer rolled over the car, killing Jeff and three other teens and seriously injuring the lone survivor. The driver didn't face any manslaughter charges, because drowsy driving is not punishable by law in the state of Maine. He only got three months in jail for falsely logging his work hours.
PATT has helped install rumble strips on Maine highways, and helped increase the amount of damages that can be awarded to the families of victims like their son. The group's work has led to recognition from the White House. The Huffington Post recently spoke with Izer to learn more about her work and her hopes for the future of truck driving.
This interview has been edited for clarity.
What is the legislative accomplishment you are most proud of having lobbied for?
On the state level, we lobbied successfully for a bill called the "Tired Trucker Bill" that holds trucking companies accountable for injury and/or death caused by their drivers. I don't know if anyone has been prosecuted under it yet, but it would provide for prosecution in cases like our son's accident.
Also, when our son was killed, our compensation for his death was just $75,000, which was the maximum amount. Since then, we've increased the cap on damages to $500,000. It's not just about the money -- the changes don't affect us retroactively. It's about sending a message that this is a serious crime.
Why are FedEx and similar transport companies so resistant to reforming their labor practices? Have you made any steps forward in that fight against corporations?
We haven't personally engaged with them -- our focus is more on the legislative and governmental front. But I do know that J.B. Hunt, a big transport corporation, was recently given an award for safe trucking practices, so there are signs that they are improving, slowly.
What has your experience been like running a national network for survivors and families of drowsy driving victims? What kind of stories do other parents share with you?
I'm going to be honest with you, it is very draining.
One time, a few years ago, when I was still working -- I am now retired -- I was stepping out the door to go to work, and a woman called me and said her little girl was killed by a truck driver. And I just about gave it up. It hit me like a ton of bricks. But you go on.
My husband and I have talked to hundreds of families, many of whose stories are eerily similar to ours. By doing what we've been doing, I think it's been kind of a grief support for us.
Can you talk more about the rumble strips you have worked to get installed in Maine highways? What are they, and why are they important?
This was a change we lobbied for in the '90s, shortly after the accident. Rumble strips are [a] textured road safety feature that causes tactile vibrations and a loud noise if a driver drifts onto them. It's a way to deter, or wake up, tired drivers. We feel like it's an easy, life-saving addition to the roads; it may have saved my son and his three friends. We successfully lobbied to get them installed on several highways in Maine and some local roads as well.
Testing for fatigue while driving is notoriously difficult. Are there any technologies you are hopeful about?
One promising technology is the use of EEG [electroencephalograms] to measure someone's brain waves and detect if they are becoming drowsy. There are some really cool prototypes, including ones so small that you could install it in a "smart" baseball cap. There has been research into using Doppler radar to track fatigue, and we've also heard about several new technologies that track body signs like eye movements and pulse to detect drowsiness. I don't think any of them are at the stage where they can be widely installed in cars yet, but we're getting there.
For truck drivers specifically, we welcome the widespread use of electronic logging devices. When they used paper to log their hours, many drivers were illicitly overworking. This is exactly what happened to the driver who killed my son, for instance. These devices help prevent them from being pushed to the limit, because they can't falsify electronic logs.
You know, the old pen-and-paper logs were referred to as "comic books" by truckers and officials alike because they were such a joke. Everyone habitually lied about their hours. Hopefully this marks a culture shift.
Do you think regular drivers, not just truckers, should face laws against drowsy driving?
Oh yes. For all aspects of drowsy or distracted driving, regardless of who's at the wheel, there should be consequences. I really think this issue is on par with drunk driving, which most of us are aware is extremely dangerous. We have a slogan: "Drunk drivers have slowed responses. Sleepy drivers have no responses."
Which elected officials have shown leadership on the issue of regulating truck driving?
The late Senator [Frank] Lautenberg [D-N.J.] was awesome. He used to block a lot of the dangerous measures to increase truck drivers' work hours. Sen. [Cory] Booker [D-N.J.], who took his place, is also a great advocate for truck safety. And Sen. [Richard] Blumenthal [D-Conn.] has lobbied against bigger trucks, which are more dangerous.
On the House side, we rely on Rep. [Grace] Napolitano [D-Calif.], who advocates for rest breaks. Rep. [David] Price [D-N.C.], the head of the transportation subcommittee, also does his best... against Congress' tendency to stall meaningful legislation.
By the way, the total number of truck crashes has increased steadily from 2009 to 2014, despite their best efforts. So we have a long way to go. It doesn't make sense that federal officials, like our own Sen. Susan Collins [R-Maine], are against making the law stronger. It just shows that they are getting money from the trucking industry.
Do you ever speak with truck drivers about their side of the issue?
Yes, we've talked to hundreds of truck drivers. And by now, we almost know what they are going to tell us every time they call. It's the same stories over and over.
First, they always complain about the lack of rest areas. Many of them close at night, when they are most needed, so drivers have to pull over to catch a nap, and then they are woken up by police. We've worked on the rest stops issue for years but haven't been able to accomplish much, unfortunately.
Second, even with better logging, they work more hours than it seems because they don't always record things like loading and unloading trucks. The clock only starts when the engine does. We need to take things like that into account if we are to reform their work hours.
Plus, trucks have just gotten bigger and bigger, up to 100,000 pounds, which is harder to drive and more dangerous. In Maine, the main example of that [is] logging trucks.
Truck drivers tend not to speak out because they fear for losing their jobs. So in a way, we've become a voice for truck drivers, too. We can speak where they cannot.
What's next on your agenda with PATT?
Congress is working to loosen hours-of-service laws, and we are really trying to prevent that from passing. We go to Washington fairly often to say our part. The trucking industry has well-paid lobbyists, and we're all volunteers -- but I think we're making a big difference.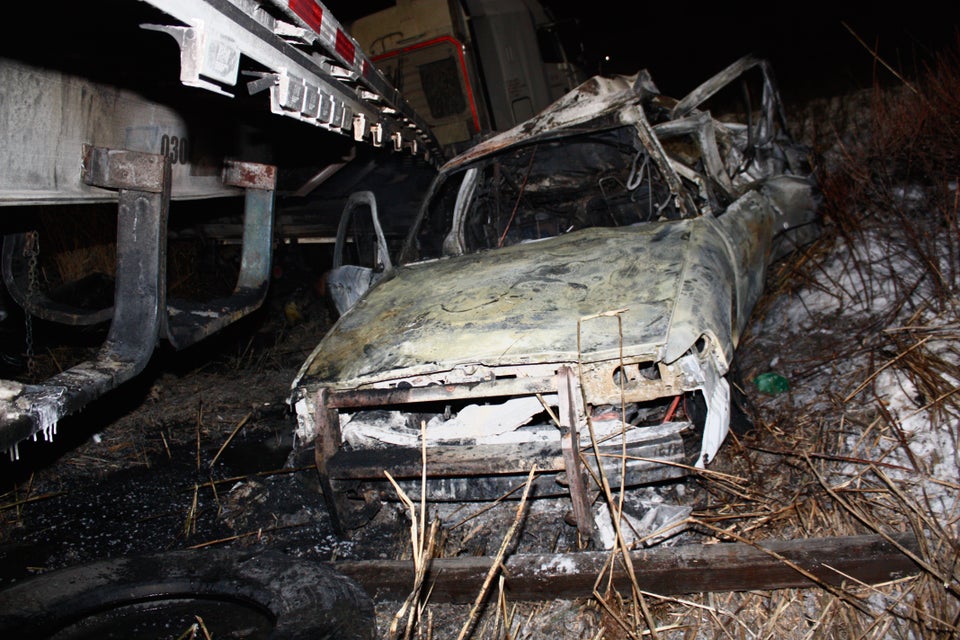 Fatigued Truckers Cause Horrifying Wreckage