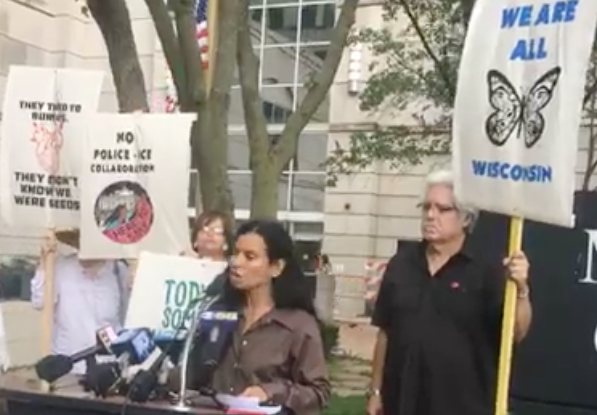 A group of immigrant and justice activists has called out Milwaukee County acting sheriff Richard Schmidt over multiple deaths in the local jail while he served under controversial former sheriff and one-time Donald Trump surrogate David Clarke.
Seven inmates died in the jail during an 18-month period between 2016 and 2017. Five of those occurred when Clarke was sheriff and Schmidt was his top deputy. One of the deaths was a baby born behind bars in 2016. Two additional deaths occurred after Clarke resigned after a string of controversies.
"While Clarke was out campaigning in 2016, it was Richard Schmidt who was in charge of the jail system," attorney James Gende said in a statement at a press conference last week.
Schmidt has insisted he made "transformative" changes in the county jail system after Clarke left, which he was not allowed to do earlier, Fox TV 6 reported. An angry Clarke called into a radio station earlier this year when Schmidt made similar statements, calling them "political opportunism" and a "cheap political shot." He said that during his time as sheriff, the jail was Schmidt's responsibility.
Schmidt also came under fire last week for what critics called his "collaboration" with the U.S. Immigration and Customs Enforcement agency in the arrests of undocumented immigrants. Christine Neumann-Ortiz, executive director of Voces de la Frontera Action, called such cooperation part of Trump's "machinery of mass deportation that is leading to the breakup of families at the border and in Wisconsin at a tragic level."
An angry Schmidt said his deputies only detain "violent felons," not undocumented immigrants, at ICE's request. He also said that immigrants shouldn't fear coming to his office in an emergency.
Schmidt, who also works as an evangelical minister, was sharply criticized last month when a 2017 religious podcast surfaced in which he said that women in abusive relationships should "submit" to their spouses. He said after the ensuing uproar that it's "common sense" that women should leave violent relationships.
Neumann-Ortiz told Huffpost on Saturday that the issues being spotlighted in Wisconsin are being played out across America. "The fight in the Milwaukee County sheriff's election is a national fight," she said.
Popular in the Community