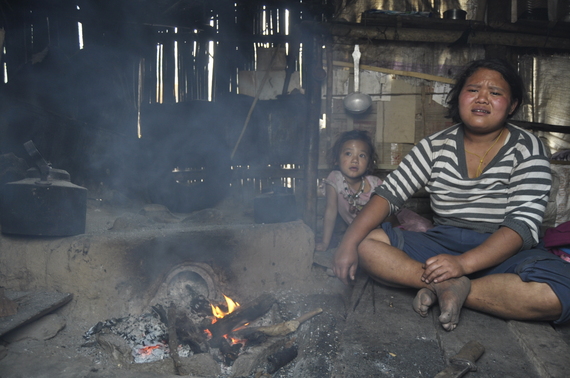 An estimated 4.3 million people die every year (491 per hour) from diseases following household air pollution. This exceeds the number of people who die from AIDS, malaria and tuberculosis -- combined. A Bhutanese and Danish-based group hopes to solve this problem by using existing technology to provide a combination of fuel cookies and smokeless stoves.
They are described as "the forgotten 3 billion" by WHO. These forgotten 3 billion make up nearly half the world's population and still cook their food on open fires using firewood, coal and animal dung as their fuel. Doing so is not harmless. On the contrary, they are being exposed to high levels of household air pollution that cause a number of diseases ranging from pneumonia to strokes and lung cancer.
Women are mostly tasked with the day to day cooking and while spending hours in front of the fires, stirring their pots and keeping a watchful eye on their children, they breathe in the toxic smoke. It is not surprising then that most of the 4.3 million deaths that happen per year are women and children in low- and middle-income countries.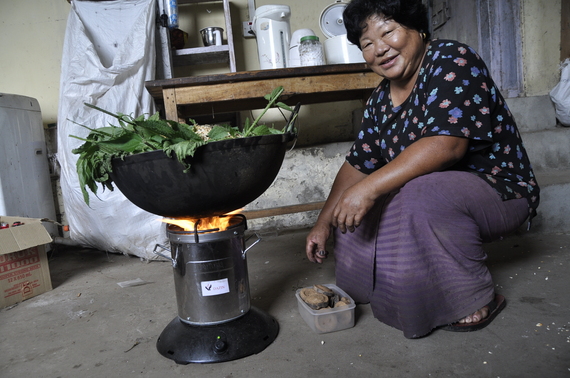 The solution to this fatal problem is something as simple as a stove. Smokeless stoves will not only make it safer for people to cook but also help the environment by eliminating black carbon emissions. Stoves alone are however not a long-term solution. People living below poverty line are unable to cope with the high costs for purchase and maintenance of stoves. Therefore, providing a long-term affordable and cleaner alternative is crucial. Household air pollution is not just a threat to the people in front of the fire - it affects all of us. Burning biomass on open fires releases a huge amount of carbon and black carbon, which contributes to global climate change.
In the Kingdom of Bhutan alone, a small country located in the Himalayas, 70 percent of households use firewood and other forestry waste for cooking, exposing them to the harmful smoke on a daily basis. The cooperative organization Dazin, based in Bhutan and Denmark, seeks to eliminate household air pollution by their inclusive model of fuel + stove solution. Rural people in Bhutan gives their wood waste to Dazin, instead of burning it in an open fire. This crowdsourced wood waste is made into condensed fuel 'cookie' -- small and efficient briquettes. The rural households get back smokeless cookstove on lease and enough fuel cookies to cover their needs. The surplus fuel made from their crowdsourced wood waste due to the efficiency of Fuel + Stove solution, is sold at a competitive price to urban customers (restaurants, households, schools, etc.) ensuring economic sustainability and further development.
Dazin's crowdfunding campaign aims to raise $40.000 by Sunday September the 6th. The funding will initially benefit 2000 people in Bhutan with stoves and fuel cookies in the upcoming winter. Dazin seeks to replicate the concept in other areas and reduce carbon emissions from residential fuel usage.
Let's Cook Up a Better Future and give rural communities access to a sustainable fuel source and a smokeless gasifying stove! Dazin believes that people, planet and profit can combine to make positive change. Take action now by pledging your support, and be part of Dazin's amazing journey to save lives today.
Calling all HuffPost superfans!
Sign up for membership to become a founding member and help shape HuffPost's next chapter