WASHINGTON -- Marijuana advocates in the District have a few friends on the D.C. Council.
D.C. Councilmember Tommy Wells (D-Ward 6) unveiled a bill Wednesday morning that would decriminalize possession of small amounts of marijuana, according to WUSA9.
Under the bill, anyone caught with less than one ounce of marijuana would face a civil penalty of a $100 fine. Under current law, possession of marijuana is a misdemeanor offense; first-time offenders face up to six months in prison and a $1,000 fine.
At a press conference, Wells said that the purpose of decriminalization is to save youths caught with marijuana from losing employment opportunities in the future.
"Once you have a marijuana charge on your record, you cannot participate in certainly the construction boom that is happening all over the city, and it works to stigmatize people ... and it disadvantages them from jobs," Wells said, according to The Washington Post.
A report by the American Civil Liberties Union in June found that D.C. leads the nation in marijuana possession arrests per capita, with a rate more than three times higher than the national average. The ACLU also found that nationally African Americans are 3.73 times more likely to be arrested for marijuana possession than whites, even though the two groups use marijuana at a nearly equal rate.
The proposed legislation was hailed by marijuana advocacy organizations.
"It is time to adopt a more sensible marijuana policy in our nation's capital, and that is what Councilman Wells has proposed," said Morgan Fox, a spokesman for the Marijuana Policy Project, in a press release.
According to surveys, the majority of D.C. residents support decriminalizing and legalizing marijuana. A poll conducted by Public Policy Polling in April found that 75 percent of D.C. residents support decriminalizing possession of small amounts of marijuana and that 63 percent support legalizing and taxing marijuana for those 21 and older.
Mayor Vincent Gray, however, has said that the District should focus on the implementation of its medical marijuana program before considering the decriminalization of marijuana more broadly.
Council Chairman Phil Mendelson (D) is also skeptical of decriminalizing marijuana, citing federal concerns.
"I don't think it's the right time," Mendelson told the Post in May, adding, "I don't think decriminalization of marijuana will go over easily with Congress."
If the District does decriminalize marijuana for personal use, it would join 14 states that already have similar laws on the books.
This story has been updated to note the introduction of the D.C. Council bill with multiple co-sponsors.
Before You Go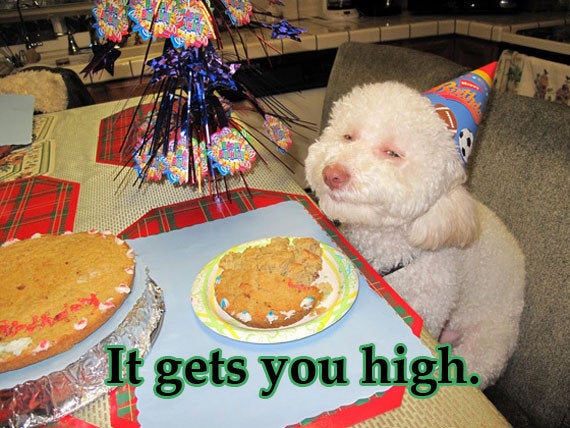 High Dogs Give Marijuana Facts
Popular in the Community