Andrea Beaton was being practical.
One of the final requirements of the global health track of her general pediatric residency program was spending eight weeks working in a developing country. Knowing that a leader at her next employer already was doing amazing work in Uganda, off she went to that impoverished-yet-improving African nation.
Her aim was studying a rare heart muscle disease. Instead, she was overwhelmed by something so basic, so simple.
In Uganda, sore throats -- strep, actually -- are so common that kids don't complain about it and aren't treated for it. This can create problems in their heart valves. And for some children, each round of strep causes more problems to those valves. This can lead to rheumatic heart disease (RHD), a painful path to death.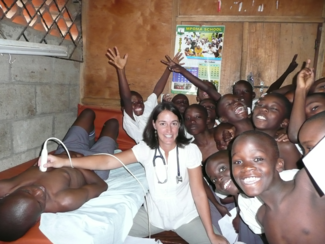 RHD once tormented our country, too. I'm proud to say that stomping it was among the first great feats by my organization, the American Heart Association. Dr. Beaton knew that and wanted to help do the same in Uganda.
This was just a few years ago, in 2009. She returned for six months in Kampala, the capital city, and has since launched a program in the Northern Ugandan city of Gulu that not only treats RHD but, most of all, detects it in kids who are in such early stages that they aren't showing any signs. The results are terrific, as is the growth and the potential for the program to be expanded and replicated throughout Uganda.
As we continue celebrating the season of giving, Dr. Beaton's work abroad is a shining example of selfless devotion.
She continues making regular trips to serve the children there even while starting her own family. In fact, she was there while pregnant with Kate (who just turned 3) and again with David (10 months). She also remains connected to the program from her hospital, Children's National Health System, in Washington, D.C., via the Internet. It's my pleasure to turn this spot over to her for more insight.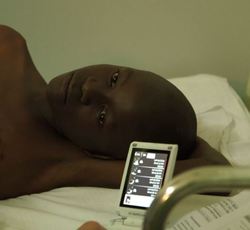 His name is Mike. He was 8 when we met in 2010, at the start of my work in Gulu.
He was at a school with the lowest resources, a poor place even by Ugandan standards. He was sitting in class, going about his daily life without even knowing he had very advanced rheumatic heart disease.
Of the 72 children in my initial study, Mike is the only one whose condition has deteriorated.
Four years later, he remains sweet and filled with smiles. He's also very skinny because his damaged heart has to burn so many calories just to keep him alive. He can't run and play with other kids because he's always out of breath. He's too sick to attend school. His mother gave up her job selling fruit and vegetables to care for him. Her dreams of him bucking the odds and attending secondary school (high school) have been reduced to dreams of him bucking the odds and living into adulthood.
Mike is the reason I do what I do. He inspires me, although not in the traditional sense. My motivation is keeping more kids from being like him.
Sadly, Mike's case is not all that unusual. He's in jeopardy of joining the 1.4 million RHD-related deaths each year, a figure that is mostly comprised of kids and young adults.
What makes his case so agonizing to me is that if we'd arrived earlier, Mike could have been protected like the other 71 kids we treated.
Let me back up a little and explain why this is such a nightmare.
Strep is a disease of poverty, poor sanitation, overcrowding and other factors that are all around in Uganda. While a child's autoimmune system can fight off the infection, their body can also overreact in a way that damages their heart valves, the doors that open and close to allow blood to move through the heart. The damage gets progressively worse every time there's another infection -- and, remember, it's a matter of when they get infected again, not if, because of their strep-friendly environment.
The valve damage typically accumulates over a large window of time, leaving plenty of opportunity to intervene. Sometimes, the damage can be reversed; other times, it can be stabilized. Alas, there are several major obstacles to all of this:
Sore throats are such a basic fact of life that it's rare for anyone to seek treatment.
Even if they did, treatment is nearly impossible to find in a country with 12,500 people for every doctor, one of the worst such ratios in the world. And if they did see a doctor, the strep culture exams we take for granted is not widely available in Uganda.
Valve damage often isn't evident until it is very advanced. So a child's condition can be worsening without them even realizing it.
Let me explain how our early intervention program* works.
* The full name is Screening, Treatment, and Prevention of Rheumatic Heart Disease in Uganda, which forms the acronym "SToP RHD Uganda." It's a collaboration with several institutions, including my employer, Children's National Health System in Washington, D.C., Case Western Reserve University in Cleveland and the Ugandan Heart Institute.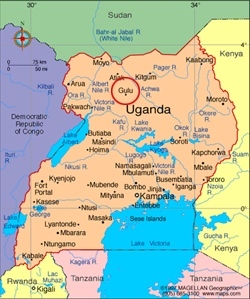 Using a device about the size of a cell phone, a trained health care worker in Gulu takes an echocardiogram of a child's heart. The test is read by Dr. Twalib Aliku, the first pediatric cardiologist ever trained in Uganda, or -- thanks to the Internet -- in D.C. by myself or my Children's National colleague Dr. Craig Sable, the pioneer who blazed the trail I followed to Uganda.
Those who test positive become patients of Dr. Aliku. Once a month, they receive their treatment: a penicillin shot.
The combined cost of the ultrasound and the penicillin shot: about $1.
In the last 18 months, we've performed about 10,000 ultrasounds on children ages 5 to 12, uncovering about 200 positive results. This fits Uganda's national prevalence rate of 2-3 cases per 100 kids.
Our next big step is training nurses to interpret the echocardiograms. We're getting closer, having done a test this summer in which nurses evaluated the same 1,000 tests as trained experts. The full results have yet to be published, but I can tell you they're quite good, especially in cases where the condition was farther along.
We'd also like to expand our scope, spreading our base from Gulu to surrounding areas. We realize we won't be able to cover the entire country, which is why our ultimate goal is persuading Uganda's ministry of health to prioritize RHD in their public health policy.
This will require a sophisticated cost-benefit analysis and other research. We believe when you factor in the huge burden of treating advanced RHD, plus the death toll, the numbers will show that investing in early detection makes sense. It also helps that our work so far shows we can make a huge impact for a relatively low price.
We've been successful in part because of how the Ugandan people have welcomed us.
Because every family has or knows someone who has died young because of RHD, they've been receptive to having their youths screened. We also broke down cultural barriers by explaining they haven't done anything wrong -- it's just an ever-present infection that's found them. Now that they understand what we are doing and why, we have a waiting list of schools wanting their students screened.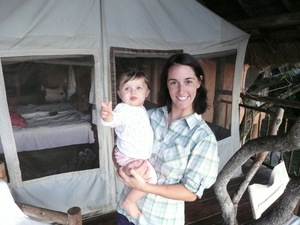 I've been there about 10 times, spending about a year in total.
Kids there call me "Dr. Andrea" -- or Dr. "Muzungu," the Swahili term for white person. One of my favorite memories is taking walks and constantly hearing, "Dr. Muzungu! You checked my heart!" Parents often thank me, particularly when their child is among those who tested positive and are now being treated, offering them a chance at a full life. It's incredibly gratifying, and it's why this battle has become so personal.
My last trip was in July, making this the longest I've gone without visiting. That's a good thing because it shows the progress being made on their end. While this will always be a part of my life, I look forward to a day when they won't need me.
We're very fortunate to have incredibly talented, incredibly motivated people there. They want to make their situation better for their people -- for Mike, and the countless thousands more like him.
Click here to learn more about Dr. Beaton and her mission to prevent children like Mike from developing the devastating complications of RHD.