Racism. Let's talk about it. Plenty of people mentally wander to a different place when the topic of racism arises -- a place somewhere between discomfort and distrust. While this is a congested intersection, it's not a bad spot to park. On the contrary, this is exactly where we should go and dwell when the the subject of racism surfaces because it may be the only way we can work toward getting unstuck.
That's why I was in some ways pleased when I saw the Gawker blog post "Smiling Young White People Make App For Avoiding Black Neighborhoods" in my Facebook newsfeed late last night. In this post, Sam Biddle writes that the new app, SketchFactor, which launched today, is a "racist app made for avoiding 'sketchy' neighborhoods, which is the term young white people use to describe places where they don't feel safe because they watched all five seasons of The Wire."
Now hey, I love The Wire, and I appreciate the blogosphere for cultivating a community of liberated writers who can quickly and publicly share their views. But what I'm not understanding is why Biddle didn't reach out to SketchFactor's founders, Allison McGuire and Daniel Herrington, for an interview or even a mere quote to explain their intentions for the app before he published the post and before the app went live.
*Full disclosure: I met McGuire almost a year ago during UN Week at a lunch I organized for nonprofit leaders.*
After reading the Gawker writeup, I emailed McGuire asking her if she'd be interested in being interviewed so she can share her goals for SketchFactor. She said yes immediately, and wrote "for the record, the author of the Gawker post *never* talked to us." Since the article has gone live, McGuire and Herrington have received dozens of messages via social media saying that they should be raped, stabbed and killed.
"The goal of SketchFactor," is to improve city navigation on foot and shed light on trouble spots throughout cities across the U.S," says McQuire. "One of the categories people can report on is racial profiling."
This means if you feel like you're being racially profiled you can report the incident to SketchFactor as being "sketchy" whether you're black, white, yellow, red or polka dotted and striped. Racial profiling is also highlighted as a main factor on the app's site. Nowhere on the site or within the app does it say that "sketchy" equals black. The Gawker post implies that since the founders are white, they must undoubtedly consider black neighborhoods as sketchy.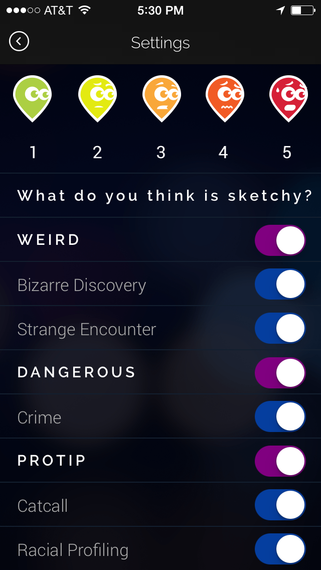 So does SketchFactor sound like a racist app to you, or does it sound like perhaps, a number of readers saw the title of the article and reacted hastily without either fully reading the post or doing any research on the app? Unfortunately, with all the speed and real-time sexiness of social media comes the potential spreading of misinformation or lack there of.
There are a number of apps similar to SketchFactor. There's CitySourced, a mobile civic engagement platform that enable residents to identify civic issues (public safety, quality of life, environmental issues) and report them to their city hall. There's HarassMap, a tool for anyone who has been harassed or assaulted and for witnesses to harassment and assault all over Egypt to anonymously share and report their experiences. There's Protect Brazil, an app designed to facilitate reports of violence against children and adolescents. To my knowledge none of these apps have been deemed racist.
So racism. Let's talk about it. But first let's define it. In the book Portraits of White Racism, David Wellman defines racism as a "system of advantages based on race." By "system" Wellman is referring to beliefs and actions of individuals, as well as institutional practices and policies. Based on this definition, does racism still exist in modern society? While the world has come a long way since Jim Crow laws, racism is still alive. Debates over affirmation action, the exhaustive, controversial and often inaccurate media coverage of the Trayvon Martin case, and the fact that there has been little to no reporting done on any of the 64,000 black women missing in America are indicative of this hard, cold truth.
So let's not make it worse. Good people of the Internet, I encourage you to read everything you can before taking an official stance on topics that spread like wildfire via social media. I implore you to openly discuss anything your heart desires, especially tough topics like racism. But be informed first.
Popular in the Community