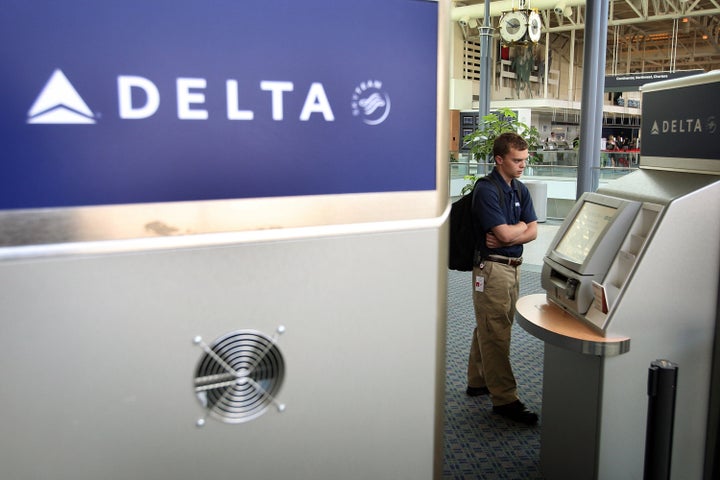 This story has been updated.
WASHINGTON -- Delta Air Lines is facing intense criticism after charging 34 U.S. soldiers returning from Afghanistan $2,800 in baggage fees.
The incident came to light on Tuesday after a couple of the new-media savvy soldiers recorded a video about their ordeal and posted it on YouTube.
"We showed up and found out we had too many bags," said Army Staff Sgt. Robert O'Hair in the video, which was shot on their flight. "We had four bags, and Delta Air Lines only allows three bags. Anything over three bags you have to pay for, even though there's a contract between the United States government and Delta Air Lines: When returning from Afghanistan on military orders, you're authorized up to four bags."
O'Hair added that all the soldiers with a fourth bag had to pay $200 out-of-pocket. The total for the 34 soldiers was more than $2,800. O'Hair's fourth piece of luggage was his weapons case, carrying the tools he used, in his words, to "protect myself and Afghan citizens while I was deployed in the country."
A Delta social media manager identified as Rachael R. responded in a blog post on the company's website on Tuesday, clarifying the airline's policy: "Currently, Active Duty U.S. Military Personnel traveling on orders may check up to 4 bags in First/Business class and 3 bags in Coach for free both domestically and internationally. Additionally, to help with the travel process, we allow each bag to weight an extra 20 pounds over the standard allowance."
She apologized to the Army unit on behalf of Delta and said the airline would be reaching out to each of them personally "to address their concerns and work to correct any issues they have faced." Rachel R. did not say whether the soldiers would be reimbursed.
"A $200 bill for extra baggage by a government-contracted airline is the worst welcome home any soldier could receive," said Joe Davis, director of public affairs for the Veterans of Foreign Wars, in a statement. "We know this is a business issue and that the troops will be reimbursed if they are authorized additional baggage in their orders, but the shock of even being charged is enough to make most servicemen and women simply shake their heads and wonder who or what it is they are protecting."
"Our troops are deployed to war for months at a time -- they aren't packing light for a weekend on the beach. Delta shouldn't be sending the signal that it puts profits ahead of the men and women in uniform. They need to immediately stop charging returning troops for bag checks, and fully reimburse those who already have been charged," added VoteVets.org Chairman and Iraq war veteran Ashwin Madia in a statement.
The overwhelming majority of the comments on the Delta blog post were not on the company's side.
"Having been deployed three times in eight years, I have never had to pay out of pocket for bags on other airlines," wrote a user identifying themselves as brianmcgovern. "Flying with Delta has always been a crap shoot. We can never tell when there will be an issue with baggage, especially once the major airlines got together and started soaking all passengers for baggage fees."
A user named hotberry simply said, "You people should be ashamed of yourselves."
Delta made $3.7 billion in 2010 off of ancillary revenue -- charging passengers for food, drinks and extra baggage.
This story was updated with the statement from VoteVets.
UPDATE: 1:06 p.m. -- Delta has changed its baggage policy for U.S. servicemembers in response to the controversy. Rachel R. put an updated post on the company's blog on Wednesday, announcing the changes and stressing the airline's appreciation for armed forces. Delta's statement, from the site Gadling.com:
ATLANTA, June 8, 2011 – Delta Air Lines (NYSE: DAL) today increased its free checked baggage allotment for U.S. Military traveling on orders in Economy Class to four checked bags.

Delta's revised baggage policy also allows U.S.military personnel travelingon orders in First and Business Class to check up to five bags at no charge. This change also adds dependents traveling with active military on orders. Each bag may weigh up to 70 lbs. (32 kg) and measure up to 80 linear inches (203 cm), which offers added flexibility over the standard 50 lbs. and 62 linear inches (157 cm) allotment. Because of weight, balance and space constraints, Delta Connection carriers will accept up to four bags at no charge.

For personal travel, active military presenting military identification may now check up to two bags weighing 50 pounds (23 kg) or less and measuring 62 inches (158 linear cm) or less in combined length, width and height without charge.

Previously, Delta's policy allotted three free checked bags in Economy Class and four in First and Business Class for military members traveling on orders.

Details of Delta's baggage policy are available on delta.com.
UPDATE: 5:39 p.m. -- A couple of lawmakers also weighed in. Rep. Bruce Braley wrote Delta a letter and issued a statement calling on the airline to reimburse the soldiers: "Since being elected to Congress, I have logged hundreds of thousands of miles on Delta – the only carrier serving my home airport in Waterloo. If Delta doesn't reimburse these soldiers and reconsider its approach to servicing our troops, I'll have to reconsider using their service."
Rep. Joe Courtney (D-Conn.) also sent Delta a letter, asking for "an accounting of Delta's actions in this incident" and a reimbursement of the fees the soldiers paid.
UPDATE: 9:21 p.m. -- Statement from Defense Department spokesperson Cynthia O. Smith:
We have confirmed with Delta that they were already providing four (First, Business Class) and three (Coach) free bags both domestically and internationally for all military members on active duty with orders. In this instance, they followed their policy and allowed three free bags for these travelers, including allowing 20 lbs over the normal maximum weight of 50 lbs for non-military travelers. Delta believes they have one of the most generous baggage policies in the industry.

Soldiers are not typically authorized to fly first or business class. There may be exceptions to this policy, but they are strictly regulated and may only be approved for a very limited number of circumstances; e.g., a medical condition. This policy does not preclude soldiers from upgrading to first or business class at their own expense.

The Department of Defense does not negotiate directly with the airlines on their fees or control costs for excess baggage. However, these fees can be reimbursed and the Joint Federal Travel Regulations authorize such reimbursement (JFTR, par. U3015).

According to GSA, the airlines can charge for excess baggage, even for service members. Detailed information on baggage fees is available on the GSA web site: www.gsa.gov/portal/content/103882.
Related
Popular in the Community