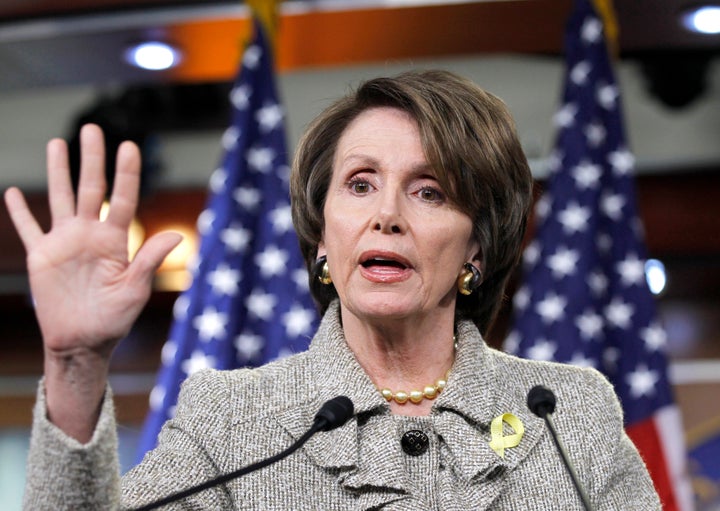 WASHINGTON -- In case it wasn't already apparent how politicized women's health has become on Capitol Hill, House Minority Leader Nancy Pelosi (D-Calif.) announced Tuesday that a Democratic panel will meet this week to hear testimony from just one witness: Sandra Fluke, the woman who House Republicans refused to let testify at their hearing on the birth control rule last week.
Pelosi announced that the House Democratic Steering & Policy Committee will meet Thursday at 10 a.m. to discuss women's health. A senior Democratic aide said it is common practice for party leaders to use that committee to cast a spotlight on overtly political matters.
"We've used the Steering and Policy Committee as a place to highlight what the Republicans ARE NOT doing with their hearings," the aide said in an email. "For example, we held the only hearing on repeal of health reform at the time last year. ... We held a hearing on the risks of default, etc."
Fluke, a 30-year-old Georgetown University law student, made news last week when House Oversight and Government Reform Committee Chairman Darrell Issa (R-Calif.) refused to let her testify at a hearing on contraception and religious liberty. Issa said Democrats had submitted Fluke's name too late for consideration, but Democrats say Issa's real aim was to silence anyone in favor of requiring religiously-affiliated institutions to provide birth control coverage to their employees.
Several Democrats walked out of the hearing to protest Issa's refusal to allow Fluke to testify, in addition to being upset about Republicans picking an almost entirely male cast of witnesses to testify on contraception matters.
According to a copy of her prepared remarks for Issa's hearing, Fluke would have told the story of a classmate who lost an ovary because of a condition that causes ovarian cysts. Georgetown University is affiliated with the Catholic church and does not insure birth control, which is used to treat the classmate's syndrome.
A request for comment from Issa's spokeswoman was not returned, nor was a request for comment from a spokesman for House Speaker John Boehner (R-Ohio).
UPDATE: 6:40 p.m. -- A Democratic leadership aide later told The Huffington Post that House Administration Committee Chairman Dan Lundgren (R-Calif.) had denied a request by Pelosi's office to use the House Recording Studio to publicly air Fluke's testimony.
According to the aide, Pelosi's office on Tuesday put in a request to use the recording studio for Thursday's meeting, only to be told that Lundgren had reversed existing policy and, for the first time in years, will no longer allow Democratic leaders to use the recording studio for hearings connected to the Democratic Steering & Policy Committee. Lundgren also apparently reversed the policy without consulting Democrats on the House Administration Committee.
A Lundgren spokeswoman did not return a request for comment. But a spokesman for Democrats on the House Administration Committee was perplexed by the policy change, particularly since the Democratic Steering & Policy Committee has held eight hearings on various topics since the beginning of 2011, all of which were aired.
"We were surprised to learn about an abrupt change in longstanding bipartisan policy that permitted the recording studio to broadcast these hearings," said Jamie Fleet, Democratic staff director for the committee. "We are confused about why it would be permissible to cover our previous hearings, but not women's health."
Popular in the Community