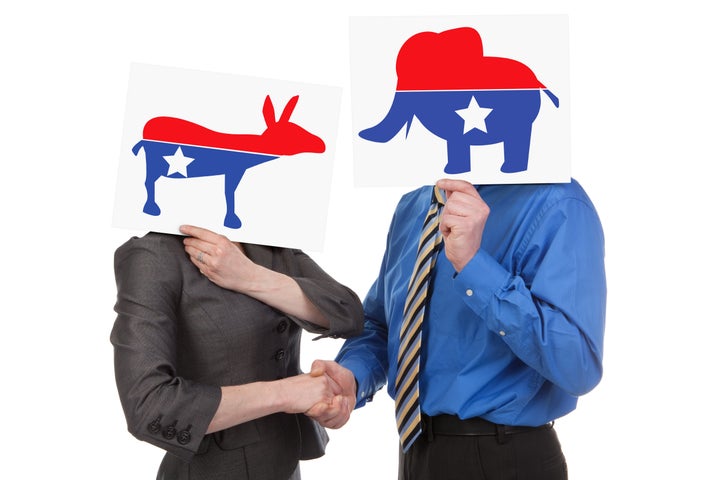 Men and women have different views about gender. But the differences between what men and women say often pale in comparison to the splits along partisan lines, according to a study released Tuesday by Pew Research.
Women, for instance, are 15 points likelier than men to say that the country hasn't gone far enough when it comes to gender equality. By contrast, Democrats are 43 points likelier than Republicans to say the nation has more work to do. That makes the gap separating Democrats and Republicans nearly three times the size of the gap separating men and women.
Similarly, women are 13 points likelier than men to say men have it easier, while Democrats are 30 points likelier than Republicans to hold that view.
And while there's only an 8-point divide between women and men in thinking that there's too little societal emphasis on encouraging girls to be leaders, there's a 25-point partisan divide on the same question. There's also a notable partisan divide on the question of whether society is accepting enough of women who take on gender roles usually associated with men, and vice versa.
It's not just gender that's taken a back seat to partisanship. For Americans, political party now eclipses other demographic factors like race, religion and age as a predictor of their political views. In a HuffPost/YouGov poll taken before last year's election, Americans were more likely to feel they shared common interests with their fellow partisans than with people of the same gender, ethnic background, income level, religion, age group or region.
But within both parties, there are notable differences between men and women on issues like the recent wave of sexual harassment cases brought to light. In another recent HuffPost/YouGov poll, female Democrats ― but not male Democrats ― wanted Sen. Al Franken (D-Minn.) to resign over groping allegations. Similarly, female Republicans, but not male Republicans, wanted Alabama GOP Senate candidate Roy Moore to drop out over the accusations that he preyed on multiple underage girls while in his 30s. Male Democrats were likelier than female Democrats to say that their party handled sexual harassment accusations well, while male Republicans were likelier than female Republicans to say that harassment wasn't a serious issue within the party.
Pew surveyed 4,573 adults between Aug. 8-21 and Sept. 14-28, using an online panel.
Popular in the Community