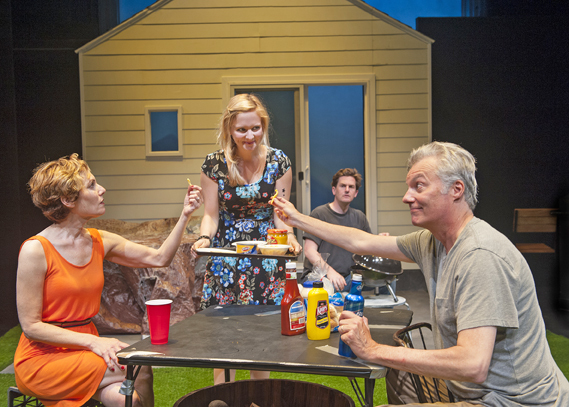 A neighborly gesture: The guests are Amy Resnick and Jeff Garrett, the hostess is Luisa Frasconi, her husband is Patrick Kelly Jones, at rear.
For a play inspired by the economic collapse that befell so many Americans in the past decade, Lisa D'Amour's Detroit has one crucial failing: an almost-total lack of sympathy for the meltdown's victims. It's a Saturday Night Live skit extended to some 90 minutes, delivered with over-the-top goofiness that keeps an audience roaring and leaves any serious concerns outside the theater door.
The satire was a Pulitzer Prize finalist in 2011, presumably because it was so topical, and its current staging at Aurora Theater in Berkeley can't be faulted as lively entertainment. But the subject matter makes me want more: not a social diatribe but a human comedy.
Despite the title, Detroit is not set in that shriveled metropolis or any other specific city. Rather, it's somewhere in mid-American suburbia, on the fringe of a city that was shattered by the Great Recession. D'Amour's tale skims across the illusions, delusions, fantasies, façades, lies and self-deceptions of two couples in a decaying community of tract houses that represented the middle-class American Dream in the decades that followed World War II. Consider the title as metaphor rather than description.
Ben (Jeff Garrett) and Mary (Amy Resnick) were members of that middle class until he lost his job as a loan officer. In middle age, they are squeaking by on her income as a paralegal while he stays home, struggling to develop a website that will let him pursue a career as an online financial adviser. They're relative old-timers in the district, where neighbors have become a vanishing species.
Sharon (Luisa Frasconi) and Kenny (Patrick Kelly Jones) are younger and poorer, scraping by from job to job and home to home in their recovery from addiction to drugs and alcohol. When they move into the house next door, they receive a cheery welcome at a barbecue in Ben and Mary's backyard.
The cheeriness is phony and everyone clearly knows it, but cynical insights are limited to whispers between partners, with darker undercurrents barely visible. It's also hysterically funny.
A friendly greeting is a novel experience for the younger pair, prompting Sharon to gush, "This is awesome. . . . Who invites their neighbors over for dinner anymore?"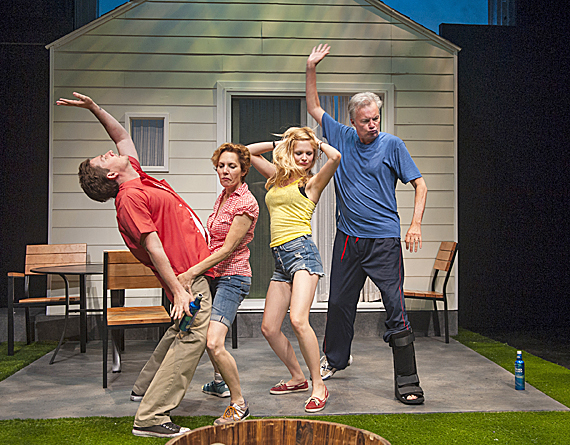 Steamy dancing caps an evening of beer and revelations.
The undercurrents become clearer at subsequent barbecues, and so do the couples' differences and parallels. Ben and Mary welcome their guests with steak, caviar and relatively comfortable outdoor furniture; Sharon and Kenny reciprocate with Cheez Whiz and furnishings that include a plastic crate.
Despite their differences, the women develop bonds and so do the men. Sharon and Mary share confidences and decide to head for the woods on an a camping jaunt; Kenny and Ben let their hair down over Bud Light, and plan a boozy boys' night out.
But short-term plans are no more secure than long-term dreams, and all go up in flames at the close of a night of revelry, revelations and dirty dancing. If the play, or perhaps the production, had made the characters only slightly more credible, that climax might have crackled with poignancy. Instead, it delivers only laughs and small shocks.
The mood is tempered slightly by a short epilogue that fills in some blanks about the younger couple and reflects with sentimentality about the community's early days, when homes were quickly and eagerly filled by families looking ahead to a bright future.
Josh Costello directed the antic proceedings, and the actors hit their assigned notes expertly. But I wish they had given me a reason to care.
Detroit runs through July 19 at Aurora Theatre, 2081 Addison St., Berkeley. Tickets are $32-$50, from 510-843-4822 or auroratheatre.org
Calling all HuffPost superfans!
Sign up for membership to become a founding member and help shape HuffPost's next chapter