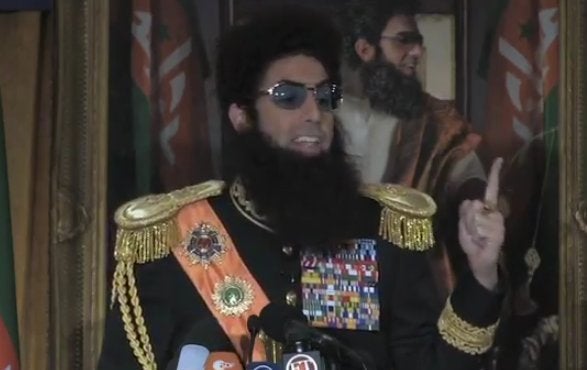 Mitt Romney earned an endorsement from someone in the movies, and he probably wishes he didn't. Sacha Baron Cohen's character Admiral General Aladeen (from the upcoming film "The Dictator") gave the GOP hopeful quite the nod during a press conference at New York's Waldorf Astoria Hotel, saying Romney "has the makings of a great dictator."
In the film, Cohen plays a dictator who believes other rulers like him are being unfairly maligned by the West. Cohen appears in character for all promotional appearances for the film, so his endorsement was not personal. After making a throwaway joke about how Democrats should be applauded for geting "a Kenyan" to the White House, the General dug in:
"I support and I give my full support to Mitchell Romney. He has the makings of a great dictator. He is incredibly wealthy, but pays no taxes, and it's not much of a leap to go from firing people to firing squads, and from putting pets on top of the car to putting political dissidents on the top of them. He taught me how to do that."
Cohen/Aladeen admitted he would have preferred former candidate Rick Santorum, "despite his liberal views."
"In terms of policies, I would have to say the Republicans, if they could only become a little less extreme," he added. "What people call genocide in my country is just the judicial system in Texas."
The character's most piercing comments focused on the West's reaction to the humanitarian crisis in Syria. "Thirteen months and still no U.N. Security Council Resolution, you guys are amazing," he deadpanned. "You have done nothing for the Syrian people, but remember, you can always do less."
PHOTO GALLERY
Sacha Baron Cohen's 'The Dictator'
BEFORE YOU GO