The Ninth Annual Charleston Wine and Food Festival (below) was celebrated last month, and, as always, I was delighted to be asked to be a part of it by hosting a wine tasting river cruise. Of course, I got to eat around town, including some impressive new places showing the traditional depth and the continuing innovation of the city's cuisine.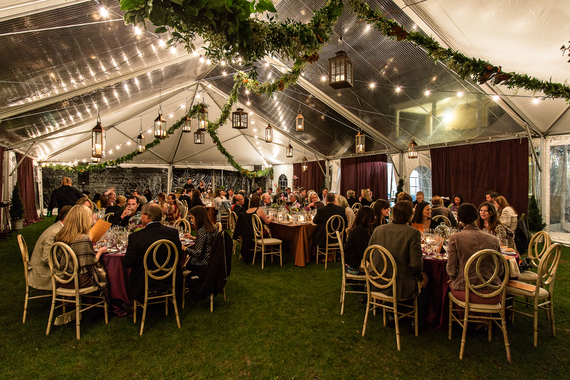 CYPRESS
167 E. Bay Street
843-727-0111
www.cypresscharleston.com
Upon its opening in 2001, I pronounced Cypress one of America's Best New Restaurants in Esquire; now, 13 years later, I can safely say it is one of America's Very Best. Period.
A decade ago, Cypress represented a significant leap forward in design that shied away from the then typical low country genteel dining room look. The place was vast, with a great wall of wine behind glass, an open kitchen and dramatic lighting.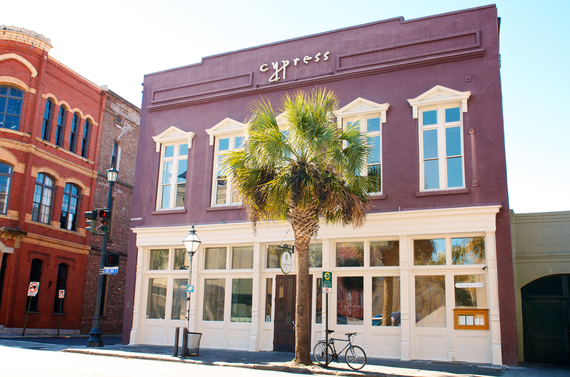 Today, Chef Craig Diehl, Pennsylvania born but Charleston trained, is toeing the line of sumptuous, modern Low Country cuisine, but has added to it an array of house-made charcuteries that is positively daunting -- 80 varieties, a score of which are offered on any given evening -- and they are some of the finest I've tasted anywhere in this country, from andouille, apple cider salami, bologna, jerky, bratwurst, bresaola and so many more, all with condiments, mustards and pickles on the platters, which range from $12 to $20.
We might have happily gorged on the charcuterie and gone no further on the menu, but I'm glad we did, because the lobster bisque with shrimp and chervil ($10) was superb and a generous plate of chicken and dumplings ($26) was warming on a very rainy night, chock full of chicken and homey in the best way. So, too, was a side of peas and Charleston Gold rice scented with saffron, cumin and bacon. Scallops were married to pork belly ($32) very honorably, enriched with caramelized onions, sweet potatoes, a luscious bacon jam and curried raisins.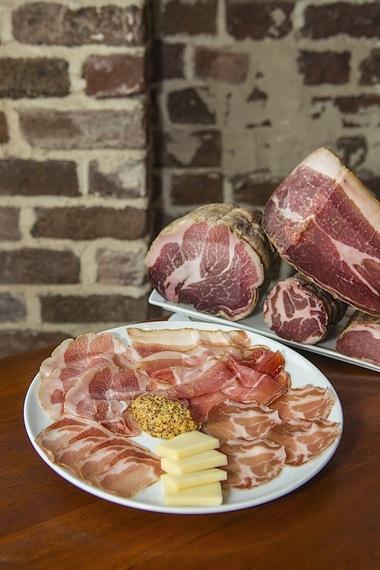 A duo of American lamb cuts ($36) with polenta, turnips, mustard, apples, radishes and celery seemed as much vegetarian as carnivorous. But for the bigger meat-eaters go for the grilled ribeye for two at a very reasonable $56.
Desserts are every bit as good here, from a chocolate crème caramel with raspberry coulis and Madeira reduction ($8) to a terrific buttermilk tart laced with bourbon and accompanied by an orange-tamarind pureed Chantilly cream and citrus candies ($8).
Cypress' wine list is among the finest in the South, with hundreds or well-chosen bottles from every corner of the earth.
INDACO
526 KING STREET
843-727-1228
indacocharleston.com
Charleston's most prominent restaurateur, Steve Palmer, is at it again. As the developer of first-rate restaurants around town, he has opened Oak Steakhouse, O-Ku, The Macintosh, and, this year, Indaco. Palmer has an uncanny sense of what the Charleston market is absolutely ripe for, and, since the city's Italian offerings have been dismal, with the exception of Ken Vedrinksi's tiny Louro, Indaco is a significant addition to the genre.
It's a long dining room set right off King Street, and the place gets very loud as the evening progresses and, unlike so many Charleston restaurants, people keep coming in after 9 p.m. A reservation in advance is highly recommended, since Indaco is unquestionably the city's new hot spot.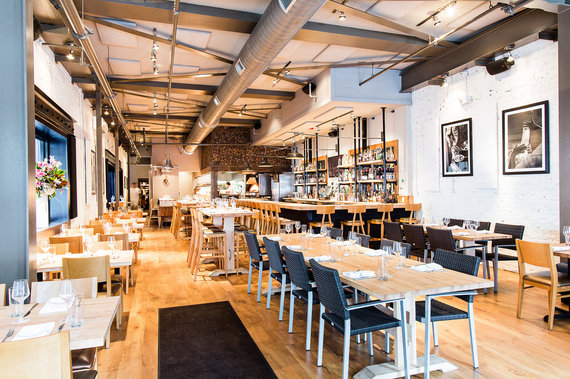 Exec chef Michael Perez, from Portland, Oregon, brings a worked at Scarpetta in Beverly Hills and Las Vegas, although he has never (as yet) set foot in Italy and that lack of experience shows in a few dishes that are more elaborate than they should be. Even so, a lavish antipasto of raw snapper ($14) was first rate, anointed with black olives, celery, radish, pickled mustard seeds, jalapeños, olive oil and lemon. So, too, very refreshing was a panzanella salad ($15) with burrata, spring onions, basil, arugula and Parmigiano.
We tried two pizzas, one a classic Margherita ($16), which was all right, but an unusual octopus pizza ($17) with tomato, fontina, broccoli di rape and Calabrian chili was overwhelmed by salt.
Indaco's pastas, as at most Italian restaurants, are what most people will want to order, and you should, including delicious agnolotti ($24) with beef short rib, pickled shallots and salsa verde; pappardelle ($24) were treated to a pork sugo, herb-whipped ricotta and orange, while black pepper tagliatelle ($22) was a variation on Roman carbonara, with pork, egg yolk chives, and pecorino. Rather bland, however, was the risotto ($22), overcooked that evening, with grilled pork cheeks, chives and a balsamic vinegar.
There are four main items on the menu; we tried one, roasted tuna with coriander, fennel, pea shoots nad grapefruit that didn't taste particularly Italian.
The wine list, as any Palmer compiles, is very well selected, all Italian, with dozens of bottles under $50. Indaco is pumping on all cylinders right now and with a bit more finesse and a few less ingredients, it should evolve into a very good Italian trattoria, especially after Chef Perez visits Italy later this year.
Indaco is open nightly for dinner.
HOMINY GRILL
207 Rutledge Street
843-947-0930. $60
www.hominygrill.com
I consider it as much a sorry omission to miss eating at least one meal at Hominy Grill as to go to Venice and not drop into Harry's Bar. For both are icons, for very different reasons: One is an international watering hole famous for its bellinis and carpaccio; the other is a down-home eatery equally famous for its catfish Creole and shrimp bog. Guess which is which?
Located, since 1996, in a pink and white shotgun house dating to 1897, recently appended with another dining room, Hominy Grill is bright, with antique tin ceilings and slow-moving fans, wooden floors, captain's chairs and windows that let in the Low Country sun. You could not wish for a more amiable, friendly staff, crucial to keep the long lines of waiting guests at bay in the hot South Carolina sun.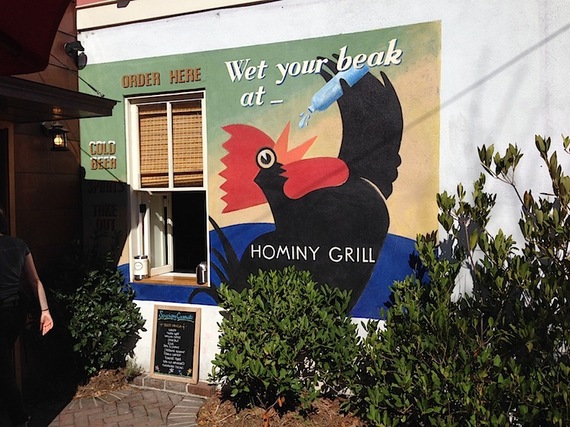 Chef-owner Robert Stehling cooks up all the old dishes, like soft shell crabs with baked cheese grits, curried chicken called country captain, pork with Creole sauce, and, if you come for breakfast, scrambled eggs, buttermilk pancakes and country ham. None of which will cost you very much: Nothing tops $20, and those prices haven't really inched up in years.
The morning we were there for brunch, one of the staff had made some "pop tarts," absolutely delicious short pastries filled with fruit paste, perfect with the good hot coffee they served here. There are salads and sandwiches made all day, and always a lavish vegetable plate. Specials are on a blackboard.
You just can't go wrong with anything. I chose a Sunday special -- fried chicken breast on a huge crumbly biscuit with pan milk gravy. They call it the Nasty Biscuit (below), and it's meant as legitimate high praise. My wife had a mushroom torta full of vegetables all at the right texture. We polished off a single slice of buttermilk pie and wanted more.
But there was a plane to catch and we went home, knowing that next time we're back, Hominy Grill will still be there, and so will we .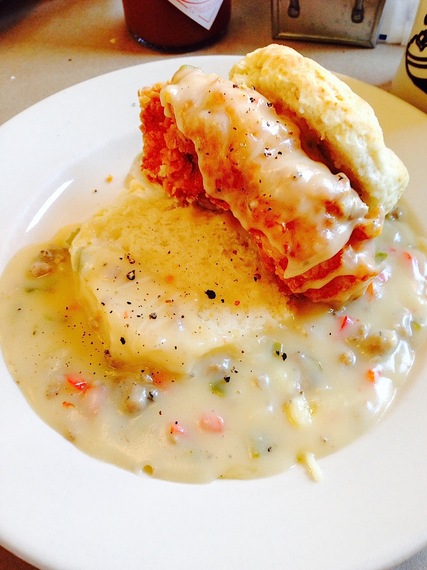 Open for lunch Mon.-Fri., for brunch Sat. and Sun., and for dinner Mon. through Sat.
EDMUND'S OAST
1081 Morrison Drive
843-727-1145
http://edmundsoast.com/
According to their website:
Edmund Egan was an English-born brewer who came to Charleston in the 1760s and started producing beer soon after. He had great success and donated large amounts of money to the American Revolution, earning him the name "The Rebel Brewer." Oast is an old European term for a kiln used in the drying of hops. Together the two make the name.
So, this new gastropub is homage to the traditions of Southern breweries while offering a wide array of small plates to enjoy those brews with. Owners Scott Shor and Rich Carley are transplanted New Yorkers who decided to open the state's first all craft beer store -- The Charleston Beer Exchange -- as a hobby, which, as hobbies often do, turned into something much grander, this enormous, 130-seat interior (in good weather that number will appreciate substantially) with a tall arched, wood beam ceiling and a magnificent wall of craft brews on draft.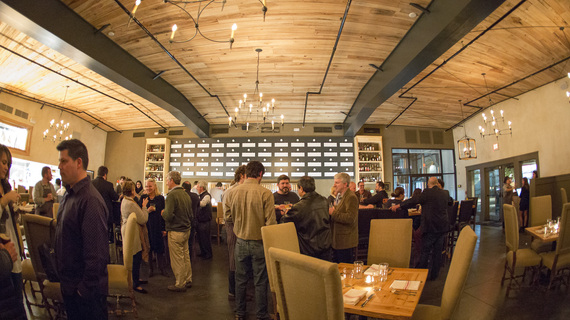 But be forewarned: This is one of the most crashingly, dizzyingly loud restaurants anywhere, and conversation is nearly impossible when the room is full. Piped-in music sure doesn't help.
Charleston native chef Andy Henderson was sous-chef at the Chef Mike Lata's influential FIG restaurant in town, traveled widely and returned to take the helm here at EO. The menu is largely small plates, including bar snacks--the cornbread ($4) is terrific--a selection of charcuterie ($12-$20), braised lamb meatballs with apricots and cider mint ($11), a bacon-egg-cheeseburger ($16), and desserts that include pistachio cookies with rose water and vanilla créme fraîche ($3).
Time will tell if EO has legs; right now everybody wants to be there, be seen, quaff excellent fresh draft beers, and nosh. If it gets a bit tamer in the future, it will be much more appealing to more people.
Open nightly for dinner; brunch on Sat. and Sun.
Related