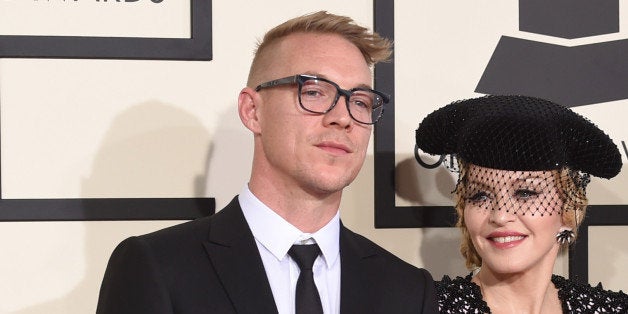 Madonna is moving swiftly through her "Rebel Heart" tracklist, releasing "Living for Love" and "Ghosttown" videos and performing "Joan of Arc," "Devil Pray" and, most recently, "Bitch I'm Madonna." She debuted the latter on "The Tonight Show Starring Jimmy Fallon" last week, during which Diplo joined her for a rowdy performance that found Madonna and her dancers prancing through the entire studio.
"Bitch I'm Madonna," which Diplo produced alongside English electronic producer Sophie, is among the six songs Madonna rushed to release after "Rebel Heart" leaked online in December. When The Huffington Post sat down with her last month, we asked Madonna to recount an instance where she used the expression "bitch, I'm Madonna" -- but the singer insisted the thought hadn't entered her mind until Diplo introduced it to her. The song's title might sound like a puffed-up self-reference, but Diplo told us this week, while promoting Major Lazer's new self-titled animated series, that the expression isn't unique to Madonna. In other words, anyone who maintains his or her cool in the face of boundless criticism is, in effect, a Madonna.
Diplo couldn't recall the exact origins of the idea of "being Madonna," but he knows he heard it in a rap song, perhaps by Lil B, whose "Pretty Boy Anthem" includes the lyrics "I look like Madonna / Bitch, I'm a farmer." He took the idea to Madge herself, insisting they recruit Nicki Minaj, who collaborated on Madonna's "Give Me All Your Luvin'" and has long been vocal about idolizing the 56-year-old singer. Diplo said the song addresses naysayers who slam Madonna because she's been in the business for so long -- just like those who used her age as ridicule for making out with Drake during his recent Coachella set, a moment Diplo praised as "sick."
"We made this record about, 'Fuck it, bitch, we're all Madonna,'" he said, which clarifies why the "Tonight Show" performance featured her son Rocco, a random guy dressed as a police officer and even Fallon himself saying the words "bitch, I'm Madonna." That means it can be your catchphrase, too.
But there's another twist: Because Madonna hurried to master the demos of the six "Rebel Heart" tracks she released to combat the leaks, the album version of the song isn't Diplo's final mix. He said he was "kind of done" with the track as we know it, so he's since posted his intended cut on SoundCloud.
In addition to securing his spot in Madonna's coterie, 2015 is a big year for Diplo. Major Lazer's third album, "Peace is the Mission," will be out June 1, boasting a tracklist that features Ariana Grande, Ellie Goulding, Pusha T and 2 Chainz. And on Thursday, FXX's Animation Domination High-Def series "Major Lazer" will premiere after nearly five years of development. "Lost" star Adewale Akinnuoye-Agbaje voices the titular Jamaican superhero, with support from J.K. Simmons, Aziz Ansari, Riff Raff, Andy Samberg, Charli XCX and Vampire Weekend frontman Ezra Koenig.
Watch a preview of "Major Lazer" below: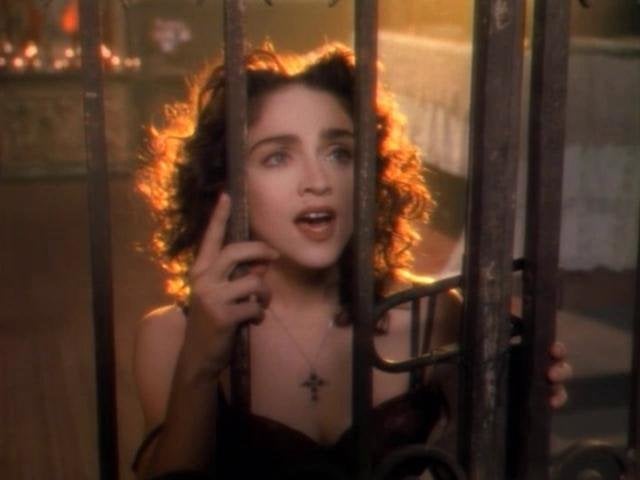 Ranking Madonna's Singles