If you are reading this sentence, you are probably part of the online universe into which the new film Disconnect is wired. Opening today in New York at the AMC Lincoln Square as well as the Regal Cinema on 14th Street, it depicts the Internet as a locus of deception as well as revelation. Moving, smart and troubling, this ensemble piece is directed by Henry-Alex Rubin from a script by Andrew Stern. For his first dramatic feature after directing the award-winning documentary Murderball (with Dana Shapiro) in 2005, Rubin assembled a first-rate cast in a contemporary drama about the tension between virtual and visceral communication.
Jason Bateman is superbly cast against type in a dramatic role as one of the anchors of the stories that crisscross throughout the film. He plays Rich, the father of Ben (Jonah Bobo) -- a shy high school student who becomes the victim of a secret online assault by cruel prankster classmates Jason (Colin Ford) and Frye (Aviad Bernstein): they adopt the identity of a Jessica Rhony on Facebook and pretend to befriend Ben, who responds. This escalates to an exchange of semi-nude photos, and a posting of Ben's embarrassing pose to all the students.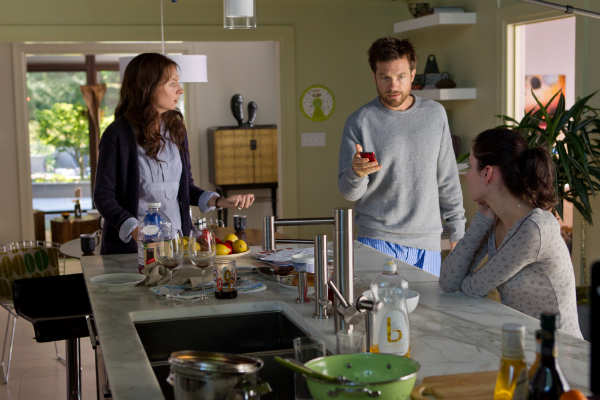 Rich, who is married to Lydia (Hope Davis), is also the lawyer for the local TV station, whose reporter Nina (Andrea Riseborough) does a story on Kyle (Max Thierot), a teen with a porn website. She grows dangerously close to Kyle after the story is picked up by CNN. Because he is a minor, the FBI launches an investigation, forcing Nina to reveal the whereabouts of the house where he and other teens pleasure themselves on camera.
Nina is comparable to Shia LeBoeuf's character in The Company You Keep, Robert Redford's new drama. Both are ambitious "local" reporters who smell possible big-time exposure with a story. But by the end of these films, the cocky journalists are humbled.
In the third thread of Disconnect, Cindy (Paula Patton) and her husband Derek (Alexander Skarsgard) find that their bank account has been emptied. Unable to pay their bills, they hire private investigator Dixon (Frank Grillo), the widower father of prankster Jason. They suspect "Steve" (Michael Nyqvist, star of the Swedish version of The Girl with the Dragon Tattoo), with whom Paula has had intimate "grief support" online chats. Dixon invades their privacy too, getting all the information from their computers before giving them an Internet crime report. Each character in the film learns that online communications cannot be controlled.
Rubin returned to Columbia University earlier this month for a q/a with film students. An alumnus of Columbia College, he acknowledged how important it was to study film-making with James Mangold (before the latter's success with movies like Girl, Interrupted and Walk the Line), as well as cinema history with Andrew Sarris.
When asked about our increasing dependence on technological devices, he said, "it's not what you would think from watching this film. I love technology, but struggle with how much time I spend on the cell phone as opposed to looking at the person sitting next to me."

The screenplay originated in the fact that "Andrew Stern read articles about identity theft, porn sites and cyber-bulling. He wanted to address really contemporary stories with electronic devices." It was not much of a leap from Rubin's documentary work to this fiction feature. He recalled that Murderball also consisted of three stories that were inter-cut: "I recognized in the screenplay of Disconnect things I knew how to do."

He added that he was comfortable with nonfiction and applied what he learned from that form to directing actors. "Even saying 'cut' is alien to the documentary form. Instead, I would say, "go again' to the actors. I tried to let their instincts go as far as possible, especially the kids. The first thing I did was to find real people who had gone through these things, including a cyber-bully and an FBI agent. I made them available to my cast, and these real people's experiences readjusted the stories Andrew had written."
Disconnect reveals that Rubin is a stylist as well. One of his most effective devices is to present characters clicking text to people who don't know them: we read the type onscreen while seeing their expressive faces in close-up. Although he was initially concerned that audiences wouldn't want to read words onscreen as if they were subtitles, thanks to social media, people have never spent so much time reading and responding to words on a screen. The prevalence of online chatting enables Disconnect to vividly dramatize the paradoxical relationship between anonymity and intimacy.
Annette Insdorf, Director of Undergraduate Film Studies at Columbia University, is the author of PHILIP KAUFMAN.
Photo courtesy of 42West.
Calling all HuffPost superfans!
Sign up for membership to become a founding member and help shape HuffPost's next chapter