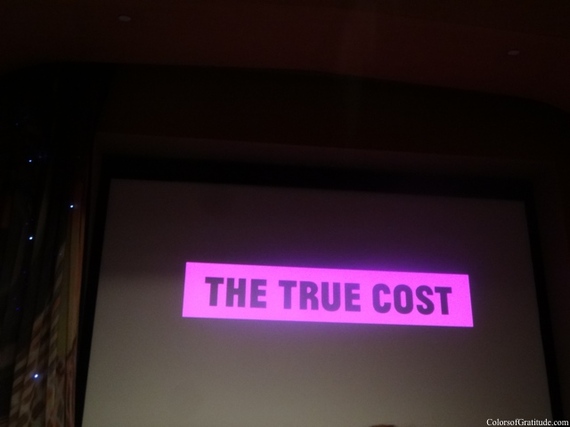 I'm Miriam Ava, founder of ColorsofGratitude.com and ambassador of good taste. I share messages that matter, one Dispatch at a time. My views are utterly my own and intrinsically independent. I love what I share. Hope you enjoy!
If you wear clothes, read on. On Thursday, The True Cost premiered in NYC and I'm thrilled I got to be part of it. If you do one thing this week, watch this movie. I've never seen a more impactful, multi-dimensional presentation of the state of fashion.
I love a good outfit, and that's especially why the movie has moved me. Whatever you hold dear in life -- great design; top-notch materials; clean air, water, soil; animals; mother earth; the wellbeing of your fellow humans; your very own health; self-expression; sustainability; innovation; profit; heirloom pieces; true craftsmanship; beauty... -- you'll make the connection between the issues of this planet and your point of power. As Livia Firth, executive producer of The True Cost, puts it: "Become an active citizen through your wardrobe." You're in charge because you vote with your dollars (euros, pounds, yen...). And it's worthwhile to remember that the fashion industry depends on you and me. If we don't buy, they're out of business. As an individual you have more influence than you might think; as a collective we can shape the world according to our desires.
Questions is, what do we desire? While I can only speak for myself I feel I'm in good company when I say that I desire a fantastic wardrobe that's elegant, ethical, practical, well-made. Fast fashion doesn't meet any of these requirements (nor do quite a few designer brands, by the way). Quality all the way is where it's at. It's the trail to the gold. The bridge to better business.
May The True Cost inspire you to look at fashion with fresh eyes. What you wear becomes part of you; make it worth your while. Join me for glimpses into the NYC premier of The True Cost below. Find useful links and resources at the end of this post.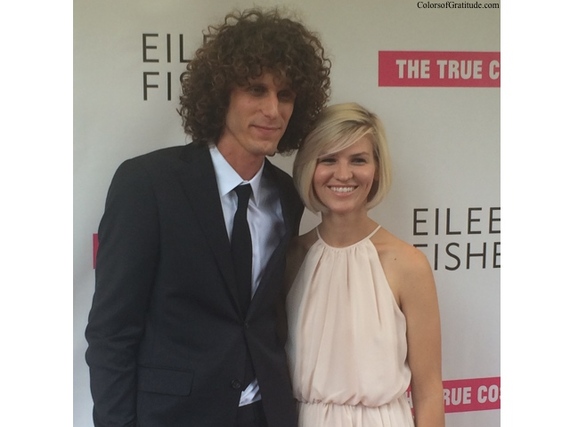 Radiant couple: Andrew & Emily Morgan.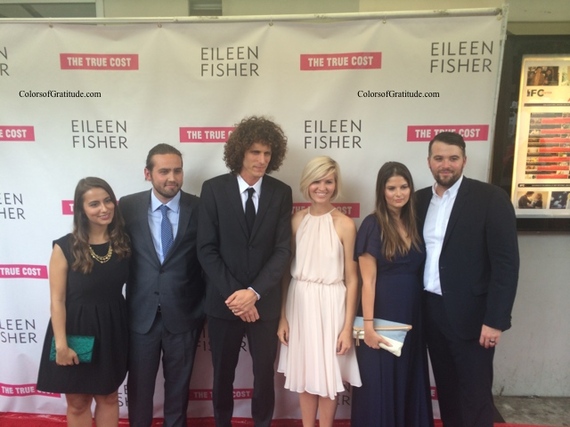 The crew: Gentleman on the left is Michael Ross, Producer of The True Cost. Next to him are the Morgans and Laura Piety, Associate Producer.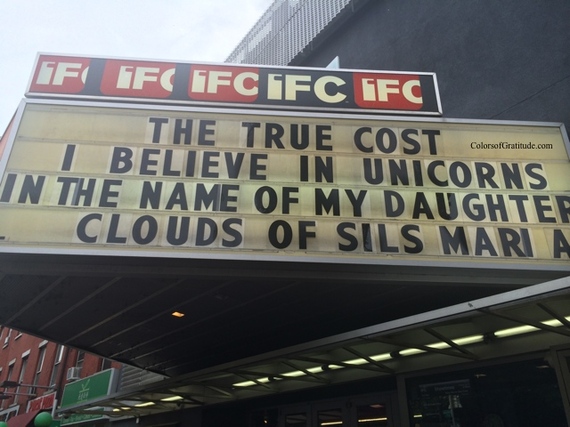 On site.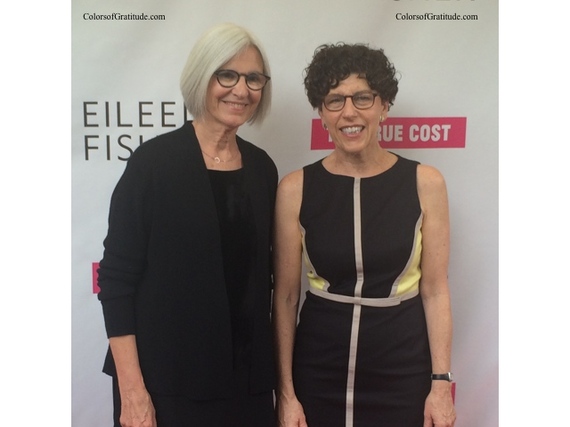 Eileen Fisher with Linda Greer of NRDC.
Sustainable is sexy. Organic cotton, hemp, bamboo, and linen are some of the most gorgeous fabrics to adorn oneself with. Recycled materials create new beauty. Future-leather grown from cells in labs ensures cruelty-free leather goods for years to come. The future is bright and wide open. Join us for the ride.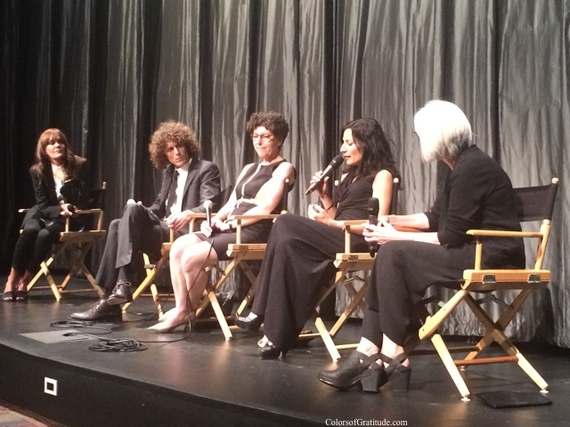 Powerful panel following the screening. From left to right: Julie Gilhart, Andrew Morgan, Linda Greer, Safia Minney, Eileen Fisher.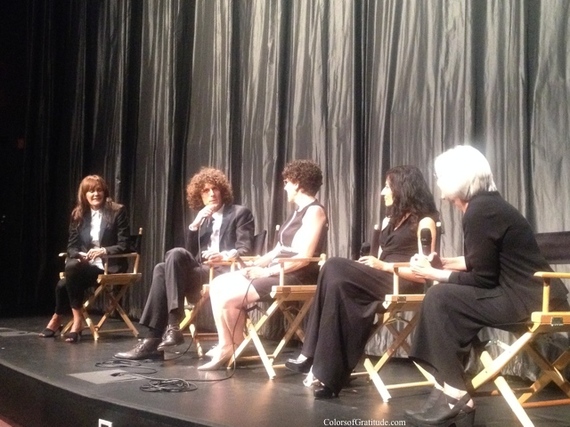 Offering better style.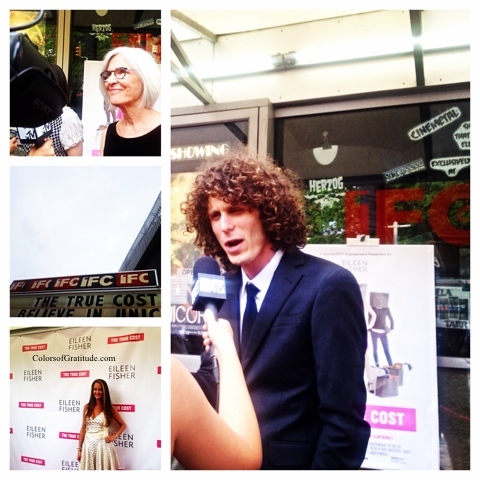 In the midst of it. Clockwise: Andrew Morgan, Marci Zaroff, IFC, Eileen Fisher.
As the ambassador of good taste, I'm passionate about good style. If you're a mindful business -- in fashion, green beauty, food/health, home design, or jewelry -- reach out to me. I'm inviting in conscious companies to weave into the tissue of Colors of Gratitude. Our DNA is divine; it's up to us to create an environment that reflects this gift.
Love your clothes.
Quality all the way is where it's at. It's the trail to the gold. The bridge to better business.
You're voting with your dollars.
If you wear clothes, read on.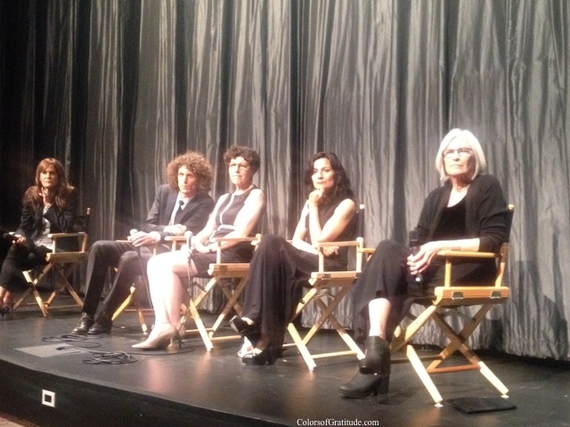 Over to you: What makes you look & feel good?