When a fellow doctor was detained in Sudan, his colleagues at a Brooklyn hospital got on it. Stat. Their outraged reaction became a viral photo.
On Jan. 31, a picture of a doctor holding a sign that reads, "I am taking care of your mom … but I can't go see mine," was posted to Twitter by Khaled Beydoun.
Beydoun's comment on the photo: "Twenty-five percent of doctors are foreign born. Many come from Muslim-majority countries, including the seven states restricted by #MuslimBan. Like this man."
But that doesn't tell the whole story.
It starts with Dr. Kamal Fadlalla, who is not the doctor featured in the picture.
Fadlalla is a second-year internal medicine resident who has been working at Interfaith Medical Center in Brooklyn, New York, for 20 months.
On Jan. 13, Fadlalla, who has an H-1B visa, granted to those in "specialty occupations," went to visit his family in Sudan a week before President Donald Trump's inauguration.
He had planned to stay in Sudan until February, but colleagues urged him to return earlier after reports last week that the president planned to sign an executive order to ban individuals with visas from several Muslim-majority countries, including Sudan, from entering the U.S.
The 33-year-old doctor decided to end his trip early and head back home. When he got to the airport in the Sudanese capital, Khartoum, on Saturday, he initially thought everything was fine. He got a boarding pass, made it through an immigration checkpoint and was waiting at his gate when he heard his name being called over a loudspeaker. "When I got to the counter, they said there was a notice from Customs and Border Protection that ... they had to offload us from the flight." Fadlalla told the Los Angeles Times. "I was shocked."
He waited at the airport for four hours before returning to his family's home in Sudan.
After Fadlalla's colleagues heard the news, doctors at Interfaith Medical Center and members of the Committee of Interns and Residents union held signs at the hospital in support of his return, a spokesperson at CIR told The Huffington Post.
They posted pictures of themselves holding their signs on social media sites.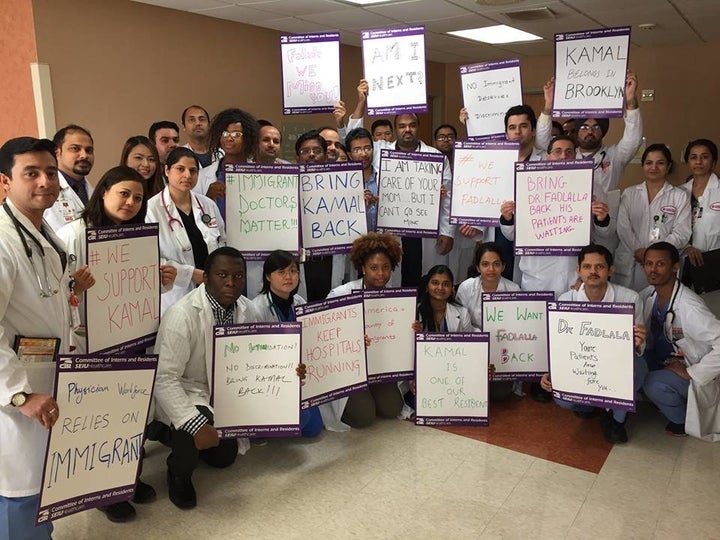 The signs' messages include:
"Kamal belongs in Brooklyn," "Bring Kamal back" and "Immigrants keep hospitals running."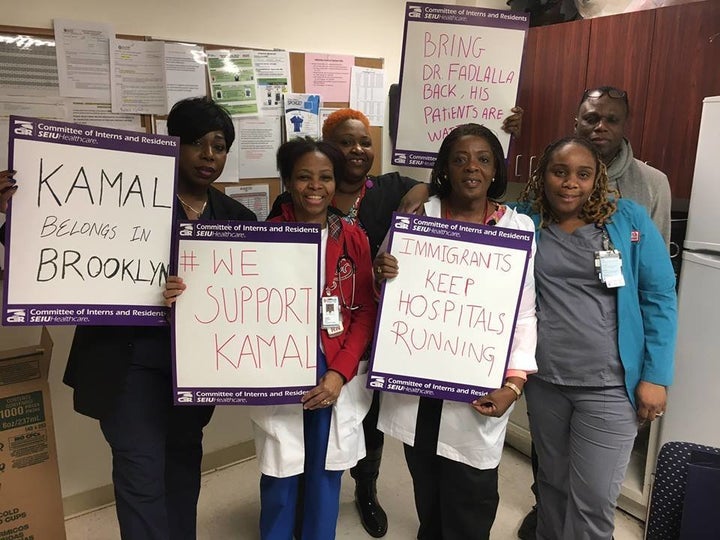 One of the doctors who participated in the show of support was Dr. Mazin Khalid, who holds the sign in the viral photo.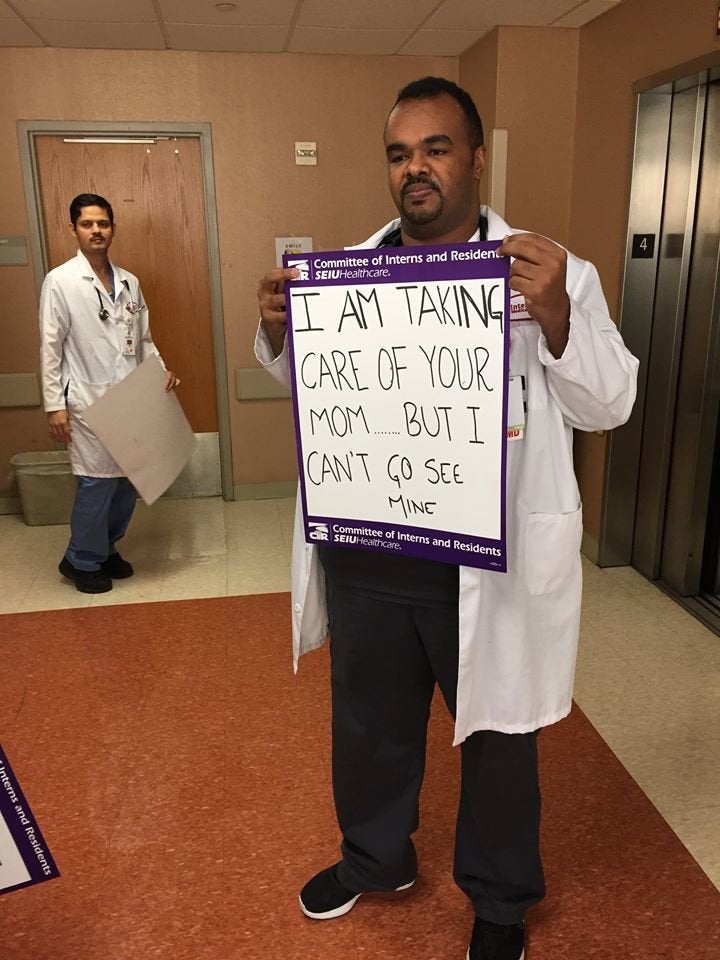 Khalid went to medical school in Sudan with Fadlalla, and the two are friends, CIR told HuffPost.
Yet, Khalid didn't even write the sign featured in the viral photo, per CIR. It was another doctor, Dr. Sumit Dahal, who got camera shy and asked Khalid to hold the sign for him in the photograph.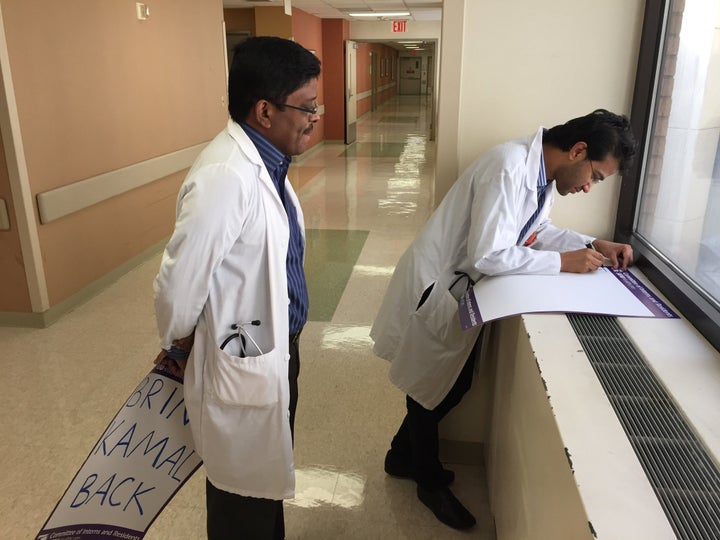 Yet, this doesn't mean that Khalid doesn't also hold strong convictions about what happened to his friend and colleague.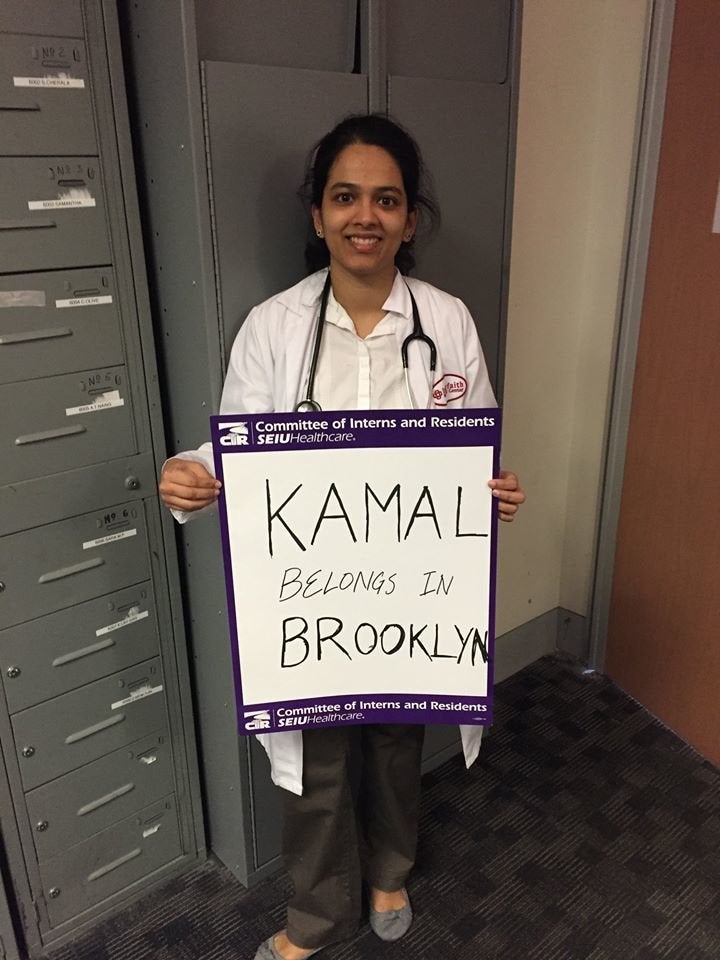 "The executive order basically bans entry even for those already established and who have been vetted and practicing medicine for years," Khalid said in a Facebook post. "I know that if I leave the country I won't be allowed back in, and that my family can't visit me anymore. I just hope that nothing happens to my family and I wish that I would be able to see them soon."
Khalid added: "For the time being I will continue to work among my Muslim, Christian, Jewish, Hindu, Sikh, atheist friends who are my family here, who are concerned about our banned colleague and are praying for him day and night. We continue to treat, pray and hope, knowing that this decision is a unilateral decision that does not resemble American ideals in any way or manner."
Before You Go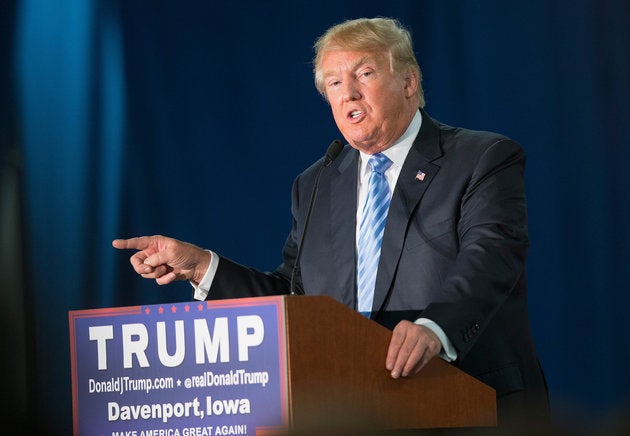 Evolution Of Trump's Muslim Ban