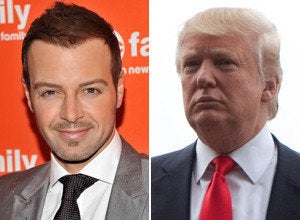 Woah! While a number of award winning actors have hit out against Donald Trump in recent days, the potential GOP presidential candidate has at least one Hollywood supporter: former "Blossom" star Joey Lawrence.
"Obama was something fresh, and new, and people wanted to put their faith in his message of being different and 'change' and all this stuff two years ago, but that fell flat because he gets in there and it's pretty much the same old thing. I think everybody can agree on that, there's no real change," he told Fox News at a Hollywood event.
But why the Donald? He likes his willingness to not be so politically correct -- something Trump has more than proved over the past few months -- and thinks his approach to governing would be new and effective.
"I think Donald is an interesting character. He's an amazing CEO, this is a business," Lawrence continued. "This is a business, running this country is a business and it has not been run the last decade the right way, whether it's Republican or Democrat, so it's not really a party issue, it's more of a person issue. Somebody has to get in there and really hold people accountable."
The actor also cautioned against raising the debt ceiling, something economists say would end in catastrophe.
But hey, if Trump does decide to run, at least he has the mid-90's youth-oriented situation comedy vote now.
Popular in the Community