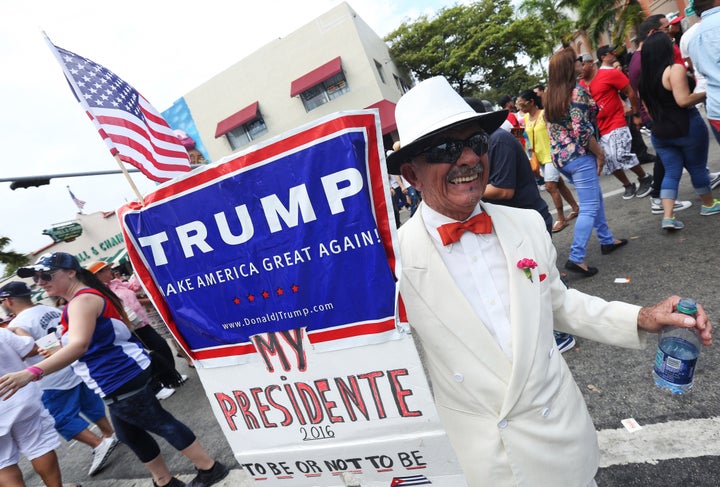 LITTLE HAVANA, Miami – In a city where Spanish is the most common language heard, in a neighborhood where English appears second even in a lot of business signage, there resides unyielding support for the presidential candidate most Latinos cannot abide.
The old generation of exiles from the days of the 1959 Cuban Revolution ― Republican since they were "betrayed" by Democratic President John F. Kennedy during the botched Bay of Pigs invasion ― appear ready to line up behind the Republican Party once again.
"I'm for Trump," said Ricardo Naranjo, 75, as he pulled open the front door to the landmark Versailles Cuban restaurant in Little Havana, "because I don't like the other one."
"He's the person who's going to bring back this country, bring back law and order," Peter Fernandez, also 75, said of Donald Trump.
Most are fully aware of Trump's strained relationship with the greater Hispanic community – how he called undocumented immigrants from Mexico "rapists," how he accused a federal judge of overseeing a fraud lawsuit against Trump of being biased because of his Mexican heritage.
"He's not very tactful, true," Gustavo Roca, 82, said. "I'll grant you that."
In their view, though, they have little choice. At Fernandez's table, they discussed matter-of-factly how the Democratic presidential nominee, Hillary Clinton, had had over 100 people murdered to hide her crimes from Whitewater investigators.
"On the one side you have a liar, a crook," said one of Fernandez's tablemates, who would not give his name. "On the other we have someone we don't like a lot. But that's all we have."
That older generation of Cuban-Americans delivers the good news for Trump in South Florida. The generations that follow – less ideological and more open to supporting Democrats – provide the bad news.
In a recent Florida poll done by Bendixen & Amandi, Trump could only muster 43 percent of Cuban-Americans to Hillary Clinton's 36 percent, with the remainder divided among other candidates and undecided. "This is the lowest we've seen for a Republican presidential candidate," Fernand Amandi said.
In contrast, Arizona Sen. John McCain (R) won 65 percent of Cuban-Americans in 2008 against then-Sen. Barack Obama (D), and Mitt Romney (R) won 48 percent against Obama in 2012.
Of course, if the undecideds and those supporting other candidates break at the same ratio as those currently backing Trump and Clinton, he would win 54 percent of the Cuban vote – a 6 point improvement over Romney.
That, though, is a big if, Amandi said, adding that there's a better chance that Clinton will consolidate more of the anti-Trump sentiment among the younger generations. "A lot of Cubans locally are not supporting Trump," he said. "I think Hillary has more room to grow."
Trump is polling abysmally among non-Cuban Latinos nationally, and his campaign's efforts to fix that have failed so far. Trump was scheduled to meet with Hispanic leaders in Miami Monday afternoon, but the meeting was canceled. Trump campaign officials did not respond to Huffington Post queries regarding the reason for the cancelation. It was the third time since early July that a planned meeting has failed to materialize.
Popular in the Community