All of the GOP presidential candidates at Thursday's debate in Detroit repeated vows to support the eventual Republican nominee, whoever it may be, in November's election.
Real estate mogul Donald Trump is gaining steam to be that person after his dominating performance on Super Tuesday.
Though they've pledged to support the GOP nominee in the past, Sen. Ted Cruz (R-Texas) and Sen. Marco Rubio (R-Fla.), have argued that Trump is unsuitable for the presidency.
Rubio accused Trump of being a "con man" who is dangerous and uninformed on foreign policy -- harsh words for someone who says he would support in a few months as the nominee.
Cruz hit Trump in the debate as well, mocking him for having a "tenuous relationship with the truth."
To make matters more awkward, after the debate ended, Rubio's campaign emailed a statement to reporters with the subject line "Trump Is Not Prepared To Be Commander-In-Chief."
The statements of Cruz and Rubio are also sure to be a disappointment for the growing #NeverTrump movement. The group, made up of establishment-minded Republicans and conservative intellectuals, has vowed never to support Trump, even if he becomes the nominee.
Trump, for his part, said he'd support the eventual GOP nominee, even if it's not him.
Support HuffPost
The Stakes Have Never Been Higher
Before You Go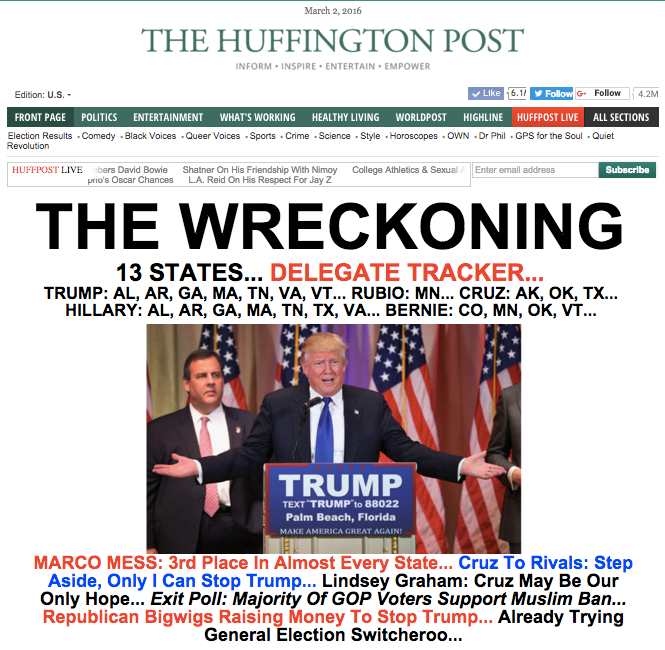 Trump On HuffPost Front Pages
Popular in the Community