Donald Trump's odds of winning the Republican presidential nomination were significantly damaged by his bruising loss in Wisconsin, where Sen. Ted Cruz (R-Texas) walked away with nearly all of the state's delegates this week.
But as the race heads to the East Coast, polls show that Trump is likely to regain significant ground.
New York, which votes on April 19, is the next stop in the Northeast and the biggest prize of all. So far, polls show Trump taking the state by a significant margin.
A Monmouth University poll released on Wednesday finds Trump ahead by an impressive 27-point margin, with 52 percent of the vote. Ohio Gov. John Kasich (R) is in second with 25 percent, and Cruz lags in last place with 17 percent.
The results are consistent with the HuffPost Pollster average, which says Trump is leading in New York with 51 percent of the vote, followed by Kasich with 22 percent and Cruz with 17 percent.
There are 95 delegates at stake in New York's winner-take-most primary. However, if a candidate wins 50 percent or more of the vote in each congressional district and statewide, he could take all of the state's delegates. Current polls suggest Trump is poised to take all the statewide delegates and is likely to win a sizable proportion of delegates at the district level.
Pennsylvania, set to vote on April 26, also holds a sizable number of delegates at 71. Trump leads in the state with 39 percent of the vote, according to a recent Quinnipiac poll. Cruz trails him with 30 percent, followed by Kasich with 24 percent.
The HuffPost pollster average finds even greater support for Trump in Pennsylvania, showing him leading with 41 percent of the vote while Kasich and Cruz battle it out for second place at 23 percent and 20 percent, respectively.
Pennsylvania has a hybrid delegate allocation system that automatically gives 17 delegates to the leading candidate and awards the rest at the district level. If Trump is ahead on election day, he will automatically take 17 delegates off the bat.
The remaining states -- Maryland, Connecticut, Delaware and Rhode Island -- have far less delegates up for grabs. They haven't mattered as much in previous elections, but without a clear GOP nominee at this point in the race and an establishment that is actively fighting the front-runner, candidates are paying more attention to them.
No recent polls have been conducted in the remaining states. But Trump has performed well in other Northeastern states, and delegate rules favor the leader: Connecticut has a 50 percent winner-take-all rule for statewide delegates, and Delaware has a winner-take-all rule for all of its delegates.
Despite his Wisconsin loss, it's not impossible for Trump to win a majority of delegates by the Republican convention -- but the odds are building against him. According to Nate Silver's blog, FiveThirtyEight, Trump will need to win 58 percent of the remaining delegates to reach the required 1,237 delegates necessary to win the GOP nomination.
April will be a critical month for the #StopTrump movement. While the Republican establishment has put its force behind Cruz in recent primaries, it may support Kasich in the Northeast, where the fact that there are fewer evangelical voters could help the Ohio governor.
CORRECTION: An earlier version of this story incorrectly described how delegates are chosen in Maryland and Delaware. It also overestimated Trump's chances of winning all of New York's delegates.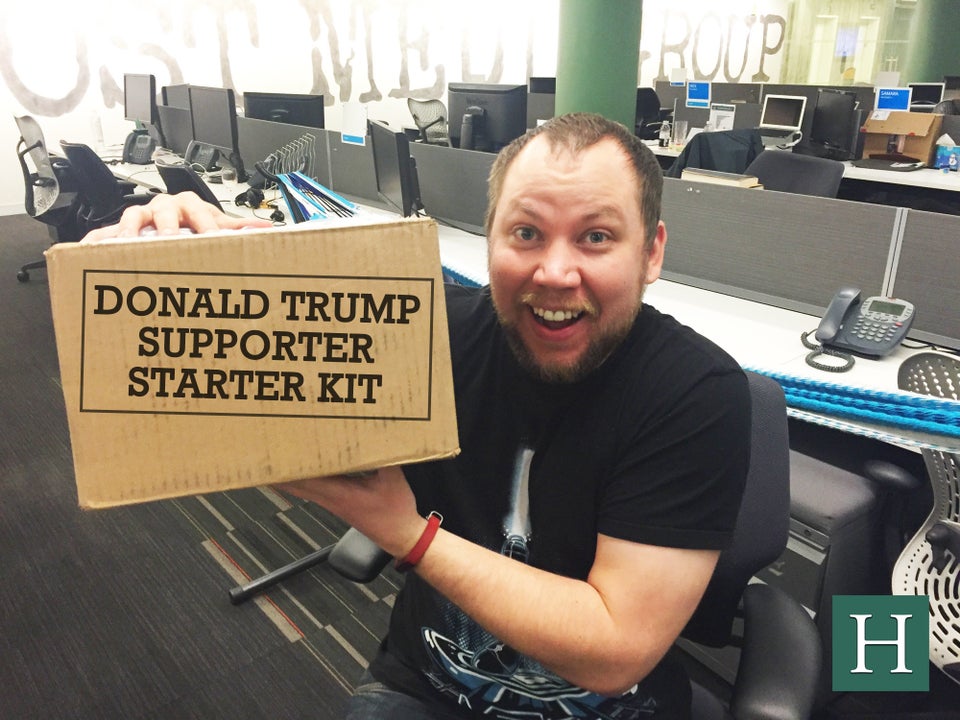 My Donald Trump Supporter Starter Kit Finally Came In The Mail!