"We must get much tougher on drug dealers and pushers if we are going to succeed in stopping this scourge," Trump said. "My administration is committed to fighting the drug epidemic and helping get treatment for those in need, for those who have been so terribly hurt. The struggle will be long and it will be difficult ― but, as Americans always do, in the end, we will succeed, we will prevail."
During his speech, Trump also paused for applause for one of his guests, Ryan Holets, an Albuquerque, New Mexico, police officer who, along with this wife, adopted a baby from a pregnant homeless mother struggling with opioid addiction. Their baby girl, Hope, now 3 months old, was also in attendance.
Trump's rhetoric echoed his comments from the earliest days of his presidential campaign in 2015 when he visited places hit hard by the opioid crisis. Despite his tough talk, Trump has taken little action to address the epidemic as president, and it has showed no sign of slowing since he took office.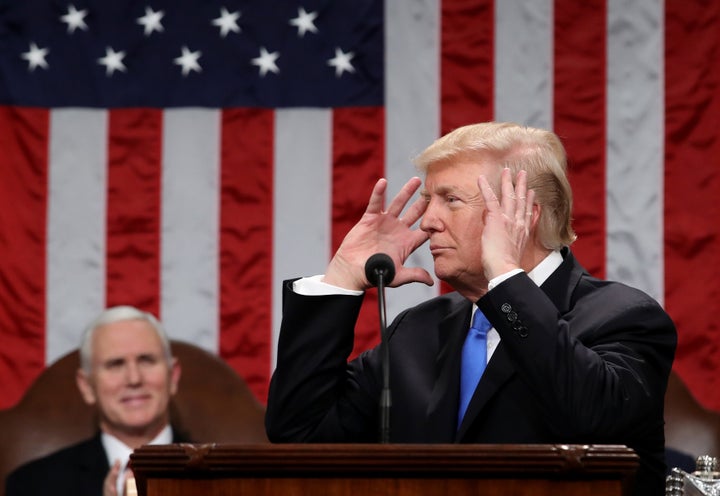 Rob Jarvis, a Democratic candidate running for congress in Ohio, a state ravaged by opioids, timed how long Trump spent on the crisis in tonight's speech. "We got about 49 seconds," he reported to HuffPost. And most of what Trump said, he noted, was fear-based.
"Where was the plan to actually improve the treatment?" he wondered. Or the plan to address the drug companies who helped spur the epidemic through their prescription painkillers. "Should I be happy that he mentioned it? Or should I be upset that he has no plan?" Jarvis said. He decided he was upset.
"I think it's on the back burner," Jarvis said. He added that residents in his district have all but given up hope of an adequate response from Trump. "I think the best word is despondent," he said. "The idea of hope right now in our region of the state is not something that people talk about much. Everybody knows somebody that has a substance abuse problem. You are past the point of anger. We feel broken. We feel abandoned."
Ohio's overdose deaths spiked in 2017, rising by 41 percent between May 2016 and May 2017. Drug overdoses claimed roughly 64,000 lives in the United States in 2016, with the vast majority related to opioids, helping to drive the average American life expectancy down in back-to-back years for the first time since the 1960s. With the crisis showing no signs of abating in 2017, experts predict it will be the third consecutive year of declining longevity, which hasn't happened in nearly a century, since the Spanish flu pandemic in 1918.
Critics have seen Trump's response to the crisis as slow and muddled. Last spring, Trump created an opioid commission to study the epidemic and make recommendations. Many of its proposals were aimed at organizing a public health response to those suffering from opioid addiction. Trump spent most of the past year unsuccessfully pushing to repeal Obamacare ― which would mean tens of thousands of addicts would have lost access to drug treatment.
The commission's final report was released in early November. "The time to wait is over. The time for talk is passed," wrote Chris Christie (R), then the governor of New Jersey and chairman of the commission, in a letter addressed to Trump accompanying the panel's report. "175 deaths a day can no longer be tolerated. We know that you will not stand by; we believe you will force action."
The 138-page document outlines dozens of recommendations across a variety of areas, including drug prevention and treatment strategies, law enforcement and education. The report itemizes federal drug control spending by function, and notes that Trump's proposed 2018 budget would increase funding on interdiction by 10 percent, while cutting prevention spending by 11 percent.
The commission also identifies the White House Office of National Drug Control Policy as a key player in the battle against the opioid epidemic. But it's not clear the Trump administration agrees. The president has yet to nominate a full-time drug czar to lead the ONDCP, and a 24-year-old former campaign staffer had reportedly been running many of the agency's operations until earlier this month, when he announced plans to step aside amid scrutiny of his work history and résumé. Trump has also reportedly floated the possibility of slashing ONDCP's budget by 95 percent and shifting its key responsibilities to other departments.
All of these actions have led to questions about whether the White House is taking the opioid epidemic seriously enough. "I think they have highlighted the issue by appointing a commission and having [the Department of Health and Human Services] issue a health emergency," said Regina LaBelle, the ONDCP's chief of staff during President Barack Obama's administration. "But little of substance has been done on the issue to date."
Trump formally designated a public health emergency for the crisis in October. The move came two months after his commission recommended he instead declare a full-on national emergency, which would have opened up billions of dollars of funding. The public health emergency fund currently holds only about $57,000, which amounts to 2 cents for each individual in the U.S. struggling with opioid addiction, according to the progressive nonprofit Drug Policy Alliance.
With the White House recently estimating that the true cost of the opioid epidemic topped $500 billion in 2015, critics have accused the administration of dedicating insufficient attention and resources to the crisis. Even during his address on Tuesday, Trump spent far more time discussing other issues, including a handful of crimes committed by undocumented immigrants over the past few years.
"His SOTU remarks ring hollow ― no new proposals, no call for substantial new resources," said Daniel Raymond, policy director at the Harm Reduction Coalition. "If Trump were running a corporation to end this crisis, shareholders looking for results would be ready to oust him."
Although Trump's opioid commission has put forth some positive proposals, they won't bear results unless the president funds them adequately, said Dr. Yngvild Olsen, medical director of the Institutes for Behavior Resources in Baltimore.
"The resources need to be there to fully implement the good ideas — particularly the ones that focus on expanding access to evidence-based treatment and increasing support for people and families struggling with addiction," Olsen said. "For this we need more than just the outrage the president expressed in his State of the Union address tonight."
CORRECTION: The headline in a previous version of this story indicated there were 64,000 opioid-related deaths in 2016. That number includes all overdose deaths.
Popular in the Community