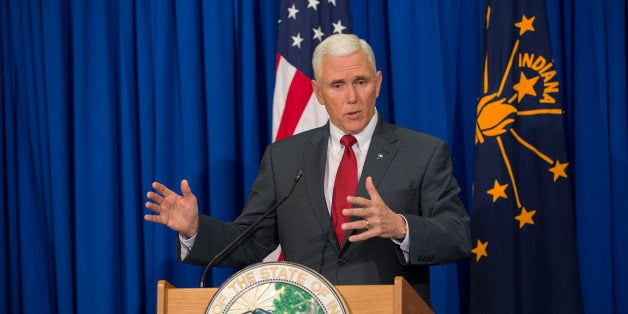 I wrote a satirical column for the Huffington Post two months ago that said that Indiana Gov. Mike Pence had signed an executive order that banned what he called "gay colors" to be worn by boys in public elementary and secondary schools in the state.
Pence, the column said, referred to pink, chartreuse, teal, and magenta, in particular, as "gateway colors" for young boys who might have an inclination toward homosexuality.
I thought about the column when I read that Donald Trump, the presumptive Republican candidate for president, is vetting Pence as a possible running mate.
Trump is reportedly interested in Pence because of the governor's popularity among evangelical Christians. Evangelicals have so far been reluctant to support Trump in part because meeting the candidate requires traveling through Dante's nine layers of hell.
Pence shouldn't have to worry about compromising his Christian principles to become Trump's running mate. There's not much left to compromise.
Pence regularly touts his Christian faith, but is selective in how he applies it. He uses The Bible to justify his intolerance for gays but ignores scripture when it comes to feeding the hungry, comforting the persecuted, and helping the needy.
Pence signed the euphemistically named Religious Freedom Restoration Act that critics said legalized discrimination against lesbian, gay, bisexual, and transgender individuals.
Pence and the GOP-controlled Legislature revised the law after corporations and organizations such as Salesforce, Eli Lilly, Alcoa, Cummins, the Indiana Chamber of Commerce, and the NCAA threatened to leave the state.
Bigotry isn't just bad religion; it's also bad business and bad politics.
The outrage over RFRA cost the Indiana economy possibly 12 conventions and up to $60 million in economic impact, reported Visit Indy, Indianapolis's tourism bureau.
It also has jeopardized Pence re-election bid. His approval rating is falling - particularly among Republicans -- and his lead over Democratic challenger John Gregg has disappeared.
Pence says his faith is rooted in The Bible, and, in particular, the half-dozen or so verses that condemn homosexuality. That faith apparently ignores the hundreds of verses that instruct us to be tolerant, compassionate, and understanding, to care for the poor, sick, and needy.
In late 2014, Pence cut tens of thousands of Hoosiers off food stamps, saying it would be "ennobling" for poor people.
This, Pence no doubt thought, will be "ennobling" for teachers and students - especially in poor school districts.
In late 2015, Pence ordered an end to the resettlement in Indiana of Syrian refugees who were fleeing their war-torn country. The Archdiocese of Indianapolis, putting its religious principles into practice, defied the governor and accepted the refugees.
Perhaps Pence would have acted differently if he had sought counsel in The Bible as he apparently did when supporting the Religious Freedom Restoration Act.
Matthew 25:40 tells us: "And he will answer, 'I tell you the truth, when you refused to help the least of these my brothers and sisters, you were refusing to help me.' "
Popular in the Community