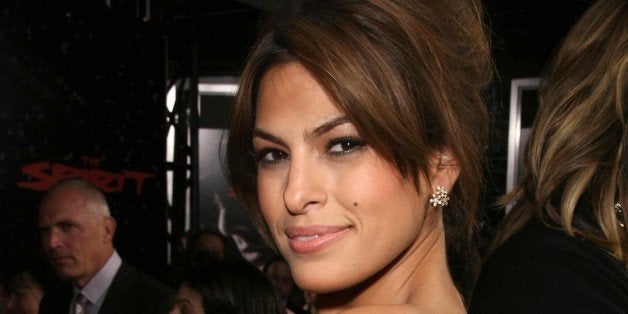 So Eva Mendes set the intertubes ablaze a few days back in an interview with Extra when she said: "You can't do sweatpants... ladies, number one cause of divorce in America, sweatpants, no!"
The implication: Keeping boyfriend (and father of her newborn) Ryan Gosling happy means avoiding the elasticized waistband.
Further implication: The elasticized waistband suggests an added need for comfort.
Further further implication: The added need for comfort suggests the behavior that an entire generation of women used to refer to as "letting yourself go."
And finally: that said "letting yourself go" is the presumably Hershey's-syrup-written handwriting on the wall.
A few things to point out:
1. Eva Mendes has a sense of humor. If you didn't get this from the actual interview clip, you can get it from the fact that she went on to post on Instagram: "Dear favorite pair of sweatpants. I was just kidding when I said you're the #1 cause of divorce. Everyone knows that orange crocs are the #1 cause of divorce. Either way it was a bad joke and I feel terrible if you or anyone thought I was serious. Thanks for understanding sweatpants. Sorry orange crocs."
2. Many of the people responding to her original statement do not seem to have a sense of humor. Cases in point -- Facebook comment 1: "I hope I never feel the need to wear makeup and nice clothes 24/7 to keep my significant other happy." Facebook comment 2: "Yet, she still can't get Gosling to marry her. She's so full of herself it's gagging." Furthermore, so you know it's serious, Fox News brought in not one, not two, but three talking heads to take on the issue.
3. Yes, the notion that women need to stay physically attractive to men in order to "keep them" is an outdated, sexist trope, perhaps put most succinctly by the 1963 Hal David lyric: "Hey, little girl, comb your hair, fix your make-up, soon he will open the door. Don't think because there's a ring on your finger, you needn't try anymore."
4. YET. There is something to be said for not taking a spouse's interest for granted. Keeping the sexual spark alive is crucial to longevity in a relationship -- perhaps especially in a marriage -- but it doesn't just depend on looks, and it isn't just a one-way street.
While the pages of history and fiction are disproportionately filled with admonitions to women, men received plenty of warnings, too. In 1913, a British author named Blanche Ebbutt wrote in her book Don'ts for Husbands: "Don't sit down to breakfast in your shirt-sleeves in hot weather on the ground that 'only your wife' is present. She is a woman like any other woman. The courtesies you give to womankind are her due, and she will appreciate them."
Three years later, in his book How to Love, Walter Gallichan wrote: "There is no hope for widespread married happiness till men learn that love is the art of understanding and pleasing women... After marriage it is the husband's part to show his aptitude in arousing and maintaining the responsiveness of the wife."
And even the humorist Ogden Nash got semi-serious in a 1935 poem he wrote to a friend about to marry:
"If you desire a noisy nursery
And a golden wedding anniversary,
Scan first the bog where thousands falter:
They think the wooing ends at the altar."
In 2015, women shouldn't be held to a higher standard than men in keeping themselves attractive; they should, naturally, be valued for more than their appearance; and should of course be encouraged to wear whatever makes them comfortable. On the other hand, in 2015, all people in their rightful convictions might strive to be just a little more flexible -- as flexible, say, as an elastic waistband.