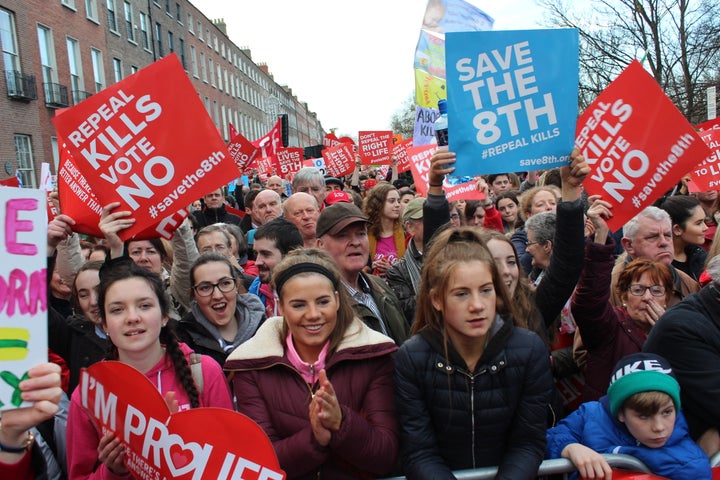 DUBLIN ― As people around the world gather this week to celebrate women's rights, the issue holds a special significance for those in Ireland. Irish citizens will soon head to the polls in a nationwide referendum on abortion, which their constitution has effectively outlawed for decades.
The country's eighth amendment recognizes the equal right to life of the mother and the unborn child, and criminalizes abortion with up to 14 years in prison. A pregnancy can only be legally terminated if multiple doctors determine that it poses a serious risk to the mother's life. With no exceptions for cases of rape, incest or fetal abnormality, Ireland has one of the world's most restrictive laws on abortion.
Voters will decide in late May whether to repeal the eighth amendment, giving the legislature the opportunity to propose a new policy that could allow women to have abortions up to 12 weeks into a pregnancy. Recent polls suggest stark divisions in public opinion across the country.
The friction is palpable in the streets of Dublin, which are decorated in colorful referendum-related posters and filled with campaigners on both sides of the issue. Within 48 hours, the Irish capital's Parnell Square hosted two large rallies: a march to "repeal the eighth" on Thursday evening, and another to "save" it on Saturday afternoon.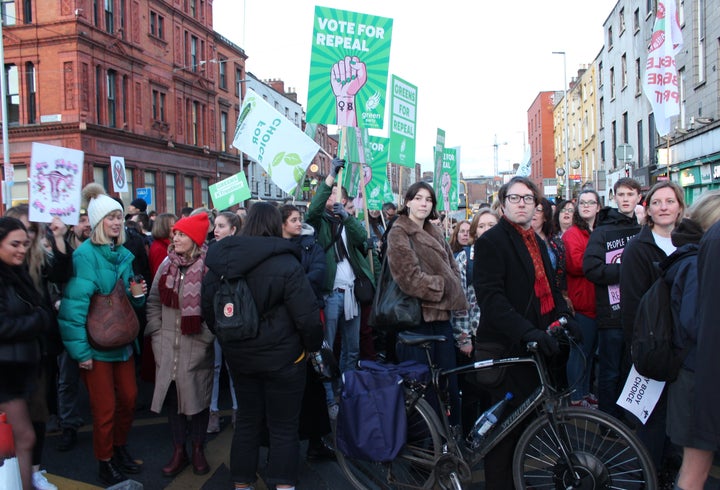 "It's a historic time for people in Ireland to have a say in what is a critical issue," said Colm O'Gorman, the director of Amnesty International Ireland, who marched alongside thousands of repeal advocates at the rally on International Women's Day.
"Over the last number of years in particular, we've seen a great increase in public expressions of ― but also a lot of research evidence to show ― that there is very strong support across the country and all demographics for very progressive change in this area," O'Gorman said.
"We're now at a point where I think Irish society appreciates and understands that the eighth amendment doesn't prevent abortions; rather, it prevents safe and legal abortions from happening here in Ireland ― which, as a result, causes really grave violations of women's reproductive rights as well as untold trauma and suffering."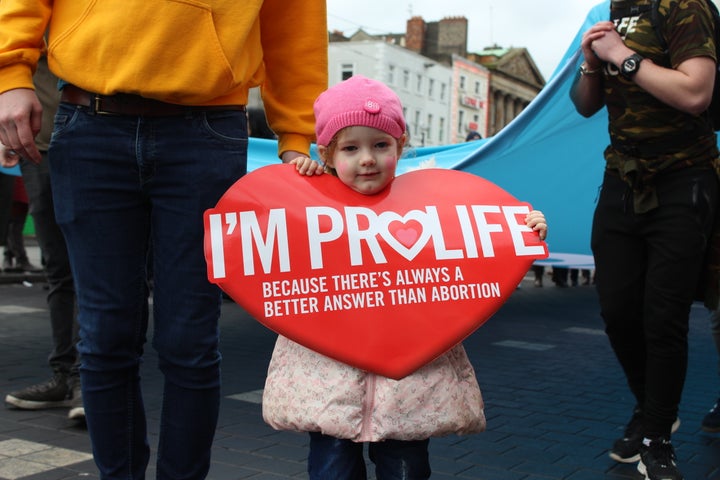 It's become common for Irish women to attempt to terminate their pregnancies by using abortion pills that have been smuggled into the country, or by traveling abroad to have the procedures legally. An estimated 10 to 12 women journey to countries like England and Wales for abortions every day.
For Bernadette, a repeal advocate living in Dublin, flying to the U.K. for an abortion felt like the only viable option when she experienced a crisis pregnancy at age 30.
"I love traveling, I love the airport, I love planes, but it felt like there was a knot in my stomach," she recalled of her trip to Birmingham. "The whole time, I was thinking, 'I can change my mind if I want to,' but I just knew it was the right decision for me."
She said the procedure initially left her feeling "like a criminal in [her] own country," because of the "shame and a stigma" surrounding the issue. She is now an active canvasser for the repeal campaign.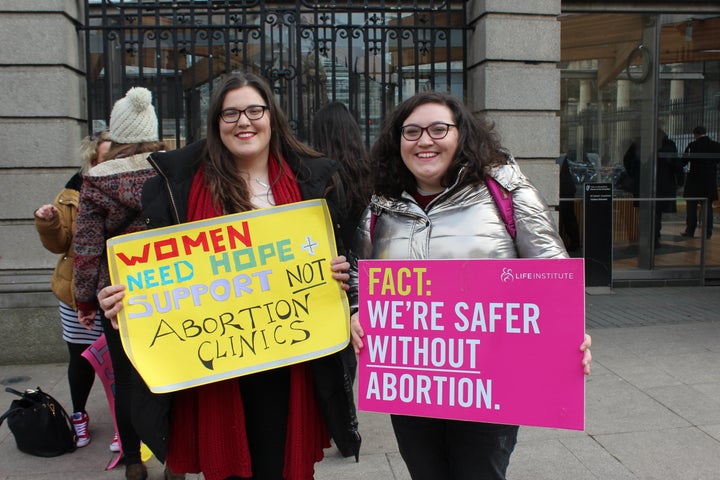 The debate has become increasingly contentious since the eighth amendment was enacted in 1983, and tensions are mounting as the referendum approaches. Opposing camps are blasting emphatically different messages, chanting phrases like "Hear our voices, respect our choices!" and "Two, four, six, eight, we appreciate the eighth!" But they project a common theme: The need to protect Irish women's rights.
"I'm here to show people that being a feminist doesn't necessarily mean that you're pro-choice; in fact, there are huge amounts of feminists that are pro-life," said 19-year-old demonstrator Roisin Ni Fhloinn, who considers herself to be among "a vocal minority" of anti-abortion university students.
"It's very important that we highlight the fact that women ― predominantly unborn women ― are targeted by abortion in a lot of countries. Both men and women are equal and they deserve equal rights, as does the unborn child," the teen added. A passing elderly woman cheerfully interrupted her to offer a quick word of encouragement.
"Ireland is one of the safest countries in the world to be pregnant and give birth in, and I'm very proud of that as a young Irish woman," said Ni Fhloinn. "We need to stand up and fight for those who can't fight for themselves."
Protesters at the sunny Saturday anti-abortion rally, who far outnumbered those at the pro-choice rally on Thursday, expressed deep disappointment at how the Irish media has covered their cause.
"I'm here today because I want to acknowledge the fact that a lot of us women are actually pro-life, contrary to what the media tries to portray. I think they try to portray that you cannot be pro-life and a feminist, and that's just not true," said 29-year-old Fatima Gunninghameed.
"Having done a lot of campaigning, I think that this referendum is a great chance for us to reaffirm our position as a pro-life nation," she added. "I really, really hope that not just Ireland, but the whole world can move to re-sanctify the value of human life, because a lot of things in the world today are really degrading to human life, and I wish that would be reversed."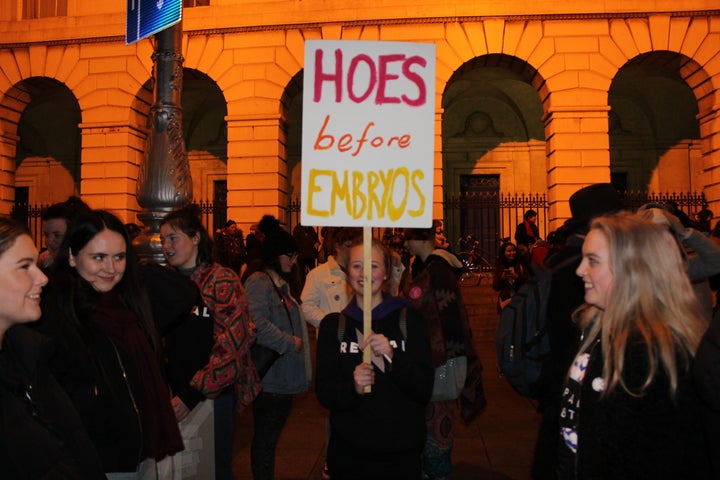 To Aoife Mullan, a 27-year-old pro-choice artist from Dublin, the fight for human rights is equally important, but entirely different in nature. She has campaigned against the eighth amendment "since Savita."
Savita Halappanavar was an Indian dentist who immigrated to Ireland. She died in 2012 as a result of complications from a miscarriage that she experienced 17 weeks into her pregnancy. Medical professionals had denied her repeated pleas for an abortion.
"I was in college at the time [of Halappanavar's death], and I just couldn't understand how a woman had died just because of the state. I still can't understand it ― it's unfathomable," said Mullen. "Everyone was quite shocked, and I think quite embarrassed about how it reflected on the nation internationally. But that's a good thing, because that highlights how the Catholic Church still has a grasp on the nation."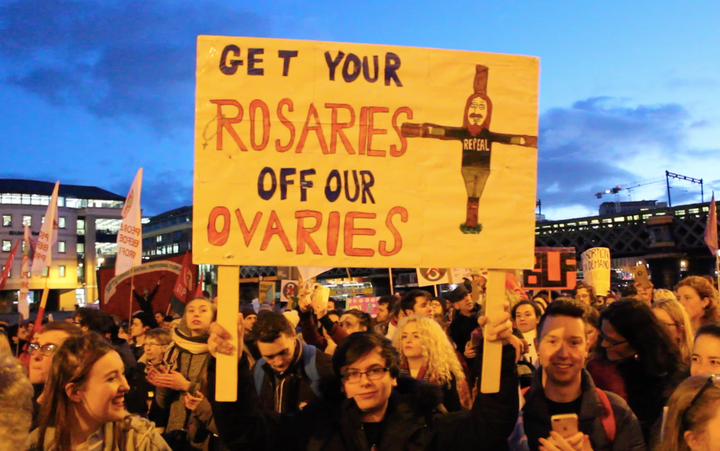 Ireland's Catholic Church has publicly urged its followers to vote against loosening restrictions on access to abortion, but many anti-abortion advocates argue that the matter is one of human rights, not religion.
"It's a moral issue, it's an ethical issue, but we don't call it a religious issue. I just see it as a right and wrong issue, I don't see it as sinful," said Mairead Hughes, a coordinator with the secular organization Cherish All The Children Equally who describes the looming referendum as "a pivotal moment."
"People are fired up for this ― they feel like it's their last shot," she said. "If the eighth amendment is removed, we have no legal protection, and that is deeply worrying."
With an 11-week countdown to the vote, it's still too soon to tell what will happen. But advocates on both sides agree that the referendum has elevated a crucial dialogue about the rights of Irish women.
"Women are telling their stories, and that's changed the nature of the conversation," said O'Gorman. "It's a huge moment for Ireland."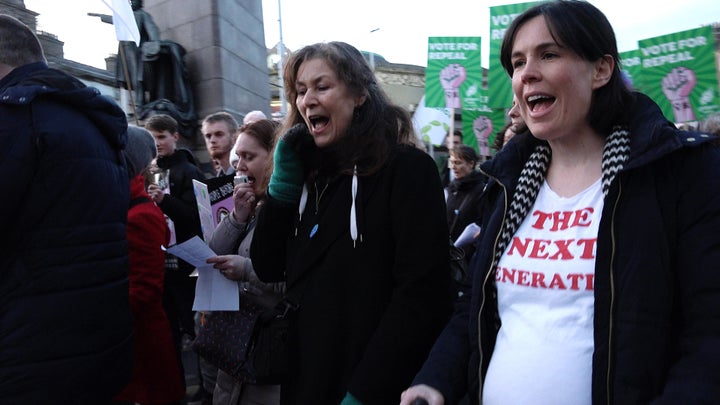 CORRECTION: A previous version of this story indicated that referendum voters would decide whether to repeal the eighth amendment in favor of legislation that would allow women to have abortions up to 12 weeks into a pregnancy. While the referendum vote is on whether to repeal the amendment, it is the legislature that would then be responsible for crafting a new law on women's reproductive rights.
The reporting for this article was made possible by New York University's GlobalBeat program.
Popular in the Community