An investigation is underway after an international flight out of Dubai landed at New York City's JFK Airport with 100 passengers reporting illness, the Centers for Disease Control and Prevention said.
In a statement released to the media, the CDC said 11 people were hospitalized Wednesday morning after dozens of passengers and crew on board Flight 203 complained of illness including fever, coughing and gastrointestinal illness.
The health agency said it evaluated all 549 passengers and crew members with the Port Authority, EMS and U.S. Customs and Border Protection. Initial actions included taking passengers' temperatures and arranging transportation to a local hospital.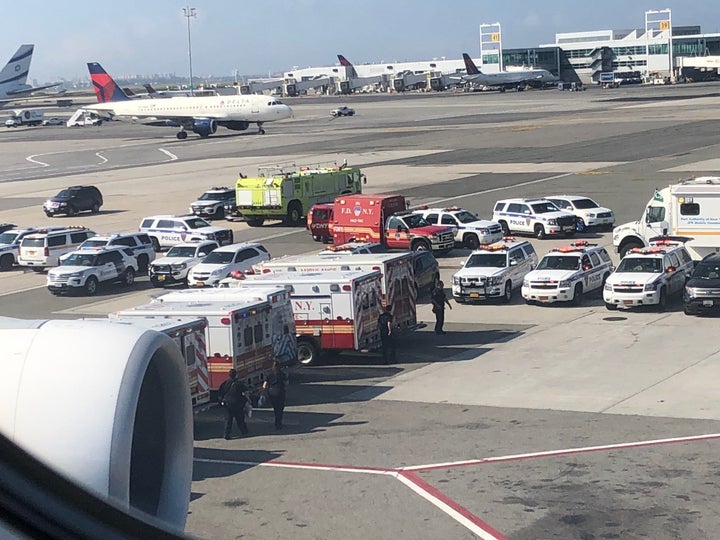 Eric Phillips, press secretary for New York City Mayor Bill de Blasio, announced at 12:30 p.m. on Twitter that all of the passengers had been taken off the plane and evaluated.
"Health officials are processing tests now to determine the cause. Symptoms still pointing to the flu," he said. 
A Port Authority official told HuffPost that the plane was not quarantined as initially stated by Phillips.
An Emirates airline spokesperson confirmed to HuffPost that those hospitalized included three passengers and seven crew members.
In addition, "nine passengers underwent additional medical screening at the site near the aircraft and were released afterwards. The rest of the passengers were allowed to leave and clear customs," the airline said.
Passengers and crew members taken to Jamaica Hospital in Queens for treatment have been isolated as they're evaluated, the hospital said in a statement.
"With a great deal of experience in emergency management situations, Jamaica Hospital is well equipped and prepared to accommodate these patients. As a result, hospital operations have not been affected and all of our patients continue to receive the highest quality of care," the hospital said.
CBS New York, citing a government source briefed on the situation, reported that there is no evidence of a security or terror issue.
The White House said President Donald Trump has been updated on the situation. "We are monitoring the situation and the president is being updated as new information is available," said White House deputy press secretary Lindsay Walters.
The CDC is asking that any passengers who develop symptoms contact their health provider and provide their travel history. 
One woman on Twitter, identifying herself as a passenger on the plane, has said that those sickened were ill before boarding the plane and that she requested a face mask but they didn't have any.
"The passengers were sick before they got on board. This is 100% not food poisoning," @SykesStyle tweeted with a video showing passengers on the plane being addressed by an official.
Calling all HuffPost superfans!
Sign up for membership to become a founding member and help shape HuffPost's next chapter