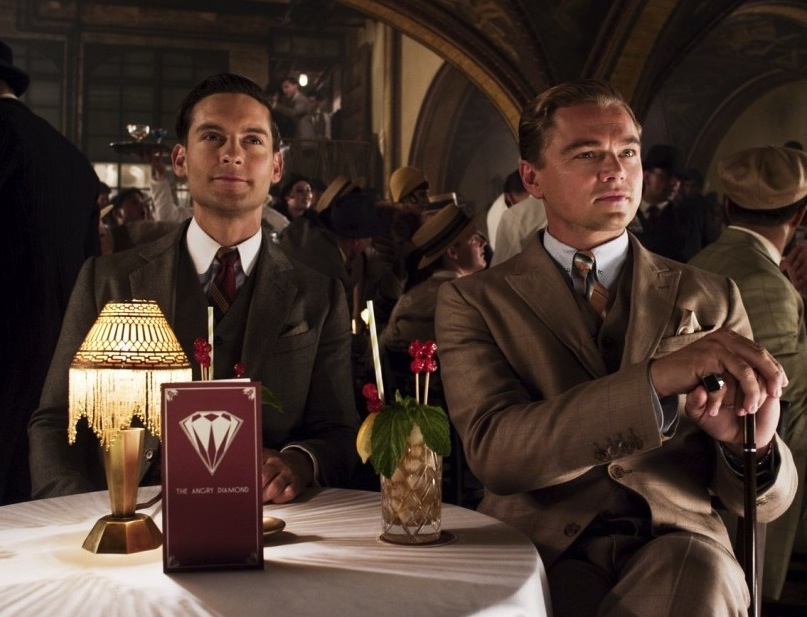 Nick Carraway (Tobey Maguire) and Jay Gatsby (Leonardo DiCaprio) have lunch. (Courtesy Warner Brothers)
With the new movie version of The Great Gatsby getting more attention by the moment, and since I positively reveled in its New York premiere last week, I've been thinking about F. Scott Fitzgerald's own career as a writer -- of novels, certainly, but also of screenplays.
In 1937, Fitzgerald went to work in Hollywood. He had never, despite the flop of his play The Vegetable in 1923, quite given up on the idea of drama. The stage had failed him, and his first trip to Hollywood as a screenwriter in 1927 was a fiasco. But Fitzgerald loved plays, acting (and actresses), and writing dialogue. He was not the first prominent writer, nor would he be the last, to pay his bills writing and doctoring screenplays. William Faulkner, Dorothy Parker, Raymond Chandler, Larry McMurtry, Tom Stoppard and many others have drawn paychecks, and the occasional Oscar, from their work in "the pictures."
Fitzgerald worked for MGM for over a year on movies including A Yank at Oxford, in which Robert Taylor arrives from America to become an Oxford man and Vivien Leigh co-stars; Three Comrades, based upon Erich Maria Remarque's bestselling novel about three soldiers after World War I; and The Women, that staggering saga of high-society desperate housewives with its all-female cast headed by Norma Shearer (whose real-life late husband, Irving Thalberg, was Fitzgerald's model for Monroe Stahr in The Last Tycoon).
After his contract expired, Fitzgerald picked up work where he could, including a brief pass through Gone With the Wind before it opened in 1939, and an ill-fated trip, marked by drinking that got him fired, with Budd Schulberg to Dartmouth, New Hampshire for Winter Carnival. He met, in the summer of 1937, the Hollywood gossip columnist Sheilah Graham. They would be lovers from shortly after their meeting until his death.
Fitzgerald's freelance screenwriting gave way to his real talent by the summer of 1939, when he began working hard on both short stories, most featuring a struggling screenwriter named Pat Hobby, and a longer work about Hollywood, unfinished at his death, and edited and published as The Last Tycoon by Fitzgerald's old Princeton friend Edmund Wilson in 1941. The best general account of Fitzgerald's Hollywood years remains Aaron Latham's book Crazy Sundays (1972).
Fitzgerald's prose is uncontrollably attractive, and particularly to anyone with a visual imagination. His writing is, quite literally, colorful -- full of palpable colors, of unforgettable images: golden shoulders and yellow-y hair and golden and silver slippers shuffling to the "Beale Street Blues"; Daisy Buchanan's white dresses; Gatsby's "gorgeous pink rag" of a suit; the "blue and gigantic" eyes of Doctor T. J. Eckleburg; a woman "like an angry diamond"; a "dust-covered wreck of a Ford which crouched in a dim corner." Baz Luhrmann has learnedly and lovingly tapped into this keen visual sensibility throughout Fitzgerald's novel in the new movie, I was delighted, and dazzled, to see.
Not surprisingly, films have been made of Fitzgerald's own books and short stories from the early 1920s to today. However, the earlier movies have all failed, and for the same reason. Fitzgerald's so hard to film -- and I think this is what made it hard for him to write workable screenplays, too -- because his words already have done all the cinematic work. His novels, and especially Gatsby and Tender Is the Night, are visually stunning, colorful and laden with light, constraining anyone trying to translate them to film by the sheer success of the language.
The Beautiful and Damned made $2,500 when Fitzgerald sold it to Warner Brothers, but he thought the 1922 movie poorly and cheaply made, as well as vulgar. The now-lost first film of Gatsby got mixed reviews in 1926; Fitzgerald himself didn't like it when he and Zelda saw it in early 1927. The lighting was evidently bad, Warner Baxter too aristocratic as Gatsby, Lois Wilson too shockingly drunk as Daisy, and in trying to convincingly supply Nick Carraway's narration the film relied too much on printed titles that wrecked any visual flow. Another Gatsby, with Alan Ladd as the protean hero, flopped in 1949. Tender is the Night, with Jennifer Jones and Jason Robards as Nicole and Dick, was David O. Selznick's last movie in 1961, but was a failure. The Last Tycoon (1976) boasted a screenplay by Harold Pinter, was directed by Elia Kazan, and stars Robert DeNiro, Jack Nicholson and Robert Mitchum, but no one remembers it today. Only the Robert Redford vehicle The Great Gatsby (1974), survives in popular culture, chiefly because of Redford himself. Luhrmann's imminent 3D version, starring Leonardo DiCaprio as Gatsby, has proved quite different. Luhrmann's pyrotechnic cinematic vision, coupled with Fitzgerald's language, and lovely, intense performances by DiCaprio and by Tobey Maguire as Nick Carraway, make for a marvelous connection. The quality of 3D makes it feel like you're watching a play instead of a movie -- creating the sort of stage drama, intent upon three-dimensional characters and their settings, that Fitzgerald himself loved and so wanted to create.
Of Fitzgerald's filmed short stories, of note is "Berenice Bobs her Hair," with sad-eyed Shelley Duvall as the silly modern Samson at first devastated, and then empowered, by the loss of her hair. "Babylon Revisited" morphed into The Last Time I Saw Paris in 1954, a star vehicle for Elizabeth Taylor.
Fitzgerald's work, and Fitzgerald himself, have been the subject of television biographies and dramatizations including a mediocre movie of Sheilah Graham's story of their three years together, Beloved Infidel, with Gregory Peck as Fitzgerald; Winter Dreams (American Masters series, 2001); Last Call (Showtime Productions, 2002); and the forthcoming Sincerely F. Scott Fitzgerald, narrated by Jay McInerney (BBC Two/The Culture Show, to be broadcast later this month).
In Last Call, which stars Jeremy Irons as Fitzgerald and Neve Campbell as his last secretary, Frances Kroll, Fitzgerald is a man broken in health but eager to write, at any cost; a man vicious in his anger when drunk, but poetic and gentlemanly when sober. The stereotypes of Fitzgerald's last year had to arise from some realities: Frances Kroll Ring, indefatigable and radiant as she approached 90 when Last Call was being filmed, acknowledged some of them, but insisted above all on his still-great, and even increasing, literary capability. What survives of the novel now titled The Love of the Last Tycoon: A Western, the half-completed story of an outsider seeking success in the Factory of Dreams, bears out what she says.
In one of his many notebooks and scrapbooks, Fitzgerald wrote two drafts of an autobiography: "Drunk at 20, wrecked at 30, dead at 40" and "drunk at 21, human at 31, mellow at 41, dead at 51." He died following one plan or the other, depending on your point of view; I prefer the latter, and wish he'd made it on past 51. Fitzgerald was just 44 when he died. He had been hard at work on his new novel about the movies, but had been forced to take a break from writing because of heart trouble. On December 21, 1940, while relaxing in a chair at the home of Sheilah Graham, Fitzgerald was eating a chocolate bar and making notes on a football story in the Princeton Alumni Weekly. He stood up suddenly, in the grip of a heart attack (the third or fourth he had had that year), and fell to the floor, dead within minutes. Fitzgerald's death was long taken to be the final note of pathos in a pathetic life: that he could still care about Princeton football, so many years after he himself had famously declared, in This Side of Paradise, that we'd never be so young again. Yet the last words Fitzgerald ever wrote, in his usual No. 2 pencil, on that article were a critical comment: "Good prose."
Good prose is what Scott Fitzgerald labored over and turned out, and what keeps his writing popular today -- good prose that, at its best, is poetry and drama and everyday talk and criticism and fairy tale and all sorts of genres wrapped up in a single page, like the last page of Gatsby, or a single paragraph, like that at the beginning of "May Day." Even when he describes the inability to write, to speak, to create, Fitzgerald's eloquence and elegance amaze, and linger. Recall Nick Carraway, listening to Jay Gatsby speaking: "Through all he said, even through his appalling sentimentality, I was reminded of something -- an elusive rhythm, a fragment of lost words, that I had heard somewhere a long time ago. For a moment a phrase tried to take shape in my mouth and my lips parted like a dumb man's, as though there was more struggling on them than a wisp of startled air. But they made no sound and what I had remembered was uncommunicable forever." Uncommunicable forever: the paradox, and beauty, of Fitzgerald's writing is in its sheer inimitability -- words constantly recalled, but too perfectly said ever to be replicated.
Calling all HuffPost superfans!
Sign up for membership to become a founding member and help shape HuffPost's next chapter