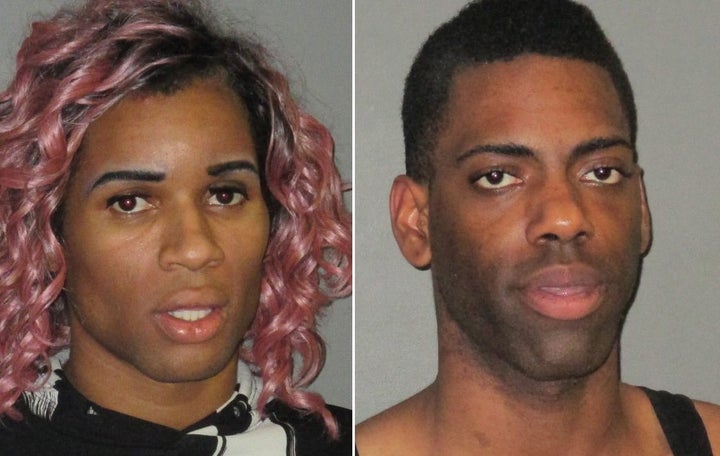 Two Louisiana residents were jailed on a litany of charges after authorities said they live-streamed an attempted kidnapping on Facebook. 
Tony Green, 23, and Keeston Davis, 25, /www.wbrz.com/news/man-crashes-into-vehicle-smashes-it-with-hammer-cuts-driver"}}">were arrested in Baton Rouge on New Year's Day. Both were booked on charges that include attempted second-degree murder, attempted kidnapping and criminal damage to property.
According to a Baton Rouge Police Department arrest report /www.theadvocate.com/baton_rouge/news/crime_police/article_77f54d26-d133-11e6-a9ca-3f14f44e07f0.html?sr_source=lift_amplify"}}">obtained by The Advocate, the two suspects went to an apartment on Sunday night, knocked on the door and attempted to forcibly remove the occupant.
"I'm about to drag that hoe out her house and that's going to be on live," one of the suspects said on the video. "I'm going to give y'all hos a reason to send me to jail."
The same suspected added, "My bail bondsman, if you watching this motherfucking video, you already see what time it is, so when you hear my call, come get me."
The victim opened the door, but the suspects were unsuccessful in pulling the individual out of the house. Green and Davis broke the apartment windows before leaving, according to police.
"I busted all the windows," one suspect boasted during the livestream. "I tried to pull that hoe out the door, [but] she backed up."
At one point during the live feed, one of the suspects said, "I'm about to merk one of them hoes," a slang term for murder.
The clip below is taken from the 30-minute Facebook Live video, which remained on Green's Facebook page Tuesday afternoon.
Warning: Video contains graphic descriptions of violence and harsh profanity. 
The suspects launched a second attack later that night, when Green intentionally crashed into the victim's vehicle and they bashed it further with a hammer, police said.
Green and Davis then attacked the victim with knives, Shreveport's KSLA News reported. Wounds on the victim's upper thigh were "close to hitting the femoral artery," according to the police report. The victim was transported to a local hospital.
Authorities arrested Green and Davis after interviewing the victim and reviewing the video.
Jail records list no attorney for either suspect.
The Facebook Live video, which remains on Green's Facebook page, has been viewed more than 77,000 times since Sunday.
REAL LIFE. REAL NEWS. REAL VOICES.
Help us tell more of the stories that matter from voices that too often remain unheard.
BEFORE YOU GO
PHOTO GALLERY
Dumb Criminals: Mugshot Gallery