The switch is part of an effort by Facebook to give its users more control over the site's mysterious News Feed algorithm. One key new feature: You'll now be able to easily see who and what most frequently fills up your News Feed.
Under the updated News Feed settings (to be introduced as an added tab called Manage News Feed), you can find out which friends, pages and groups you've seen the most over the past week. According to Facebook's explanation of the algorithm, your feed is based on who and what you interact with when you're posting, liking and commenting.
We reached out to Facebook to find out if the profiles you browse but don't interact with (in other words, the people you Facebook-stalk) affect your most-seen list. A spokesperson told us the News Feed algorithm takes into account over 100,000 factors, including the profiles you visit, to determine what shows up in your News Feed. But actions, such as clicking on links and liking posts, are weighed more heavily than just browsing.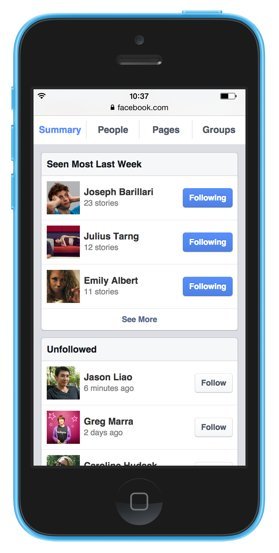 Your Facebook week in summary
The update also gives users more control over what content they see in their News Feeds. Previously, you could "unfollow" people and groups or say, "I don't want to see this," to hide posts similar to those you truly despise. Now you will have an additional option: to merely "See Less," limiting the amount of such content you see, but still giving you an occasional taste.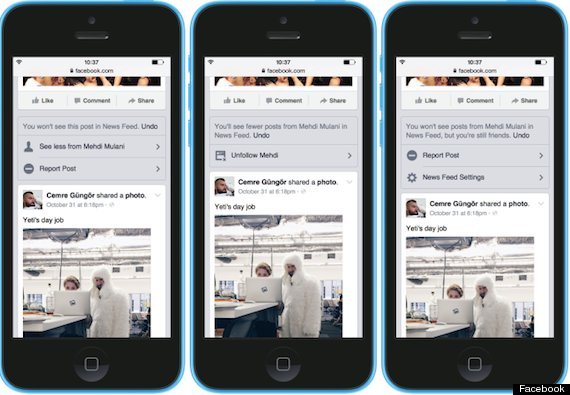 It's easier to limit what type of content you see
Oh, and if you ever regret unfollowing someone, you can now find and follow them again using the new tool. Just look at your Summary page (viewable above), and you'll be able to see a list of every user, page and group you have unfollowed.
Adam Mosseri, the Facebook News Feed's product management director, told the Wall Street Journal that Facebook users can expect more options and customization to the News Feed settings in the future. That may possibly include sorting posts by topic and more easily into friend groups.
This post has been updated to include information provided by a Facebook spokesperson.
Popular in the Community