"Direct all of the force of your repressive mechanism, which includes assault, car accidents, murders and the whole arsenal, against me personally, a woman whose only weapon is a word. I demand you immediately stop the crackdown and persecution of my colleagues and their families!" -Leyla Yunus, August 31, 2011
This is the first installment of a new monthly blog series highlighting the work of women activists who are re-creating our world through brave acts of inspiration and defiance amidst overwhelming adversity and persecution. These are their stories, fighting for basic human rights while living and working on the frontlines of armed conflict and extreme state-sponsored violence.
Last week, three women peace activists won the 2011 Nobel Peace Prize, making them the first women to win the prize since 2004. Joining them in the struggle for basic human rights are thousands of women activists whose stories may never be told or recognized. Over the past decade I've had the privilege to work closely with Urgent Action Fund for Women's Human Rights (UAF), a non-profit organization that provides "Rapid Response Grants" to women activists worldwide in moments of incredible opportunity and dire crisis. This gives UAF inside access to some of the most compelling and urgent human rights struggles in our world today. Because of my history with UAF, they have granted me access to their files and thus an opportunity to bring some of their grantees' stories to a broad audience for the first time.
I begin this project with the conviction that writing about heroic women not only provides us all with vital inspiration, but that it also creates a crucial space for expressing solidarity and garnering support and, most importantly, puts their oppressors on notice that the world is watching and supporting these women in their ongoing struggles.
In a world where the mainstream media focuses on all that's wrong in the world, this is a chance for you to learn about the jaw-dropping ways that women are speaking truth to power and winning! I hope you will return to this blog regularly to find sources of motivation and sustenance for your own efforts to create positive change in the world.
To kick off this endeavor, I'd like to introduce you to Leyla Yunus, a prominent human rights activist from Azerbaijan. Leyla has been working for increased human rights in Azerbaijan for years and has recently become the target of a calculated and very personal attack.
But first, a little context.
Azerbaijan is a country on the eastern edge of Europe and the western edge of Asia, in a region known as the Southern Caucasus. It is a member of both the Human Rights Council and the Council of Europe, meaning it has close political ties with Europe and the United Nations. The capital city, Baku, sits along the Caspian Sea, with The Russian Federation to the North and Iran to its South. As a newly independent country, Azerbaijan is only 20 years old, having spent much of the last century under Soviet rule. Azerbaijan is also one of the largest oil producing countries in the region, and quickly becoming one of the wealthiest, making it geopolitically important to both the East and West.
Like many of my readers, I've never been to Azerbaijan. I had to consult Lord Google for all of the information above. Online images show a mixture of cultures and religions, modern cities and industry, as well as beautiful mountain scenes and vast deserts. Much of what I already knew about Azerbaijan before writing comes from working in human rights internationally and that picture was never so pretty.
It's no big secret that the human rights situation for government critics in Azerbaijan has been abysmal, as denounced frequently by Human Rights Watch and Amnesty International. Journalists and activists are routinely harassed, threatened and abused in an effort to silence any outspoken opposition to the ruling political party, the New Azerbaijan Party (YAP). In fact, as I write this, I am thinking of the bloggers and youth activists inside Azerbaijan who are sitting behind bars for writing similar criticisms.
What is less known about Azerbaijan is that the crackdown on activists has greatly intensified in response to recent revolutions across North Africa and the Middle East, and in anticipation of hosting the wildly popular Eurovision Song Contest in 2012. The Eurovision Song Contest is one of the longest running and most watched non-sporting events in the world, with audience figures quoted between 100 million and 600 million internationally.
Once it was announced that Baku would host next year's contest, the government began a massive "beautification" program to clean up the city for the television cameras. This new project has forcibly displaced tens of thousands of people with very little warning or compensation, razing homes to the ground and leaving thousands homeless ... all to make room for new parks and artificial monuments to past regime leaders.
Leyla and her organization took on the cause, calling for an immediate halt to the widespread devastation. They have organized protests, spoken to international policy makers and at one point painted their office building with the words, "This is private property and the destruction of the house violates the Constitution and the European Convention of Human Rights." Leyla even secured an official court injunction halting the demolition of her building while the case was being investigated.
On August 10, The New York Times published an interview with Ms. Yunus in which she openly denounced the forced evacuations and called for the protection of property rights. The very next day, in direct violation of the court ruling, Leyla's home and offices were bulldozed to the ground.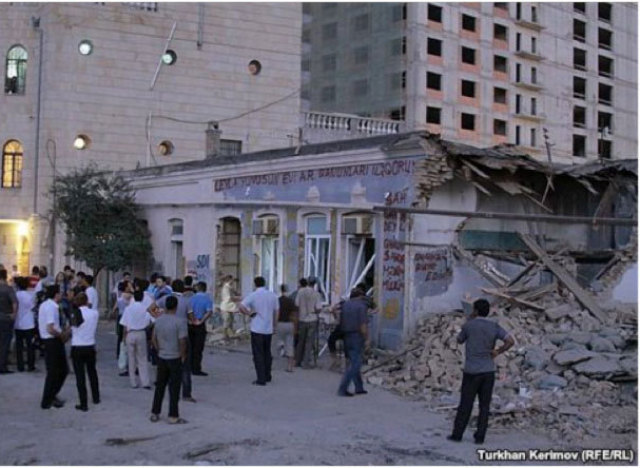 Activists inside were given less than five minutes to evacuate with their lives and lost everything they owned, including years of important social justice work. Along with the Institute for Peace and Democracy, the only Women's Crisis Center in Baku and the office for the Azerbaijani Campaign to Ban Landmines were also destroyed. Many leading human rights advocates have condemned the attack on IDP, calling for an end to the "barbaric lawlessness" by the authorities of Azerbaijan against Leyla Yunus and her colleagues.
I wonder how I would react if I had five minutes to evacuate my home? Forced to leave my memorabilia and work behind, all the while knowing that the destruction was taking place because I had the audacity to speak the truth and stand up for innocent victims. Would I go into hiding? Try and provide some protection for my family by fleeing the country? Give up and let my oppressors and their bulldozers win? As a longtime activist who has gone to great lengths to denounce human rights abuses, I do not think I would have the gall to keep challenging Goliath after such an attack.
She continues to speak out, despite being followed and overtly threatened. One senior police officer recently warned Ms. Yunus, "Do not take risks continuing with protests against the demolition, as you have kids. Don't even think to complain to the prosecutor's office or the courts...its better that you and your relatives abstain from leaving your houses after dark."
She bravely responded by releasing a statement on Aug. 31st, 2011, stating: "Direct all of the force of your repressive mechanism, which includes assault, car accidents, murders and the whole arsenal, against me personally, a woman whose only weapon is a word. I demand you immediately stop the crackdown and persecution of my colleagues and their families!"
In addition, IDP has sent out a call for activists to join them in Baku next May to protest the Eurovision Song Contest. She and her colleagues plan to use this rare spotlight on Azerbaijan to let the world know what is happening, boldly stating that this year's Eurovision "will sing and dance over our tears and the ruins of our homes." It's a brilliant strategy for non-violent action and one that has worked well historically.
In 2008, I was part of a large-scale campaign to turn China's Olympic spotlight on the gross human rights violations taking place in occupied Tibet. We successfully completed protests involving thousands of people across China and the world, including several non-violent actions inside Beijing during the games. Gathering much of our support from online activism and word of mouth, Students For A Free Tibet challenged one of the world's most authoritarian regimes and revealed its true colors in front of the cameras. In doing so, I personally witnessed the power of non-violent protest to force governments to change.
Now Leyla Yunus and her allies have an opportunity to use the upcoming Eurovision Stage to speak their truths, and they could use our support.

Urgent Action Fund for Women's Human Rights has been supporting Leyla and her staff to keep working despite their current conditions. UAF has also released an online Call to Action, a way that we can all participate in demanding that the government end its abuse toward IDP and its staff. If you are wondering how to make positive change in a world full of war and hate, join me in sending a collective message to the government of Azerbaijan today. A few clicks of your mouse after reading this and you can add your voice to the collective cry for basic human rights in Azerbaijan ... and you will have provided valuable fuel to Leyla's fight.
Without a home and without an office, Leyla and her colleagues are refusing to be silenced, continuing to organize, documenting ongoing abuses and calling out for international support. One way to survive and eventually win their rights is for those in power to feel such intense international pressure and exposure that they are compelled to change their tactics.
Take these three steps today to support IDP's campaign and let Leyla and her colleagues know that you've got their backs!
1.Sign Urgent Action Fund's Call To Action.
2.Leave messages of solidarity for Leyla and IDP in the comments below.
3.Share this post within your social networks and help amplify the cause.
Imagine the courage it takes to keep calling for change when all your worldly goods are buried under rubble, your life and your family explicitly threatened, your voice drowning in a world saturated with appeals for support. If we can summon a fraction of that fearlessness within ourselves, then we will heed Leyla's plea for international support and take action today.
The recent uprisings in North Africa and the Middle East were propelled onto the world stage using Facebook and Twitter, bringing us the world's first digitally organized revolutions. The age of digital activism is upon us, but you can't start a revolution if your computers are shattered and your phone lines cut. You're gonna need outside help.
Well, I have a computer, and you have a computer and your friends have computers...
Now let's do what we can today by spreading Leyla Yunus's story around the world like a forest fire!
Kiri Westby
Change-Maker/Rule-Breaker/Story-Teller

Popular in the Community