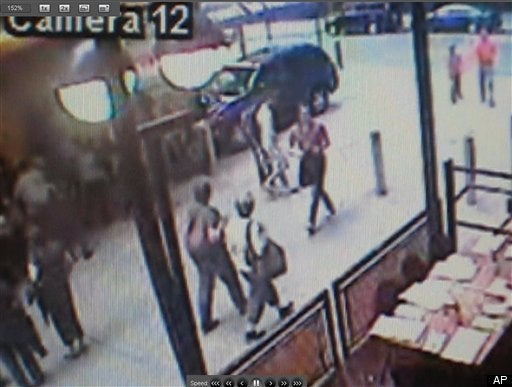 A man has been arrested in connection with Saturday's attempted car bombing in New York's Times Square.
The suspect is Faisal Shahzad, a 30-year-old U.S. citizen of Pakistani descent. The Connecticut native was captured at JFK International Airport while attempting to board a flight to Dubai. According to a colleague, CNN's Deb Feyerick "reports the suspect was taken off the plane when he was arrested."
Statement from U.S. Attorney General Eric Holder:
Earlier this evening, Faisal Shahzad was arrested in connection with the attempted car bombing in New York on Saturday. Mr. Shahzad, an American citizen, was taken into custody at JFK Airport in New York as he attempted to board a flight to Dubai.

Since this plot was first uncovered on Saturday night, the FBI, prosecutors and intelligence lawyers in the National Security Division of the Justice Department and the U.S. Attorneys Offices in Manhattan and Connecticut, along with the NYPD have worked night and day to find out who was responsible for what would have been a deadly attack had it been successful. Over the course of the day today, we have gathered significant additional evidence that led to tonight's arrest, which was made by agents from Department of Homeland Security's Customs and Border Protection.

This investigation is ongoing, as are our attempts to gather useful intelligence, and we continue to pursue a number of leads. But it's clear that the intent behind this terrorist act was to kill Americans.

FBI agents are working with their state and local counterparts in New York, Connecticut and other jurisdictions to gather evidence and intelligence related to this case. We are also coordinating with other members of the President's national security team to ensure we use every resource available to the United States to bring anyone responsible to justice.

We continue to gather leads in this investigation, and it's important that the American people remain vigilant. The vehicle in Times Square was first noticed on Saturday by a citizen who reported it to authorities, and, as always, any American who notices suspicious activity should report it to the appropriate law enforcement agencies.

This investigation is ongoing, it is multi-faceted, and it is aggressive. As we move forward, we will focus on not just holding those responsible for it accountable, but also on obtaining any intelligence about terrorist organizations overseas.

Because of the fast-moving nature of this investigation, I am not able to make any further information public at this time. But the American people should know that we are deploying every resource available, and we will not rest until we have brought everyone responsible to justice.
ASSOCIATED PRESS UPDATE: 2:00 AM -- NEW YORK -- A Pakistani man believed to be the driver of an SUV used as a car bomb in a failed terror attack on Times Square was taken into custody early Tuesday by federal and local police officials while trying to leave the country, a law enforcement official said.
The suspect, Faisal Shahzad, was identified by customs agents at John F. Kennedy International Airport and was stopped before boarding an Emirates airlines flight to Dubai, according to officials who spoke to The Associated Press early Tuesday on the condition of anonymity because of the sensitivity of the investigation. He had recently returned from a five-month trip to Pakistan, where he had a wife.
He was being held in New York and couldn't be contacted. He has a Shelton, Conn., address; a phone number listed there wasn't in service.
Law enforcement officials say Shahzad bought the SUV, a 1993 Nissan Pathfinder, from a Connecticut man about three weeks ago and paid cash. The officials spoke to the AP on condition of anonymity because of the sensitive nature of the case.
Police said the bomb could have produced "a significant fireball" and sprayed shrapnel with enough force to kill pedestrians and knock out windows. The SUV was parked on a street lined with restaurants and Broadway theaters, including one showing "The Lion King," and full of people out on a Saturday night.
The vehicle identification number had been removed from the Pathfinder's dashboard, but it was stamped on the engine, and investigators used it to find the owner of record. The discovery was paramount to the investigation.
"The discovery of the VIN on the engine block was pivotal in that it led to the identifying the registered owner," said Paul Browne, chief New York Police Department spokesman. "It continues to pay dividends."
The U.S. attorney's office in Manhattan will handle the case. An early morning call to the office was not immediately returned. It wasn't clear if additional suspects were being sought.
Officials say the SUV's registered owner, whose name has not been released, was not considered a suspect in the bomb scare.
Investigators tracked the license plate found on the rear of the SUV to a used auto parts shop in Stratford, Conn., where they discovered the plate was connected to a different vehicle. They also spoke to the owner of an auto sales shop in nearby Bridgeport because a sticker on the Pathfinder indicated the SUV had been sold by his dealership.
As the buyer came into focus, investigators backed off other leads. They had initially wanted to speak with a man apparently in his 40s who was videotaped shedding his shirt near the Pathfinder, but they backed away as the buyer became clear. The man had not been considered a suspect, and officials said it's possible he was just a bystander.
In Washington on Monday, White House press secretary Robert Gibbs said Saturday's attempted bombing was a terrorist act.
The motive remained unclear. The Pakistani Taliban appeared to claim responsibility for the bomb in three videos that surfaced after the weekend scare, monitoring groups said. New York officials said police have no evidence to support the claims. It was unclear if the suspect in custody had any relationship to the group.
The SUV was parked near offices of Viacom Inc., which owns Comedy Central. The network recently aired an episode of the animated show "South Park" that the group Revolution Muslim had complained insulted the Prophet Muhammad by depicting him in a bear costume.
The SUV was captured on video crossing an intersection at 6:28 p.m. Saturday. A vendor pointed out the Pathfinder to an officer about two minutes later. Times Square, clogged with tourists on a warm evening, was shut down for 10 hours. A bomb squad dismantled the explosive device, and no one was hurt.
The explosive device had cheap-looking alarm clocks connected to a 16-ounce can filled with fireworks, which were apparently intended to detonate the gas cans and set the propane afire in a chain reaction, said Police Commissioner Raymond Kelly.
A metal rifle cabinet placed in the cargo area was packed with fertilizer, but NYPD bomb experts believe it was not a type volatile enough to explode like the ammonium nitrate grade fertilizer used in previous terrorist bombings.
The exact amount of fertilizer was unknown. Police estimated the cabinet weighed 200 to 250 pounds when they pulled it from the vehicle.
Related
Popular in the Community