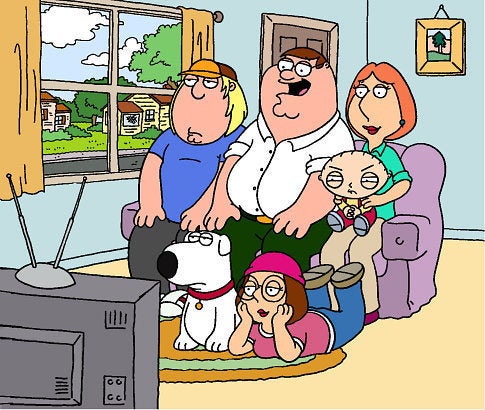 Giggity giggity: the Griffins are coming to a comic shop near you.
Titan Comics announced on Monday that they will begin producing a new "Family Guy" comic book series, taking the insane animated series and translating it into paperback comedy gold.
The show, now in its ninth year -- and second incarnation, after a number of years off the air -- is a groundbreaking suburban sitcom that combines social commentary, ludicrous plot lines and plenty of obscure pop culture shout outs.
Helmed by creator Seth MacFarlane, "Family Guy" follows the Griffin family of Rhode Island as they do things like combat evil closet monkeys, plot to take over the world and drink endless amounts of beer with sex offender friends. It's already sold 25 million volumes on DVD, and is now betting on its fans' willingness to read comic books. Probably a smart roll of the dice.
The series hits stands in July.
"Family Guy" has already waded into the paperback world, with a long list of books. Titles include "Stewie's Guide to World Domination," "Peter Griffin's Guide to the Holidays," and "Family Guy: A Big Book O' Crap." They've also released manga -- or Japanese-style comic -- versions of a number of episodes, as well.
Titan Comics and Twentieth Century Fox Consumer Products are pleased to announce the U.S. launch of the Family Guy comic series, based on the award-winning hit animated TV show from the mind of Seth MacFarlane.

The Family Guy comic series will follow the Griffin family in a string of brand new outrageous storylines, along with fellow Quahog residents Cleveland Brown, Joe Swanson and everyone's favorite ladies man, Glen "giggity" Quagmire.

Family Guy has become one of America's favorite animated TV shows of all time, and was named one of TV Guide's "25 Top Cult Shows Ever!". The show boasts over 27 million fans on Facebook, and has been nominated for 13 Emmy® Awards including Outstanding Comedy Series.

Artwork for the Family Guy comic series is provided by comic artists SL Gallant (G.I. Joe, Torchwood) and Anthony Williams (Judge Dredd, Superman, Batman).

Family Guy comic #1 will be on sale and available on US newsstands and in specialty comic book stores beginning on July 27, 2011.
Calling all HuffPost superfans!
Sign up for membership to become a founding member and help shape HuffPost's next chapter