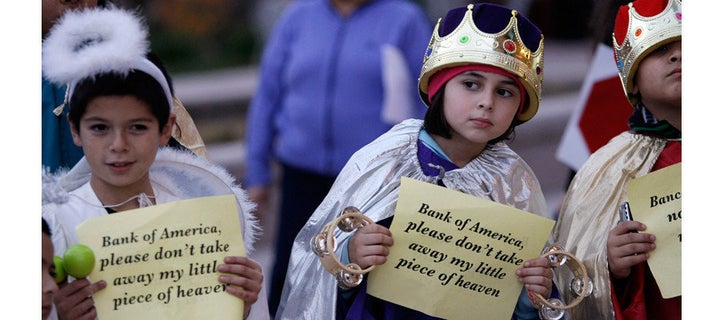 WASHINGTON -- The Federal Reserve has reversed its opposition to new rules reining in foreclosure abuses, and will support stronger regulations on the nation's largest banks, according to a source familiar with the matter.
The Wall Street reform legislation signed into law by President Obama in July 2010 required federal regulators to write new rules governing the broken market for mortgage bonds. Problems in the packaging and sale of mortgage bonds helped inflate the housing bubble and facilitated the sale of predatory loans nationwide. Since banks could push mortgages on borrowers and then sell them to investors, critics say that banks lacked serious incentives to ensure those loans could be repaid.
The FDIC has been pushing hard to ensure that new regulations on the mortgage bond market include clear instructions for how banks handle mortgages-- and under what circumstances they can evict delinquent borrowers. The bank divisions that collect payments from borrowers and implement the foreclosure process-- known as "mortgage servicers"-- have been plagued by rampant problems with fraudulent documentation. This fraud has resulted in everything from illegal fees charged to borrowers to improper evictions.
The Fed had opposed using the mortgage bond rules to crack down on foreclosure abuses, despite pressure from the FDIC. But FDIC General Counsel Michael Krimminger recently told the Fed his agency would not support any new mortgage bond regulations that do not include strong rules forbidding foreclosure abuses. Krimminger told HuffPost that other regulatory agencies are "moving in our direction on the issue."
Krimminger would not specify which agencies were coming around. But a separate source close to the discussions told HuffPost that the Fed has come on board, with systemic risk watchdogs at the central bank sympathetic to Krimminger's position.
Late last month, more than 50 economists, banking experts and financial reform advocates sent regulators a letter urging them to use the mortgage bond rules to create a gold standard for handling mortgages in a responsible fashion. Many of the rules proposed in the letter were very simple standards, like promptly crediting borrower accounts when they make payments on their loans. But mortgage servicers have had significant problems performing these tasks for years, and regulators have not checked them. The Office of the Comptroller of the Currency (OCC), which regulates the largest mortgage servicers, has never issued any public regulatory sanction against a servicer. Current OCC chief John Walsh also said in a recent Congressional hearing that his agency was unaware of foreclosure fraud problems until the media began reporting them.
A cadre of House Democrats lead by Rep. Brad Miller (D-N.C.) has also urged regulators to use the new mortgage bond rules to crack down on foreclosure abuses and encourage loan work-outs.
Under the new rules required by Wall Street reform legislation, banks that plan to sell mortgages off to bond investors will be required to keep some of the loans on their own books. The idea is to prevent banks from knowingly selling off bad mortgages to other firms, avoiding losses while creating risks to the broader economy. But a certain class of top-grade mortgages will be exempt from this "skin-in-the-game" requirement. If a mortgage is of superior quality, the thinking goes, it doesn't need such safeguards.
Financial experts believe the criteria that regulators use to define these top-quality loans will become the new standard for the mortgage business. The FDIC and reform advocates hope to ensure that strong standards of mortgage servicer conduct will be included in these definitions.
Financial blogger Yves Smith has also organized more than 3,000 individuals to pressure regulators into taking action on foreclosure fraud. Smith established the website StopServicerScams.com, where supporters can sign a short petition urging regulators to stop foreclosure abuses. The CREDO Mobile telecom company has been rounding up petitioners for the site.
The OCC is yet to support the new rules, according to the source familiar with negotiations. Krimminger told HuffPost that no specific language has yet been dissected in interagency talks. Neither the Fed nor the OCC were immediately available for comment.