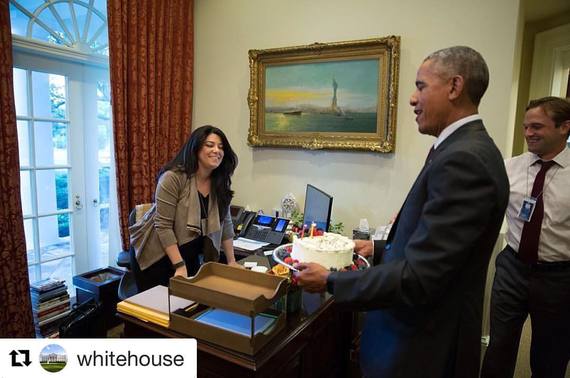 Ferial Govashiri is the personal aide to the outgoing President of the United States, Barack Obama. On Sunday November 13, she will be a featured panelist at the Iranian American Women Foundation Leadership Summit in Washington D.C! As she ends her current term at the White House, Ms. Govashiri shares insights from eight years on the front lines of history. Ms. Govashiri began her political career in the Scheduling and Advance department in then Senator Barack Obama's Chicago presidential campaign headquarters in 2007.
1. Your reaction to the Presidential elections and any advice for the person who takes over your job?
No matter what political party you align with, the office of the President of the United States is sacred and you must bring integrity, honesty, and kindness to work with you every day!

2. What's the funniest thing that's happened to you on the job?
Unfortunately, this list is long but there was a very young singer whose name I mispronounced and the President had to correct me, ha!
3. Share a profound moment.
There was a moment the President and Pope where talking to each other in front of my desk, and I had to snap back into reality!!
4. Tell us more about your educational background?
I graduated my Undergrad from the University of California, Irvine with a degree in Political Science.
5. How did you get your big break working at the White House?
I worked on the Obama Campaign!
6. What compromises does one have to be willing to take to do a job like yours?
You have to give up a lot of your personal life; your job becomes your life.

7. What advice do you have for Iranian-Americans aspiring to get into politics.
Go for it!! The experience is once in a lifetime but you have to be ready to work hard and be mentally prepared. It is not an easy environment to immerse yourself in - confidence is key.
Hundreds are expected to attend the Iranian American women's leadership conference in Washington, D.C. this Sunday November 13 to network with trailblazers like Govashiri and others who have created their own paths and become pioneers in their fields. The theme of the conference is "Building Bridges" and aims to inspire attendees to connect and network regardless of differences in politics, religion or socio-economic status. The daylong event will include mentoring sessions with top executives from a variety of industries and causes. Follow the stories via social media at #IAWFDC16.
REAL LIFE. REAL NEWS. REAL VOICES.
Help us tell more of the stories that matter from voices that too often remain unheard.