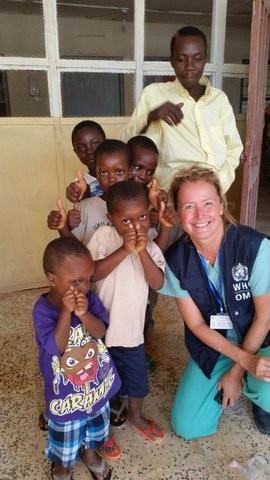 Back home in the United States after three weeks helping fight the Ebola crisis in Sierra Leone, Dr. Suzanne Donovan is flying to Nairobi this weekend -- at the invitation of the United Nations -- to speak about Ebola management to representatives from seven African countries.

Dr. Donovan has been working on Ebola preparation for L.A. County, where she's a professor of clinical medicine at UCLA's David Geffen School of Medicine and the Infectious Diseases Department at Olive View-UCLA Medical Center. She isn't surprised that a patient suffering from Ebola symptoms (who has since died) was sent home from a hospital in Texas with antibiotics.
"I believe many American hospitals may not be prepared. It's difficult to stay 100-percent prepared for a rare event."
Dr. Donovan says there will definitely be suspected cases in Los Angeles -- most likely from returning health workers -- but that any outbreak in America will be contained.
She has been symptom-free for the 21-day incubation period since her return from Sierra Leone. These usually develop within 10 to 14 days. Patients are only infectious once they start exhibiting symptoms.
Kenema General Hospital (KGH), where Dr. Donovan was sent by the World Health Organization as part of a team of volunteers from around the world, saw more than 250 Ebola patients during her stay.
"I was constantly inspired by both the national and international staff. The national staff was primarily young health workers who had lost most of their senior colleagues to Ebola, but they still kept showing up," she said.
Dr. Donovan recalls one in particular. French, a 24-year-old nurse, is now in charge of the Ebola unit. "Despite not being paid for three weeks, French goes in to care for patients every day."
Another hero is Bai, 42. "The role of Ebola survivors becoming health care workers is crucial in West Africa. I asked survivors who were willing and able to help us take care of other patients to stay on, because they are now immune. Bai is one of many who agreed to remain."
When Dr. Donovan first arrived at the hospital, there were 115 patients in a unit meant for 45. There weren't any national doctors at the hospital when Dr. Donovan arrived. There is a national shortage and the previous Ebola specialist had died. There was a 40-percent mortality rate among adult Ebola patients at KGH, less than 10 percent in children. The children pictured above with Dr. Donovan are all Ebola survivors.
Rather than waste valuable time waiting for test results, Dr. Donovan treated her patients for malaria and typhoid as well, because many presented those symptoms. She only had three lab tests available anyway: for Ebola, Lassa fever (that presents similar to Ebola) and malaria. There was no test for typhoid.
"It was about saving as many lives as possible."
The most difficult aspect for Dr. Donovan was witnessing the suffering of children. "One family sticks out in my mind. I entered one of our isolation tents that was crowded with patients from a remote village on the border. A baby was suckling at her dying mother's breast. Her husband was dying on the ground next to her. He was holding the hand of his two-year-old son. The little boy was transfixed by me. Many of these patients from remote villages had never seen a Westerner, much less one dressed head to toe in a white protective suit. That must have been very scary for a young child."
The parents died, but both those children survived. They are currently living in the hospital because they have no way to get back to their village. Many villages refuse to take Ebola survivors back, even the orphans.
"I would see as many as six children from one family whose parents had died. The oldest kid would take care of the next youngest and so on. There was no crying. No whining. They just took care of each other. If there weren't older siblings, other patients would step up and bottle-feed the babies. There were no bottles or baby formula at the hospital when I arrived, so I went to the market and bought some."
What Dr. Donovan hadn't expected was the impact on a patient's mental state. They would develop something health care workers called "The Stare." After her first few days there, Dr. Donovan knew a person had Ebola when they started staring, even if she hadn't had the test results back.
Why are so many health care workers getting infected? "They either weren't trained in using Personal Protective Equipment or they weren't available. Hospitals in Africa don't have the infection control guidelines that American hospitals do. They don't have appropriate discenfectant. Even basic hand hygene isn't a common concept in communities so when they did the 72 hour shut down in Sierra Leon while I was there we went door to door and provided villagers with education on Ebola and soap. Soap and water is enough to kill this virus," said Dr. Donovan.
REAL LIFE. REAL NEWS. REAL VOICES.
Help us tell more of the stories that matter from voices that too often remain unheard.