In 2013, college grads left school with a diploma -- and an average of $35,200 in college-related debt. While the costs of a college education continue to rise, post-graduation earnings remain stagnant. Obtaining a college degree is a huge financial burden to many students and their families, and it's only getting worse.
In spite of rising costs, studies indicate that a college education is still worth the investment. A 2014 study conducted by Jaison Abel and Richard Deitz found that "... although the wages of college-educated workers have stagnated since the early 2000s -- and even declined in the years since the Great Recession -- the wages of high school graduates have also been falling." The return on a college education remains at about 14-15 percent, "easily surpassing the threshold for a sound investment."
It's encouraging to know that college is still worth the investment; however, it doesn't make the financial burden easier to bear for families struggling to put their kids through school. The good news is that there are ways for students and their families to ease the financial pain and make smart choices that will help make college more affordable and set students up for financial success after graduation. Students can take their education a step further and set up a healthy financial future by making smart choices now.
Plan and Evaluate the Cost of a College Education
According to Sean Moore, Certified Financial Planner at SMART College Funding, parents and students should begin planning for college when students are sophomores in high school. "Beyond working hard to achieve good grades and participating in extracurricular activities, it is important for high school sophomores to know their options, research potential colleges and universities, and understand the different programs that each offers. It is also crucial to begin applying for scholarships and grants during this time, as it will help them gather all the information they need to make the most informed decision."
Moore recommends that students and families first determine the total cost of obtaining a college education. He says that the actual cost of a college or university can vary as much as 46 percent from the advertised cost of tuition when you factor in scholarships, grants, school aid, etc; however, tuition is only part of the equation. "At nearly all public universities, tuition accounts for between 1/3 and 1/2 (or 27 - 49 percent) of the total cost of attendance," says Moore. "The difference is the cost of room and board, books, transportation, and incidentals."
Students and their families should speak with representatives from the university's financial aid office who will be able to provide a more detailed and accurate estimation of the cost of attendance.
Get Paid to Attend College
According to Moore, at the end of a student's junior year in high school, parents should fill out the Free Application for Federal Student Aid (FAFSA). This document determines what the family's expected financial contribution (EFC) is to the student's financial education.
Unfortunately for many families, the EFC is far more than the amount of money the family has on hand -- and what they can afford -- leaving parents and students stressed about how they're going to meet the financial obligations. Luckily, families do have options when it comes to figuring out how to bridge the gap between what they're expected to pay and what they can actually pay.
The single most important way to subsidize the cost of education is to apply for scholarships and grants that will absorb some of the cost. Moore recommends that students first apply for grants and then for scholarships. Scholarships are generally merit-based, meaning they are granted based on certain qualifications the student possesses; however, don't let that sway you from applying if you don't think you have anything "merit" worthy. Some scholarships are zany, meaning, you could get a scholarship just because you're left-handed, tall, or a vegetarian.
Resources like Studentaid.ed.gov, Finaid.org, and Fastweb.com are great resources for grants and scholarships. It is also beneficial to use an existing network of friends and family, who may know of opportunities through their employers or community organizations.
In addition, schools are equipped to provide a certain amount of aid to families who may have trouble contributing enough finances to fund a student's education. Schools use the parents' EFC to determine whether or not a student qualifies for aid. If a family cannot meet the EFC, then the school may offer additional aid to help them cover the cost.
Moore says that when shopping around for schools, one of the most important things to determine is how much money the school will provide. Some schools will meet 100 percent of a family's need, while some will only meet 20 percent. Two schools might have the same "sticker price," but if one school will meet 100 percent of your need and the other will only meet 50 percent, the choice is obvious.
Alyssa McCloud, Vice President of Enrollment Management for Seton Hall University, says that financial aid offices should be able to provide a fairly accurate picture of how much aid is available. "We do our best to estimate costs, but we are often waiting on the state to finalize their budgets and that may change the amount of aid we can award. Schools have no control over this, but we give the clearest, most accurate picture we can of the net cost (total cost minus all grants and scholarships)."
Selecting the Right Loan Provider
Oftentimes it's hard to get a scholarship or grant if your family makes too much money or even due to the high number of applicants applying for the same scholarships. Many college students will have no choice, but to acquire some amount of student loans. Researching and carefully selecting who to get your loan through will ensure students make the best decision for their individual situation.
There are a number of sources families can rely on to help them find loans and determine the best loans for their needs.
Choosing a loan varies, depending on the individual. The first and most important step in choosing the right loan is to perform adequate research, which can take hours of your time, but that's why we suggest you begin your college planning as a sophomore in high school. Moore recommends speaking with a financial advisor and the university's financial aid office, pursuing a Stafford subsidized loan first, and then resort to a loan from a bank if necessary.
Before agreeing to any loan terms, students should have a clear understanding of the repayment terms of those loans. Knowing when payments will begin, how much the payment will be each month, and how much interest will be paid over the life of the loan will enable the borrower to determine whether or not, given their projected earning potential after graduation, they will be able to afford the loan. In addition, if a borrower is planning on obtaining a graduate degree, they will need to determine if their loan payments can be deferred while they continue their education.
While Abel and Dietz's study found that the benefits of a college education are high regardless of one's major, it is still important that students pick their major carefully and consider the costs of their education and projected earnings.
Calculate the Return on Your Educational Program and School
After students understand what their financial obligations will be and the expected amount of debt upon graduation, they should find out what their salary will need to be in order to comfortably meet payment responsibilities. This may seem like a task for current college students, but this could have a direct impact on the degree they choose to pursue.
Moore says students must have realistic expectations about choosing their "perfect" school versus what that school will cost, and what the earning potential will be. "If you want to be a social worker, that's an incredibly admirable job. But you can be just as effective as a social worker coming from a state university as you can coming from a school that will cost you $60,000 a year."
Some fairly simple research can provide an estimate of the potential salary for any given career. According to Payscale's 2013-2014 College Salary Report, Petroleum Engineering, Actuarial Mathematics and Nuclear Engineering have the highest post-graduation earnings potential, with starting salaries of $103,000, $58,700, and $67,600 respectively. Social Work, Elementary Education and Child & Family Studies have the lowest post-graduation earnings potential, with starting salaries of $33,000, $32,200 and $30,300 respectively.
If, after researching schools and financial options, attending a four-year university doesn't seem worth the cost of that education, students do have alternative options. Choosing to attend a community college for the first two years can be a cost-effective way to complete basic credits that can be transferred to a university. Not all credits will transfer or hold the same value at a university, so keep that in mind when considering the school you plan to attend after you get your associates degree.
Students can also consider a trade school. Trade schools typically have shorter, less expensive programs that prepare graduates for immediate employment in certain fields such as information technology, HVAC, cosmetology, court reporting and more.
Regardless of the individual situation, there are a number of trusted online resources that can help families make these difficult decisions. Federal Student Aid offers a wealth of information, including choosing a career, choosing a school, identifying options for financial aid, budgeting and more. The Consumer Financial Protection Bureau and Federal Student Aid offer debt calculators that can help borrowers determine how much their monthly payments will be, including how much interest they will pay over the life of the loan.
Start Saving and Building Credit
Once you have decided what educational path to take, your funding is squared away and you have a grasp on your return upon entering the job market, students can start planning for the fun part -- finally being on their own.
But beyond simply getting out of their parent's house, students have an opportunity to start building their credit by making smart financial choices. Saving money and building credit may be the last thing on a college student's mind, but building a solid financial base at a young age will have numerous benefits after graduation and beyond.
Students can make their parents a part of this process. Parents can open an account in their name or a joint account with their child as an authorized user. This will help students learn to manage money and help build their credit. Further resources for parents and students can be found on sites like College Parents and Pathway to Financial Success.
As students look forward to attending school and experiencing all that college has to offer, they may not be thinking about how to properly manage their money. Making smart financial choices while in school will not only ease the burden of college debt, but also set them up for financial success beyond graduation.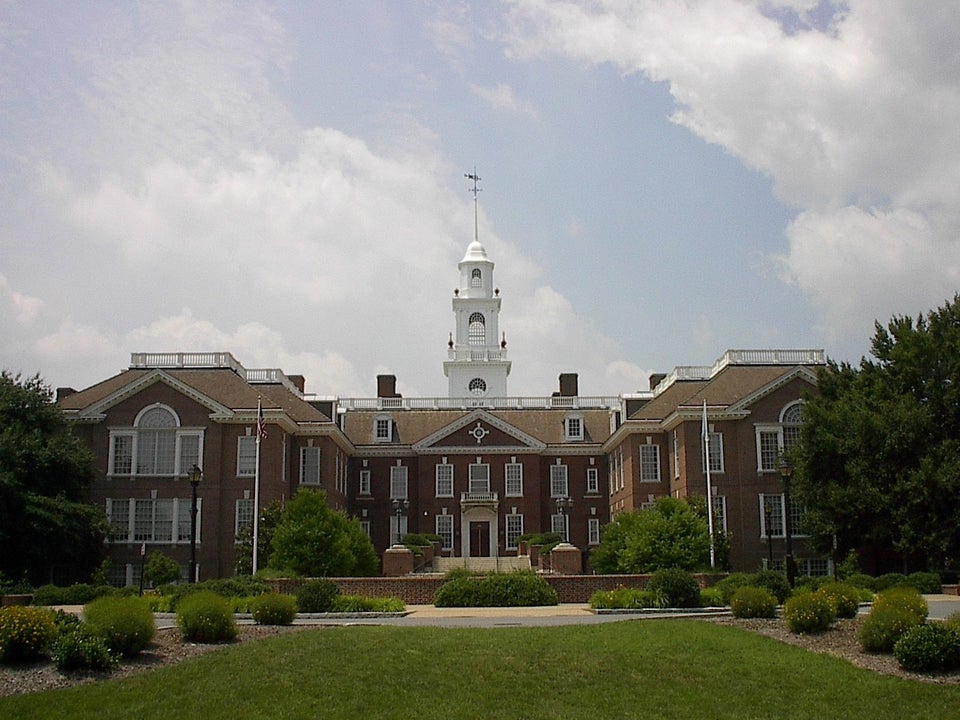 States With Highest Average Student Debt - TICAS - Class Of 2012