As exciting as it is to dine where you've never dined before, it's nice to return to old favorites when traveling to a familiar destination. And for Jackie and me, there's no destination as familiar as London, which we visit several times a year -- including as an appealing stopover en route to other places.
Our most recent trip was nominally to Sicily and Naples, but we managed to spend a few days in London on the way to Italy, and a full week there on the way back to New York. Yes, we ate in new restaurants (and ones that were new to us), but we also stopped by several that we'd heard had changed or developed in one way or another.
The Almeida Theatre in Islington is often on our itinerary; even when the play is irritating (as it was this time), it's at least interesting and always well performed. Just across the street -- a ten-second walk if you take your time -- is a restaurant also called Almeida (not connected with the theater in any way), and over the years we ate there a couple or three times and were always disappointed by the food and/or the service. Recently the dining room was given a makeover. More than that, the waiters and managers are now efficient, friendly and knowledgeable, and, most important, the kitchen is led by Tommy Boland, a young chef of impeccable background and high skills. His menu is informed by the seasons: We ate langoustines with asparagus and garlic flowers, a clever variation on squid/cuttlefish with chorizo, chicken liver mousse that was simultaneously weightless and intense, delicious poussin with peas and fava beans, scallops with more peas and lovely desserts.
Anyone who is going to the theater in that neighborhood should reserve a table at Almeida either before or after the show. If you're not going to the theater, you can always get on the number 19 bus and treat yourself to a meal there anyway.
The Ivy may be the perfect after-the-opera-or-theater restaurant: It is near the Royal Opera House, the Coliseum (home of the English National Opera) and the nearby theaters, and it stays open late. (Somehow, it has gained an A-list-only reputation, but all comers are treated as the valued customers they are.) The Ivy has been around since the First World War, and it had last been redecorated decades ago, so it was time for an update. Everyone loved the old décor even though there was no bar worth mentioning and much useful space was wasted. Indeed, it was a latter-day classic: All a theatrical set-designer had to do was project a diamond-pattern stained glass window behind a table and chairs (as in the recent play Great Britain by Richard Bean), and London audiences knew the characters were lunching at The Ivy.
The refurbished restaurant just reopened, and we were happy to see that, while everything is new and different, it simultaneously remains the same: It still feels and mostly looks as The Ivy should, windows and all. There's now a proper bar (at which you can eat), and the banquettes and bar stools are plush with mohair velvet backs and leather seats. Lighting and art are much improved, making the dining room more coherent.
The menu contains a number of new dishes, including sweetbreads with fava beans and feta cream and a selection of Asian-inflected sharing plates; we were there when these were just being introduced, so I withhold judgment. It also retains most of the likable old favorites -- dressed crab, Bang Bang chicken (with a spicy peanut sauce), excellent fish and chips, sausages with onion gravy -- executed as well as ever and almost guaranteed to please. The wine list has grown in length, which means that it's harder to select a bottle. I suspect that many diehard regulars will continue to order whatever they ate and drank before the renovation. The service is brisk and efficient, and the restaurant keeps generating a certain late-night sparkle.
Fera is the destination restaurant at Claridge's, one of London's most alluring luxury hotels. Since our first meal there soon after it opened, it hasn't changed so much as settled into its Mayfair surroundings. The chef Simon Rogan has made the menu more accessible, with greater flexibility at both lunch and dinner: There are à la carte and prix-fixe options as well as more elaborate tasting menus, and the use of out-of-the-way or foraged ingredients seems to be less in-your-face, although it remains key to Mr. Rogan's approach. The change is as much psychological as culinary: With this more easygoing attitude, the inventive food seems even more delicious and the carefully assembled ingredients can be appreciated for themselves. I made an audible noise of delight when I tasted the crisp little mouthfuls of boneless chicken wing that added an unexpected but harmonious note to a first course of lobster and potatoes. And I marveled at the subtlety of the smoked egg yolk that added richness to a dish of asparagus -- smoking can be coarse if not done with restraint, and here it was ideal. Yet such subtlety of flavor does not cross the line into blandness, as it occasionally did when the restaurant was brand new.
However much thought lay behind the recipes, and however interesting the plants that Mr. Rogan favors, we walked out of the dining room not worrying about whether perilla was the same as shiso leaf, but just thinking contentedly that we'd had a good time and a delightful meal.
Almeida. 30 Almeida Street, London N1 1AD; +44 (0) 20 7354 4777; Almeida-reservations@danddlondon.com; http://www.almeida-restaurant.co.uk/. Dinner for two about £85 ($130) not including wine. Prix-fixe and tasting menus also available.
The Ivy. 1 West Street, London WC2H 9NE; +44 (0) 20 7836 4751; http://www.the-ivy.co.uk/. Dinner for two about £85 ($130) not including wine.
Fera at Claridge's. Brook Street, London W1K 4HR; +44 (0)20 7107 8888; reservations@feraatclaridges.co.uk; http://feraatclaridges.co.uk/. Dinner for two about £135 ($210) not including wine. Lunch prix-fixe £35 ($55) a head; tasting menu £105 ($160) a head.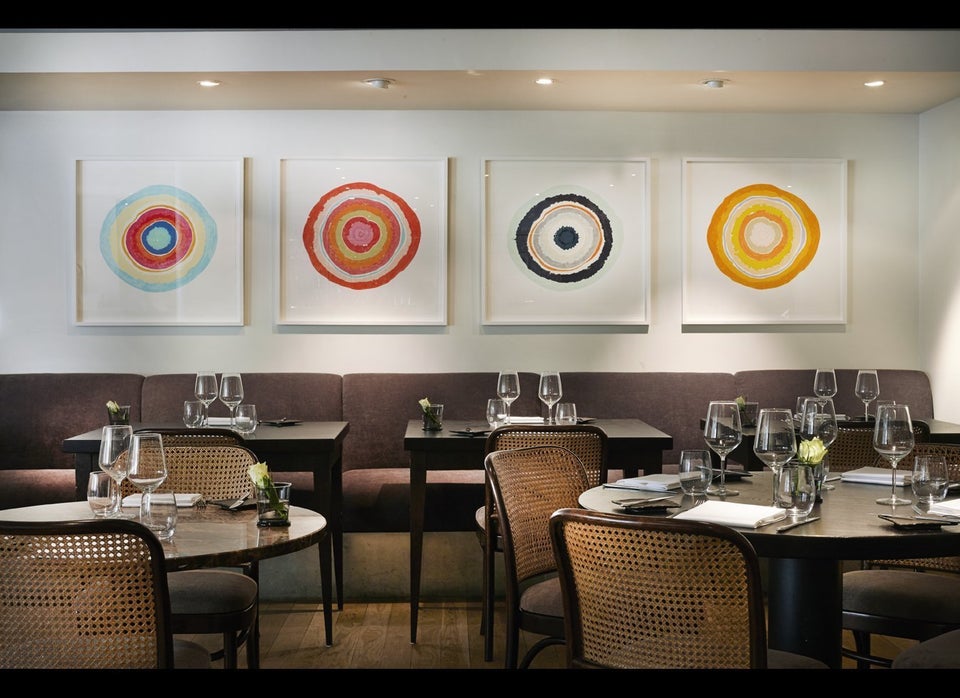 Revisiting Three Restaurants in London