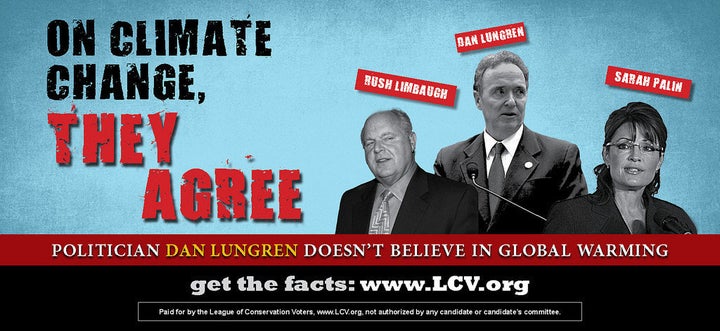 "When it comes to climate change, Congressman Joe Walsh Keeps His Head in the Sand," a mobile billboard in the Illinois representative's district declares.
The ad is part of a new billboard campaign launched by the League of Conservation Voters (LCV) targeting members of Congress with "extreme, anti-science views on climate change."
According to an LCV press release, the billboards are expected to remain in the districts of targeted representatives through Election Day. The campaign is part of the advocacy group's "Flat Earth Five" program, which specifically targets Rep. Dan Benishek (R-Mich.), Rep. Ann Marie Buerkle (R-N.Y.), Rep. Dan Lungren (R-Calif.), Rep. Francisco Canseco (R-Texas), and Rep. Joe Walsh (R-Ill.).
The $2 million program's goal is to defeat five members of the House of Representatives unsupportive of climate efforts. All of them have received an overall lifetime score of under 10% on LCV's National Environmental Scorecard, which rates members of Congress based on how they vote on environmental issues.
As The Guardian points out, the effort is reflective of environmental groups acknowledging that, even given an environmentally friendly president, green efforts will be difficult without support from Congress.
Rep. Benishek has been criticized by LCV for his "efforts to slash clean water standards protecting the Great Lakes." He also declared in a recent debate, "Frankly, I'm not sure how significant global warming is." Responding to audience boos, he defended himself as a scientist, adding, "I don't think that we should be spending trillions of dollars not knowing what the long-term effects of the climate are." Challenger Gary McDowell shot back, "The climate is definitely warming... I think virtually every scientist who is not working for BP or the Koch brothers, and Dr. Benishek, agrees that we have to do something."
Rep. Lungren has been targeted by LCV for his "votes to dismantle the Clean Water Act and allow polluters to keep spewing dangerous mercury pollution into our water and air." In 2009, Lungren said, "It is my view that sound science rather than ideological bias should direct our consideration of this issue" though added "Without waiting for proof or disproof of global warming, it is prudent for us to take action to minimize CO2 emissions."
Rep. Canseco has been criticized by LCV "for voting in favor of tax cuts for millionaires like himself and companies that ship jobs overseas, while voting to slash job-creating investments in clean energy." In 2009, Canseco responded to an EPA announcement regulating carbon emissions, stating that "passing environmental regulations based on reportedly manufactured global warming data is utterly the wrong direction for our country."
According to the controversial site OneNewsNow.com, Canseco argued that the rhetoric was wrong, stating, "It is really counterproductive to have a debate about whether or not there's climate change... What we should be having is a debate about policies that are promoted and implemented in the name of climate change and that negatively impact opportunities for our citizens and kill jobs."
Rep. Walsh has received an overall score of just 3% on LCV's scorecard. In a Chicago Sun-Times questionnaire, Walsh said that although it's important to protect the environment, on climate change "The science is not clear yet. Certainly, man's potential role in global warming has not been definitively determined."
Rep. Buerkle has faced scrutiny by LCV for her "votes to block rules limiting toxic mercury pollution that causes birth defects, respiratory illnesses and premature deaths." In an interview with The Syracuse New Times last year, Buerkle said, "Cycles come and go. There is global warming, but the bigger question is: Is it humans that are causing this? And I think that is where the debate still lies. I think politically it's been decided, but I don't think scientifically it has."
Check out the LCV billboards below:

Calling all HuffPost superfans!
Sign up for membership to become a founding member and help shape HuffPost's next chapter
BEFORE YOU GO
PHOTO GALLERY
'Flat Earth Five"