MIAMI (AP) — The first big test of whether privately owned high-speed passenger train service can prosper in the United States will launch Friday when Florida's Brightline begins running trains between Miami and Orlando, reaching speeds of 125 mph (200 kph).
It's a $5 billion bet Brightline's owner, Fortress Investment Group, is making, believing that eventually 8 million people annually will take the 3.5-hour, 235-mile (378-kilometer) trip between the state's biggest tourist hubs — about 30 minutes less than the average drive between the two cities. The company is charging single riders $158 round-trip for business class and $298 for first-class, with families and groups able to buy four round-trip tickets for $398. Thirty-two trains will run daily.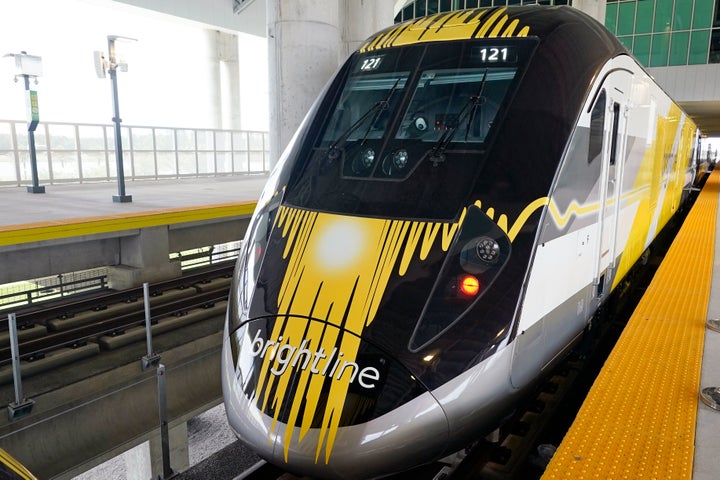 Brightline, which began running its neon-yellow trains the 70 miles (112 kilometers) between Miami and West Palm Beach in 2018, is the first private intercity passenger service to begin U.S. operations in a century. It's also building a line connecting Southern California and Las Vegas that it hopes to open in 2027 with trains that will reach 190 mph (305 kph). The only other U.S. high-speed line is Amtrak's Acela service between Boston and Washington, D.C., which began in 2000. Amtrak is owned by the federal government.
"This is a pretty important moment, whether you're thinking about it in the context of the state of Florida or what it might mean for these kinds of products as they develop elsewhere in the United States," Brightline CEO Mike Reininger said in a recent interview. "The idea that my car is the only way for me to get where I need to go is being challenged by a new product. A new product that's safer, that's greener, that is a great value proposition (and) it's fun."
Support HuffPost
The Stakes Have Never Been Higher
Popular in the Community