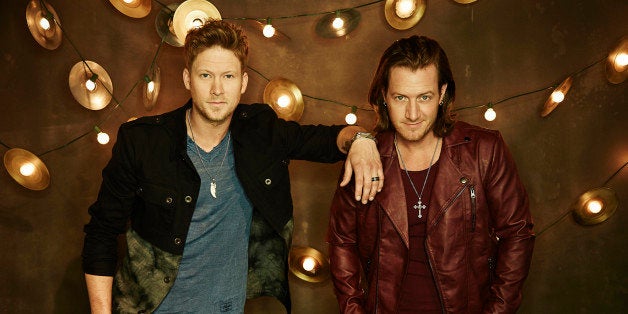 Florida Georgia Line launched to mega-fame in late 2012 with the hit single "Cruise." Not only did they bring country music to the masses, they mixed it up, working with hip-hop artists Nelly and Jason Derulo to get their sound out there. And it's proven successful, as Brian Kelley and Tyler Hubbard's sophomore album, "Anything Goes," soared to a No. 1 debut on the all-genre Billboard 200 and Billboard Top Country Albums.
They're gearing up for the next stretch of their tour, which kicks off Wednesday night with a sold-out show at New York City's Madison Square Garden. "That really does feel like a dream when mentioning that to our managers, our booking agents and our team," Kelley told HuffPost Entertainment. "Madison Square Garden is a bucket list venue for us, just so much history. We're excited to fill the city with country music that night, we're going to bring the party! We've been working for this moment all of our lives."
Although Hubbard was unavailable, Kelley spoke about the duo's thriving career, future plans for collaboration and how Taylor Swift has helped inspire artists from every genre of music.
You guys have brought country music to a whole new level. You have all these listeners embracing country music because of the songs you're putting out there. How does that make you feel?
It's really special. It's one of our favorite compliments when people come up to us and say, "Hey, I didn't listen to country music, I wasn't aware of it, I didn't know much about it until I heard 'Cruise' or the remix and now I listen to Miranda Lambert, Luke Bryan, Thomas Rhett ..." And that's cool because that's how a lot of us got into it. Tyler and I grew up listening to everything, we don't just love one "kind" of music. We're lovers of music, period, so when we're cooking up our music in the studio or writer's room, we just let our influences happen naturally and organically and throughout the process, we try to keep it fresh and have our own sound.
You guys also wrote a successful song for Jason Aldean, "Burnin' It Down." Do you enjoy writing for other artists?
Tyler and I moved to Nashville to be songwriters, first and foremost. So, when other people cut our songs, it's still a dream come true. To hear Jason Aldean sing "Burnin' It Down" on tour and on the radio, it's very humbling. It also makes you want to work harder. It's cool to see your dreams come true right in front of you, it's very special, it's very awakening.
Is there any artist or group that you would love to write a song for?
I mean, if Tim McGraw ever sang one of our songs, I'm pretty sure we'd probably cry. Or Garth Brooks. Outside of the country music genre, we'd love to do a collaboration with Rihanna -- that's somebody that we got on our map. Her, Wiz Khalifa or Drake. Wiz is at the top of our list, that's our boy, we love him.
What song of yours do you feel catapulted you to another level?
I'd say "Dirt," because "Cruise" put us on the map, and everybody wanted to know what we were going to do after a couple of hits. I think the first single off the second album, coming with "Dirt," really solidified us and keeps us on the map. People ask if that's a departure, but it's more of a return for us because that's the type of song we wrote in Nashville. Those are life songs, those are classic country songs and believe it or not, that's what we're all about. We have a little hip-hop beat or roaring snare in some of our songs, but (country is) who we are. And we're going to continue to make music that's relevant to us and our fans.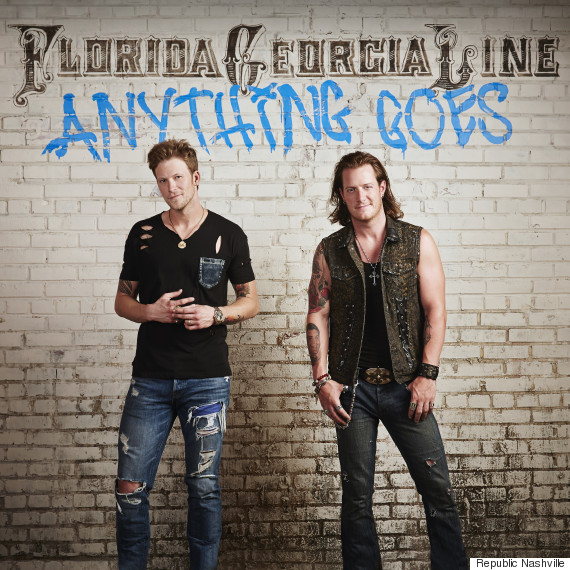 You guys are up for some ACM Awards nominations, including Entertainer of the Year. Are you excited?
Oh gosh, we were blown away by that too. That's something we kind of had our eyes on and that came out of left field this year. It's a testament to our fans and everybody who came out to see us. We've been working for that. It makes us smile to know we're doing something right. To get acknowledged in that category, it's pretty cool. We're going to keep working our asses off, no doubt.
What would you say to all the "haters" of country?
I don't speak to the haters. I speak to my fans. I just think everyone that loves music should have an open mind. I think everyone is in it to enjoy it, that's what it's for.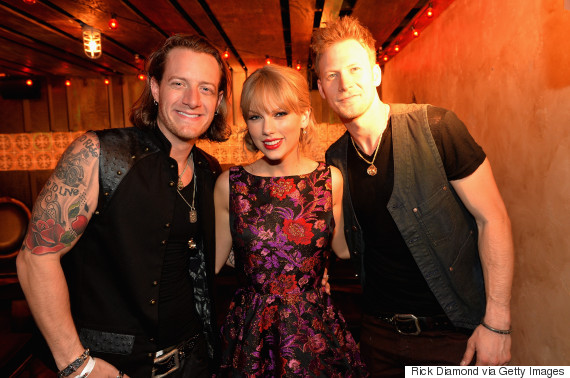 You can see that with artists like Taylor Swift. She started in country and has stayed loyal to Nashville and the country scene, but she's experimenting with pop, which is what you guys are sort of doing.
The thing about Taylor is she's an artist. Period. Period. Period. And that's what's so cool. She's taking chances, she's not sounding like anything she's ever done, she's not putting out the same record over and over, she's advancing. It's a beautiful thing and it's inspiring a lot of other artists to do the same thing. Hell yeah, more props to Taylor, man. It doesn't matter the genre. If you're advancing as an artist, people are going to flock to that.
Would you guys like to work with her?
Probably wouldn't turn it down, hell no! She's awesome.
This interview has been edited and condensed.
REAL LIFE. REAL NEWS. REAL VOICES.
Help us tell more of the stories that matter from voices that too often remain unheard.