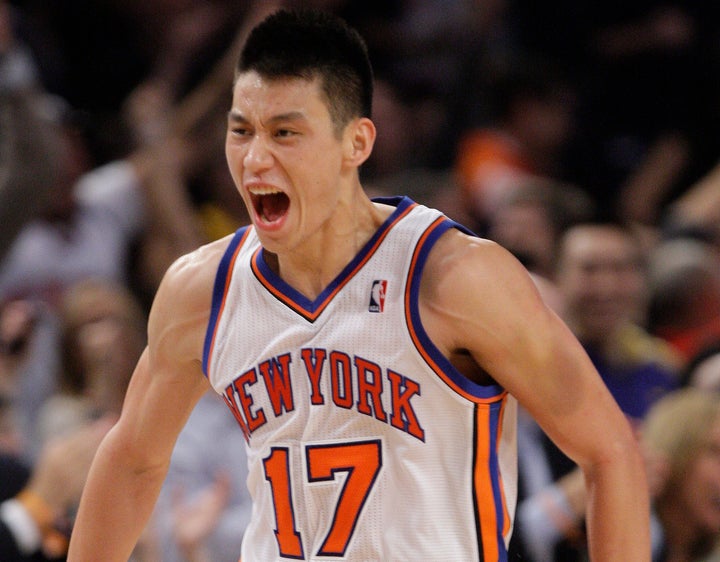 Arguably the most popular New York Knick of the 21st century is returning to New York. Indeed, former Knicks point guard Jeremy Lin, the man whose meteoric rise in 2012 brought a two-month well of joy to NBA fans, has reportedly agreed to re-sign to play within the five boroughs of New York City. (NBA players can't officially sign new contracts until July 7.) 
He won't play in Manhattan next season, though. No, no, Lin has taken his under-appreciated talents (it's weird how a player can go from overrated to underrated so quickly) to the Brooklyn Nets, reported The Vertical's Adrian Wojnarowski on Friday. 
Considering he'll be the Nets' second-best player, Brooklyn is now his! We cannot wait to see which Williamsburg apartment he manages to get priced out of. Or what type of facial hair he may try to grow. Or what hobby he'll take up -- the home-brewing, composting and DIY concert scenes would gladly show Lin the ropes of How To Be Cool. 
And for both sides, it's a really good deal! After a one-year resurgence with the Charlotte Hornets, Lin is coming off his best complete NBA season of his career, and has proven enough to play dependably 25 to 30 minutes a game. Yet he's not the same player who the Knicks, Houston Rockets or Los Angeles Lakers half-heartedly trotted out at times. He's confident and ready to take on a role that let's him "see how good I can become," per ESPN.
More glaringly: The Nets don't have a single point guard on their roster right now, so he also fills an obvious need -- one that'll probably help this somehow-worse-than-the-Knicks Nets team win games. 
The signing is indeed a bitter pill to swallow for some Knicks fans. In such short amount of time, Lin unleashed enough pride and happiness (a foreign feeling in Knicks circles) for a few top Knicks writers to publish a sigh-inducing book titled We'll Always Have Linsanity. 
And for me, an Asian-American Knicks fan who can definitively say that "Linsanity" was the best period of my life, an internal conflict brews. He's in New York again, which was totally possible this offseason, but now playing for the wrong team. I say "wrong team" from the mouth of a Knicks fan. Yet as one of the few Asian-American role models American culture has pushed into the mainstream consciousness, I see Lin through a unique lens, one that's connected to where my family is from.
In simple terms, he looks like me, my brother and my cousins. Lin's ethnicity gives me hope that I'll come across him shopping for wildly cheap produce on Mott Street, or hit-up Mitsuwa across the river in New Jersey. He's back in town, and there are many, many Asian American Lin fans in the tri-state area who will reignite and show up at Nets games for him. Maybe Eddie Huang will show up courtside at the Barclays Center. There's a communal aspect to his draw, and with that, a whole lot people eagerly waiting for him to embrace and explore his culture around the city. There are also selfies to be had.
Person to person, we may hold differing values, morals and upbringings, but because of his name, face and family history, I share an ethnic and racial identity with Lin. That can never be erased -- no matter where Lin's NBA career takes him.
This time, it's Brooklyn. I can't wait to watch Lin's trip to the Brooklyn Museum on his Snapchat. I can't wait to see his name seen and heard in the streets. I can't wait to see him play 41 times in New York City. 
It feels good to know the locals again. 
REAL LIFE. REAL NEWS. REAL VOICES.
Help us tell more of the stories that matter from voices that too often remain unheard.
BEFORE YOU GO
PHOTO GALLERY
Cleveland Cavaliers 2016 NBA Champions