 The debate has revealed a much more complicated struggle -- fueled by politics, big business, and a concern for the environment -- that is now being waged to determine the future of Utah's energy resources and environmental health.
The contest was open to Utah students in grades K-6, and according to the informational pamphlet provided to principals and teachers, the first objective of the competition was to "improve students' and the public's awareness of the important role that oil, gas, and mining play in our everyday lives."
The deadline was March 20.
(Story continues below)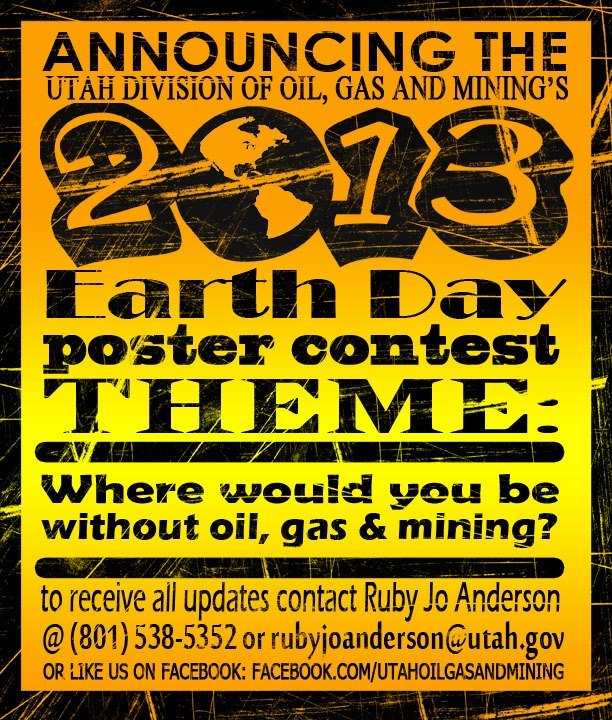 Credit: Facebook/Utah Division of Oil, Gas and Mining
Jim Springer, the Division of Oil, Gas and Mining's Public Information Officer, told The Huffington Post that this was the second year the contest had been held.
Informational pamphlets for the contest were given out to all Utah schools, but it was then up to the discretion of the schools themselves as to whether or not they would participate, he said.
When asked if he thought the poster contest was in any way problematic, Springer said teaching children about fossil fuels is important because they're an indispensable part of modern life.
"Fossil fuels are not going to go away anytime soon. Alternative forms of energy are great and continue to be explored, but they're not going to be able to meet our [global] demand in the future," he said. "Even around Earth Day, we need to think about the responsible development of oil, natural gas [and other fossil fuels]. Without them, we don't have the economy, we don't have jobs, we don't have modern society."
While the poster contest has apparently remained under the radar since its inception, over the last few weeks, a wave of indignation has been swelling as parents, activists and concerned citizens alike have voiced their shock and outrage at the competition's premise.
"I'm furious," wrote Colby Poulson, whose son was provided materials for the contest by his teachers. "Why is the state backing an "Earth Day" contest that celebrates fossil fuels, while completely ignoring the adverse effects that their use and extraction can too often have on our air quality, water quality, public lands and the other organisms we share the world with?"
After Poulson's letter was published, a movement against the poster competition began to rally. And now, pushing back against the original contest, the grassroots environmental advocacy group Utah Moms for Clean Air has organized an alternative competition of its own.
"I was horrified and dumbfounded when I heard about the [Division of Oil, Gas and Mining's] contest," Cherise Udell, the group's founder, told The Huffington Post over the phone on Thursday. "So I took my outrage and turned it into a Jon Stewart-style skewering."
"Utah is a laughing stock of the nation, if not the world, for the absurdity of promoting a fossil fuel contest for Earth Day," she continued. "We need to show the world that not everyone in Utah is on board with this. We're getting back some of our dignity, dignity for our state."
"It's a blatant bias that's totally inappropriate," she said, adding that she feels let down by the state's leadership.
The poster contest has cast a spotlight on a pressing and continuing debate about energy resources in Utah -- a state that is heavily reliant on nonrenewable fossil fuels and that some environmental activists say is in the pocket of Big Coal and the fossil fuel industry.
"It's certainly safe to say that Utah is the most fossil fuel-dependent state in the nation," Matt Pacenza, Policy Director of HEAL Utah, an environmental organization that has for years pushed back against the state's nuclear energy program and that advocates for sustainable energy production and use, told HuffPost. "There is almost no renewable electricity made in Utah that's used in Utah."
Coal, petroleum and natural gas account for 98 percent of Utah's energy consumption, according to a 2011 report about Utah's energy issues published in the Hinckley Journal of Politics. Coal itself, described as a "backbone" of Utah's economy, supplies almost half of the energy consumed in the state.
Utah's dependence on fossil fuels, such as oil and coal, has been a central factor in the state's worsening pollution problem.
As the New York Times reported in February, air pollution in and around the state's capital has become so bad in the last few months that it has "prompted warnings from local doctors, spawned protests at the State Capitol and [has] led to a variety of legislative proposals in the hopes of confronting the problem before it gets worse."
Fracking for natural gas (an industry that is fast becoming a "key sector Utah's economy, valued at over 2.6 billion dollars in 2008") is also potentially a problem for the state, said author Caroline Gleich in her Hinckley Journal report.
"[T]he state is failing its residents, present and future," she wrote. "This failure is from a lack of preparation, planning, and oversight for future energy production and consumption, and overall ignorance of adverse environmental impacts from Utah's current energy portfolio."
Environmentalists say that one of the most distressing things about the current energy situation in Utah is that the state actually has a huge potential for producing renewable energy, such as wind and solar power.
In fact, in a 2010 study commissioned by HEAL Utah, it was found that "careful development of Utah's abundant renewable energy resources can provide a technically sound, economically feasible, and reliable long-term strategy to meet Utah's growing energy needs through the middle of this century." The state's wind, solar, and geothermal resources could fulfill almost 100 percent of Utah's energy needs, the study concluded.
Terry Marasco of the Utah Clean Air Alliance said that, ultimately, the state-sponsored poster contest has revealed a deep-rooted imbalance in Utah -- an imbalance that has pitted the people who are pro-renewables and those who are pro-fossils against one another, rather than promoting dialogue and cooperation.
"Utah has such a huge reserve of gas, shale, coal, tar sand, etc. and it's become a 'let's burn, let's get the income' kind of state. [The state's leadership] is careful not to tread on the toes of the fossil industries -- huge amounts of income come from that," Marasco, who's also a member of Utah Moms for Clean Air, told HuffPost. "The thing is, it's not that we want [fossil fuel production] to stop altogether, it's more a question of how to make it cleaner and to mitigate it so that health risks and costs are reduced dramatically."
As for the poster contest, which Marasco called "insidious," he said the problem was not just that the competition was aimed at children who are "very vulnerable" and whose "belief systems are just beginning," but that it didn't provide a balanced perspective.
"It implants in children the idea that this stuff is okay. It doesn't include the down side of these things -- like, my grandmother might die two years sooner, or I might get asthma. That's the balance that's missing in Utah," he said. "We need to show the balance and what the real cost [of fossil fuels] is and then kids can make their own decisions."
Calling all HuffPost superfans!
Sign up for membership to become a founding member and help shape HuffPost's next chapter
BEFORE YOU GO
PHOTO GALLERY
Top U.S. Renewable Energy Sources - 2011 (MOST RECENT DATA)