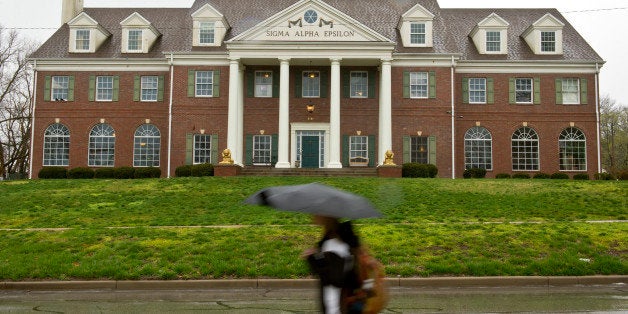 Beginning this fall, eight major fraternal organizations will launch a new education effort aimed at preventing and intervening against sexual and relationship misconduct, binge drinking and hazing among fraternity members.
The fraternities, forming a consortium called the Fraternal Health & Safety Initiative, said they will use three "trainer-led program modules" focused heavily on bystander intervention. The organizations include Lambda Chi Alpha, Phi Delta Theta, Pi Kappa Alpha, Sigma Alpha Epsilon, Sigma Alpha Mu, Sigma Chi, Tau Kappa Epsilon and Triangle fraternities. The group says it will collectively reach 35,000 students at 350 campuses.
The curriculum was developed by James R. Favor & Co., a risk management consulting group.
Justin Buck, executive vice president and CEO of Pi Kappa Alpha fraternity, explained in a statement the goal is to provide uniform training and education to multiple fraternities, so each member of Greek life is on the same page.
"The power of the FHSI curriculum is that it exposes young men to consistent, authentic techniques no matter their fraternal membership or college affiliation," Buck said.
The following names were listed in a news release as FHSI advisory council members who oversaw the programming creation:
Susie Bruce, M.Ed., director of the University of Virginia's Gordie Center for Substance Abuse Prevention
Justin Buck, MBA, Executive Vice President & CEO, Pi Kappa Alpha Fraternity
Suzette Cole, M.Ed., Lead Consultant for the FHSI and Former Director of Student Conduct at Illinois State University
Bridget Guernsey Riordan, Ph.D., Assistant Vice President for Alumni Relations, Parent & Family Programs for Campus Life and Former Dean of Students, Emory University, Atlanta, GA
Mike Hargis, Gallagher Risk Management Director/Enterprise Risk Director
Drew Hunter, MPA, Past CEO of the Bacchus Peer Education Network and Immediate Past President of Lambda Chi Alpha Fraternity
John Schwartz, JD, Senior Risk Management Consultant at United Educators
Jeremiah Shinn, Ph.D., Assistant Vice President for Student Life at Boise State University, Immediate Past President of the Association of Fraternity/Sorority Advisors
Dave Westol, JD, CEO Limberlost Consulting LLC, Former Theta Chi Executive Director
Mary Wilfert, M.Ed., Associate Director of the NCAA Sport Science Institute
REAL LIFE. REAL NEWS. REAL VOICES.
Help us tell more of the stories that matter from voices that too often remain unheard.