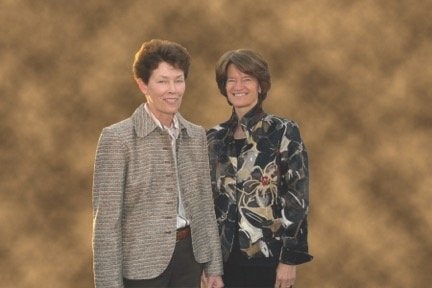 A year after Sally Ride, America's first woman in space and my longtime partner, died of pancreatic cancer, President Barack Obama decided to honor her memory with a Presidential Medal of Freedom.
Obama also decided that I should be the one to accept the medal at the 2013 White House ceremony. The partner of the late civil rights leader Bayard Rustin, Walter Naegle, and I became the first people to accept the honor on behalf of our same-sex partners.
I was profoundly moved by this very public acknowledgement of my central role in Sally's life. I remember thinking, "Finally! I don't need to be secretive about who I really am any more." Oh, how I wished Sally could experience this with me.
I finally got a chance to tell this story and others about our life together in a new video, Honoring Sally, from University California Television.
At the heart of the video is an in-depth interview in which I talk about how Sally and I met as young girls on Southern California's competitive tennis circuit. We maintained a close friendship that deepened over time into love and a life partnership.
A few years after Sally retired from NASA, we joined with three friends to found Sally Ride Science, a company that worked to inspire girls and boys from all backgrounds in science, technology, engineering and math (STEM). Today Sally Ride Science continues that work as a nonprofit at the University of California San Diego, and I am its executive director.
Sally and I did not hide our relationship from family and close friends, but we only revealed it publicly in Sally's obituary, which I wrote for our company website. Until that moment, few people knew that Sally was gay. Once we started our own company in 2000, we made the conscious decision not to be public about our relationship. The reason was simple: our company depended on corporate sponsorships, and back then we didn't have confidence corporate leaders would support us if they knew we were a couple.
Then on March 11, 2011, everything changed. Sally was diagnosed with pancreatic cancer. From her diagnosis until her death 17 months later on July 23, 2012, Sally and I became more publicly open about being a gay couple. We no longer worried about the impact on our company.
Sally and I wanted to be as connected as possible. We became Certified Domestic Partners in California. We introduced each other by saying, "She's my partner." We became publically affectionate.
At the same time, our nation was on the cusp of sweeping changes in LGBT rights. In 2012, President Obama became the first U.S. president to publicly announce support for same-sex marriage. For the next few years, the dominoes of discrimination continued to fall, and in 2015 same-sex marriage became the law of the land.
My experiences as Sally's surviving partner reflected those breakthroughs in LGBT rights. In Honoring Sally, I talk about my surprise and gratification at the public role I was called on to play in honoring Sally's memory. One segment recounts a call I received not long after her death from Ray Mabus, then secretary of the Navy.
Mabus said the Navy wanted to honor Sally by naming a new research vessel after her. Then he asked me if I would serve as the ship's sponsor, a role usually filled by the wife of the man for whom a Navy ship is named.
I was blown away. "Wow! Don't ask, don't tell really is history," I remember thinking. The R/V Sally Ride, owned by the Navy and operated by Scripps Institution of Oceanography at UC San Diego, was commissioned in 2016. It is the first Navy research ship named for a woman.
I think it is fitting that the celebration of Sally's legacy as a pioneering space explorer and a role model includes an acknowledgement of who she really was and what she cared about. And I am glad that in Honoring Sally, I got to share the story of our long and remarkable partnership.
Popular in the Community