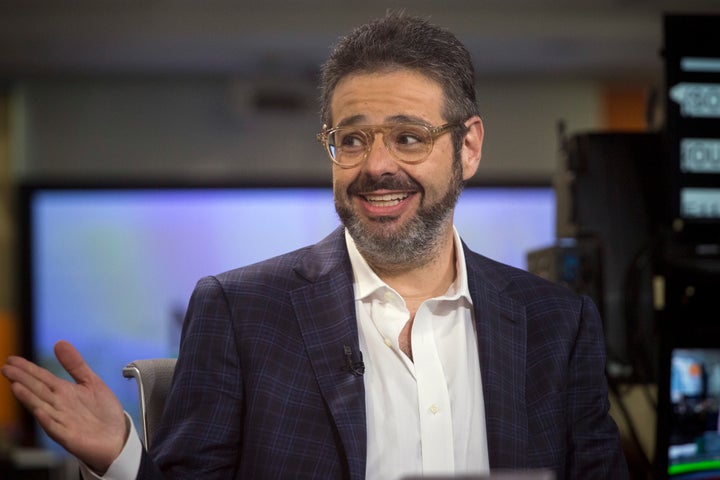 Facing resistance from management, the organizers of a union at Fusion are amplifying their campaign for recognition with a new letter to Isaac Lee, the company's chief executive officer.
In the past two weeks, Fusion executives Boris Gartner and Danny Eilemberg held all-hands meetings with staff in New York, Miami, Los Angeles and Oakland, California, to make the case against unionization, Fusion staff members confirmed to The Huffington Post. They argued that a union would harm employee pay and benefits, as well as staff communication and rapport with management.
The Fusion Union Organizing Committee responded on Monday with a letter to Lee, who is also chief news, entertainment and digital officer at Univision, Fusion's parent company, calling for an end to the meetings and immediate recognition of the union.
"We call on you to live up to Fusion's values by putting an immediate end to anti-union messaging and respecting our decision to organize for collective bargaining," the organizing committee writes in the letter, which was obtained by HuffPost. "This is your chance to show to your employees and our readers that Fusion isn't just pretending to be supportive of unions."
The unionization drive's leaders criticize the company's arguments during the anti-union meetings.
"At these meetings, staffers have been given inaccurate information by Fusion executives about how the union would potentially affect their salaries, their benefits, and their relationships with their colleagues in order to undermine the union effort, all while claiming to support us," the organizing committee writes. "Given the circumstances, it's impossible to see this as anything other than an attempt to undermine our efforts to unionize."
The committee asks Lee to provide a "substantive response" to the letter by 5 p.m. Eastern time on Wednesday.
"We are considering what ultimately will be best for the long term success of Fusion and its employees, and that, of course, involves talking to them," Fusion spokesman David Ford said in a statement about the company's meetings with staff regarding the union drive. "We respect and will continue to support our team unconditionally."
The Fusion Union Organizing Committee announced on Oct. 5 that a majority of staff signed cards electing the Writers Guild of America, East, as its collective bargaining representative. Management declined to immediately recognize them, announcing plans to try to persuade employees that a union would not serve their interests.
If Fusion stands firm in its refusal to voluntarily recognize the union, it can demand a secret-ballot election supervised by the National Labor Relations Board. Such an election would give management more time to argue against unionization.
Fusion is the latest in a series of newer digital news outlets whose workers have formed unions in the past two years, including The Huffington Post, which is also represented by the Writers Guild of America, East. (HuffPost staff is currently negotiating its first contract.)
Gawker Media kicked off the wave, achieving recognition in June 2015. As the Fusion organizing committee notes in its letter, Univision recognized the union and contract of workers at Gawker's heir, Gizmodo Media Group, when it purchased GMG in August.
Resistance to unionization in the digital media industry has been uncommon, but not unheard of. The staff at Law360, which voted to unionize in late August, faced an especially aggressive anti-union campaign.
The challenge for executives seeking to dissuade journalists, writers, producers and other staff trying to unionize is that the employees enjoy the support of colleagues in the industry. Fusion's staff has raised awareness of its cause with the hashtag #FusionUnion, which, as the committee notes in its letter to Lee, many sympathetic professionals in the field have used to tweet their support for workers.
Kat Santiago, a video producer for Fusion in New York and a former producer for HuffPost Live, said she was disappointed to hear Gartner and Eilemberg argue that a union would "undermine the relationship they have with us now."
"Ultimately we feel this is a good move for employees and the company, and if they're serious about respecting our wishes like they claim, they should voluntarily recognize our union," she said.
Here is the full text of the Fusion Union Organizing Committee's letter to Lee:
Isaac Lee,

As you know, on Oct. 5, 2016, we made public that a majority of Fusion's digital editorial staff signed union cards stating that we want to be represented by the Writers Guild of America, East. We did so in the hope of making our workplace more democratic and equitable. In spite of our announcement, Fusion's management has largely ignored our request for voluntary recognition, unlike every other digital media union that has sought recognition with the Writers Guild.

Over the past weeks, the leaders at Fusion—a self-described progressive company for multicultural millennials—have made it clear they support unions in name only. In an immediate response to our announcement, Danny Eilemberg and Boris Gartner sent an email stating: "We think you will agree that Guild representation would not be beneficial for you or FUSION."

Since then, they've called multiple last-minute all-hands, anti-union meetings with staffers in New York, Miami, Los Angeles, and Oakland. At these meetings, staffers have been given inaccurate information by Fusion executives about how the union would potentially affect their salaries, their benefits, and their relationships with their colleagues in order to undermine the union effort, all while claiming to support us. Given the circumstances, it's impossible to see this as anything other than an attempt to undermine our efforts to unionize. This, all from a company that celebrates Latinx labor icon Dolores Huerta; publishes content calling unions "necessary;" and recently bought the Gizmodo Media Group for $135 million, recognizing GMG's union and collective bargaining agreement in the process.

When we organized a union of our peers, we expected to be treated with professional respect by management, and given the courtesy of making our decision free from interference and intimidation. It seems that by denying voluntary recognition of the union, President and Chief Content Officer Daniel Eilemberg has walked back what he repeatedly said at the New York all-hands meeting on Oct. 10: "If a majority of people want to unionize, we will respect that."

The company's refusal to accept its employees' decision is creating unnecessary confusion and division at a time when we want to be rallying together and when our work is more important than ever. On Friday, The Wall Street Journal reported that "Fusion's Union Efforts Face Resistance," noting that "the resistance from management is at odds with the outlet's largely progressive political stance in its editorial work." It's an observation that is shared among our peers in digital media.

We call on you to live up to Fusion's values by putting an immediate end to anti-union messaging and respecting our decision to organize for collective bargaining. This is your chance to show to your employees and our readers that Fusion isn't just pretending to be supportive of unions. It has already been weeks since our request for recognition. We're in the middle of a very busy news cycle, so we expect a substantive response by Wednesday, Oct. 26, at 5 pm EST.

The Fusion Union Organizing Committee
Popular in the Community