DES MOINES, Iowa -- Gabby Giffords uses her words sparingly. After being shot in the head five years ago, the former Arizona congresswoman has had to learn how to speak all over again. But come next January, there are two words she wants to be able to say: "Madam President."
Giffords and her husband, Mark Kelly, spent all day Saturday in Iowa stumping for Democratic presidential candidate Hillary Clinton. They joined Clinton onstage at an event in Ames, and later dropped by Clinton's campaign headquarters in Des Moines to fire up her team ahead of canvassing. Neither is a stranger to campaigning; Giffords successfully ran for Congress twice. But this is the first time either has hit the presidential campaign trail, and for Clinton, they're in it for the long haul.
"It's our first day doing this. It's exciting," Kelly told The Huffington Post during their visit to Clinton's campaign office. "After this, we'll be in New Hampshire. Beyond that? We want to do whatever we can. Absolutely."
Giffords and Kelly have made it their mission to rein in the gun lobby ever since the Tucson, Arizona, shooting that killed six of her constituents and wounded 12 others. Three years ago, they launched Americans for Responsible Solutions, a group that advocates for tighter background checks on gun sales. They've circulated petitions and letters to Congress. They've funded candidates who support their issue. They've helped influence gun legislation at the state level.
Now they're throwing whatever weight they have into getting Clinton elected.
"There's only one clear choice. There's only one person who could stand up to the gun lobby and to huge, corporate, monied interests," Kelly said. "You look at everybody else's record, and there's a record of being beholden to the gun lobby. That is not in America's best interest."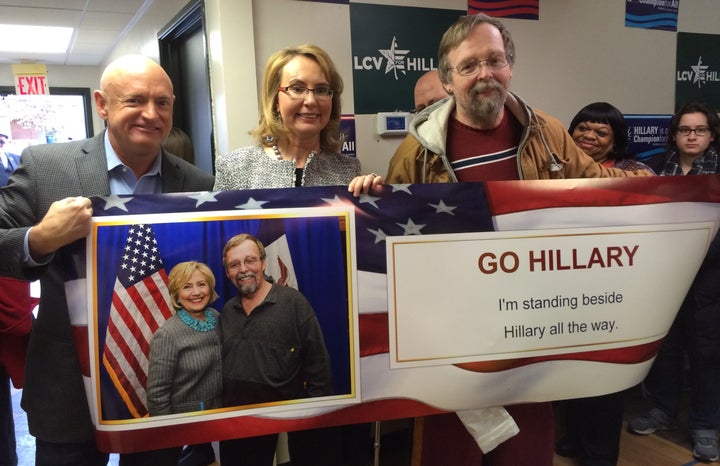 Clinton has spent months touting her record on gun control and hammering her main Democratic rival, Sen. Bernie Sanders (I-Vt.), over his. She's called him out for voting to give gun makers and gun sellers significant protections against lawsuits, and for voting not once but five times against the Brady background checks bill. Sanders recently reversed his position on the legal liability issue, so Clinton has been highlighting his flip-flop on that too.
On Saturday, a few dozen campaign supporters gathered to see Giffords and Kelly, who did most of the speaking. But Giffords spoke too. She read aloud slowly, but emphatically, from a folded piece of paper she pulled out of her pocket.
"I'm here to talk to you about Hillary Clinton. Hillary is tough. Hillary is courageous," she said. "In the White House, she will stand up to the gun lobby. That's why I'm voting for Clinton."
The room erupted with cheers after Giffords made it through her statement, and then she posed for pictures while Kelly greeted people. Robin Reindel, a deputy field organizer for Clinton, stood in the back of the room with a smile. She said the event was the perfect way to fire up the team ahead of making bazillions of phone calls and home visits in the next 48 hours. She added that she just graduated from college last year, so the whole experience of campaigning is new and surreal.
"It's awesome," Reindel said. "It's great to have people like Gabby Giffords here and kicking everybody off. We're just so excited for the caucus."
Calling all HuffPost superfans!
Sign up for membership to become a founding member and help shape HuffPost's next chapter