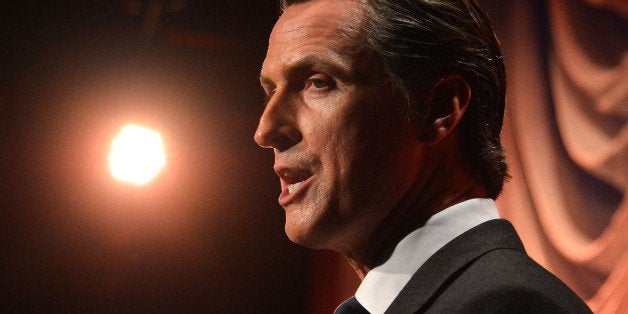 California Lt. Gov. Gavin Newsom (D), who has made no secret of his overall support for marijuana legalization, has now said he's prepared to campaign for a ballot measure in 2016 to permit recreational pot use in the state.
During a luncheon meeting for the Marin County Bar Association last week, Newsom said he would back a marijuana legalization measure "if it is the right initiative," The Marin Independent Journal reported.
"The 'right initiative' would be one that addresses age limits -- he doesn't want to see the drug in the hands of kids -- one that addresses advertising, driving under the influence," Andrea Koskey, communications director for Newsom, told The Huffington Post. "He'd like to see questions answered on taxation -- whether there are different taxes for medical marijuana or recreational use –- banking, whether it can be used in the home, and the kind of restrictions for use in public, as some among many more questions that we don't have answers to yet."
Koskey added that Newsom is closely watching Colorado and Washington state, both of which legalized recreational marijuana sales beginning this year, to learn from the implementation of their historic laws.
Any future legislation to permit recreational marijuana in California will likely be influenced by the state legislature's current debate over a medical marijuana bill. California was the first state to legalize medical marijuana more than 17 years ago. Lawmakers are considering a bill from state Sen. Lou Correa (D), SB 1262, which would more tightly regulate that industry.
"The lieutenant governor feels that we need to get our arms around regulating medical marijuana before we can prove we are capable of regulating recreational marijuana," Koskey said. She added that Newsom doesn't have a specific opinion on Correa's legislation but supports the collective efforts of the legislature to set medical marijuana regulations.
Earlier this year, Newsom distanced himself from his boss, California Gov. Jerry Brown (D), on this issue. Brown, who is running for re-election this year, had said that legalizing marijuana might not be a good idea because the population needs to "stay alert." On MSNBC's "Ronan Farrow Daily," Newsom said he had long been frustrated with Brown's views on marijuana legalization, citing the tremendous increase in California's prison population.
"I remember in 1977 when Governor Brown was first in office, we went from indeterminate sentencing to determinate sentencing -- we had 20,000 people in our prisons," Newsom said to Farrow. "In 2007, we had 173,000 people in our prisons. You start looking at the war on drugs; you look at the corollaries as it relates to mandatory minimums and our aggressive efforts, particularly as it relates to people of color and poor communities, to incarcerate our way to solving this problem -- it's failed. A trillion dollars wasted. I'm just frustrated."
Newsom chairs an ACLU panel investigating the impact that full marijuana legalization may have on the state. Its first report is expected later this year, Koskey said.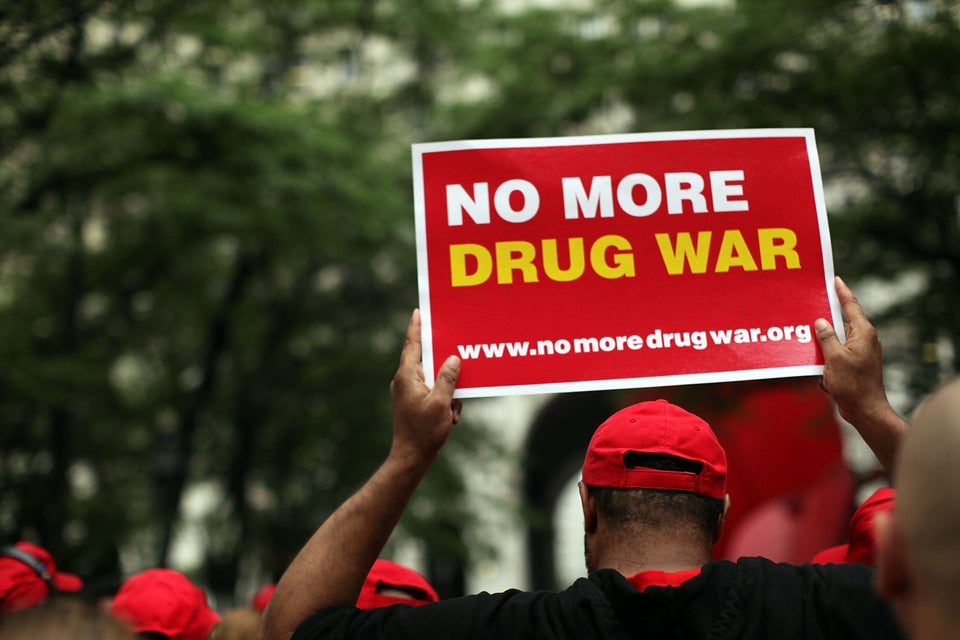 27 Reasons Why The U.S. Shouldn't Lead The War On Drugs
Popular in the Community