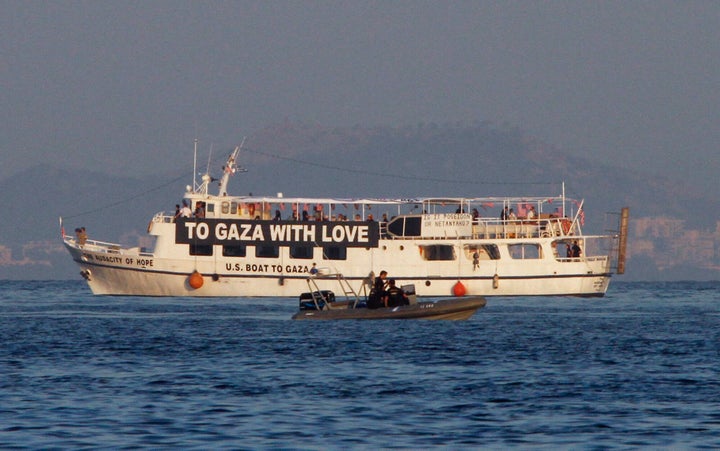 ATHENS, Greece (AP) — Authorities in Greece say they have arrested the captain of a boat that was to be part of a Gaza-bound flotilla trying to deliver humanitarian aid.
The 60-year-old captain, whose name was not released by authorities, is being held at Piraeus police headquarters and will remain there until a court hearing Tuesday.
Greece's coast guard said Saturday the captain of the "Audacity of Hope" faces charges of trying to leave port without permission and of endangering the lives of the boat's passengers. The latter charge is a felony.
The "Audacity of Hope" was due to carry 36 passengers, four crew and about 10 members of the media. Its attempt to sail Friday night from the port of Perama, near Athens, was thwarted by coast guard speedboats.
THIS IS A BREAKING NEWS UPDATE. Check back soon for further information. AP's earlier story is below.
JERUSALEM (AP) — Israel has denied claims it sabotaged ships trying to breach its sea blockade of the Gaza Strip.
Activists accuse Israel of damaging two ships docked in Turkey and Greece that are part of a flotilla attempting to reach the Palestinian territory with humanitarian aid. Efforts were further stalled Friday when Greece prevented ships from sailing.
Foreign Ministry spokesman Yigal Palmor on Saturday dismissed the sabotage charges as "ridiculous," calling them "sad conspiracy theories."
Israel says it imposed the blockade in 2007 to stop weapons reaching the Islamic militant group Hamas that rules Gaza. Activists describe the blockade as a form of incarceration for the Palestinians.
Nine activists were killed last year in an Israeli raid on a similar flotilla.
Calling all HuffPost superfans!
Sign up for membership to become a founding member and help shape HuffPost's next chapter