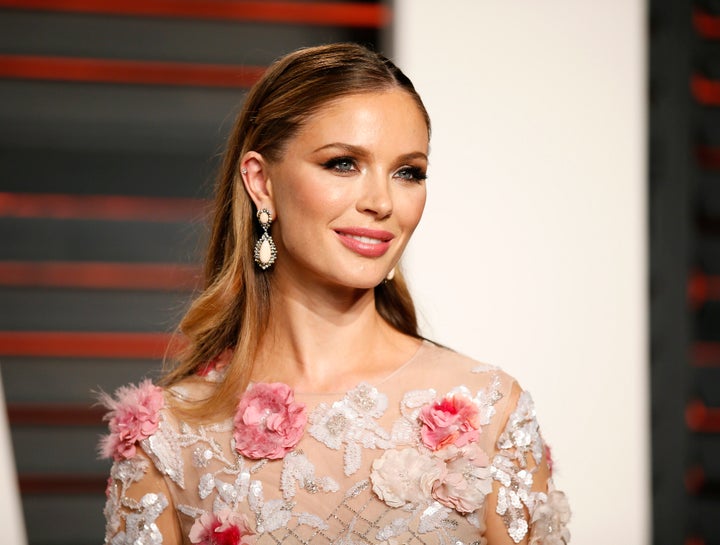 Georgina Chapman, the designer and estranged wife of disgraced movie producer Harvey Weinstein, is speaking about her life in the aftermath of sexual violence and harassment accusations against her husband for the first time since they surfaced last fall. Chapman was profiled by Vogue writer Jonathan Van Meter and photographed by famed photographer Annie Leibovitz for the June 2018 issue of the magazine.
"I am firmly convinced that Georgina had no idea about her husband's behavior; blaming her for any of it, as too many have in our gladiatorial digital age, is wrong," writes Anna Wintour, Vogue's longtime editor-in-chief, who has been a supporter of Chapman's for some time and writes glowingly about her in her monthly editor's letter. "I believe that one should not hold a person responsible for the actions of his or her partner. What Georgina should be receiving is our compassion and understanding."
Wintour preempted the profile of Chapman, noting that she doesn't believe Chapman knew about her husband's long history of sexual predation, because it's often the first question asked about her, especially by Weinstein survivors.
I've spoken to over a dozen survivors of Weinstein's sexual predation about Chapman and all of them surprisingly said they believed she was aware, in some form, of Weinstein's behavior. Two of them told me that Weinstein made misogynistic remarks to them in front of Chapman and she did not react in any way. Emails to Chapman and her brother inquiring about these allegations were not answered by the time of publication. Others accuse Chapman of making a pact with the devil and accepting his money and influence (which greatly benefited the fashion house she co-founded, Marchesa) and turning a blind eye to his behavior.
Full disclosure: I made some initial outreach for a possible profile of Chapman to some of her friends, including longtime Hillary Clinton aide Huma Abedin (a friend of 12 years), but never moved forward with a formal pitch because I sensed that Chapman wouldn't put herself through a process of questioning that I would require. And I wrote two stories about Weinstein. One day after The New York Times report about Weinstein's history of settling sexual harassment lawsuits, HuffPost published my story about Lauren Sivan, a news reporter, whom Weinstein cornered in the basement of a restaurant he owned and forced to watch him masturbate, which led to him ejaculating into a plant. Two weeks after the first round of reports, HuffPost published my second story about a shady transaction that Weinstein engaged in with amFAR, the AIDS charity.
In the Vogue profile, more words are dedicated to Chapman's hair, clothing, objets, and the ambiance of her home and office than to the sexual predation of her now-estranged husband unwittingly igniting the Me Too revolution. At one point, Van Meter describes flowers on Chapman's desk as an "achingly beautiful arrangement of pale-pink and white roses," but he fails to fully explore the circumstances around the aching that over 100 accusers felt.
No reasonable person can expect a woman in most normal relationships to be aware of her spouse's pattern of predation and blame her for it. But Weinstein is a different circumstance. Credible rumors of his sexual predation chased him for two decades, Weinstein and his attorneys quashed stories in publications like The New Yorker (which later published Ronan Farrow's Pulitzer Prize-winning investigation), New York magazine, and The New York Times. Most people in the entertainment and media business had heard that Weinstein was a notorious philanderer, many people knew he engaged in sexual harassment, and still others were aware of credible allegations of rape and assault. But Chapman, despite so many people knowing about Weinstein's cheating, asked by Van Meter if she was ever suspicious said, "Absolutely not. Never." For one thing, he traveled constantly, she said. "And I've never been one of those people who obsesses about where someone is."
How do so many people know something about her very famous husband and she doesn't even acknowledge hearing about even one rumor?
There's no doubt that sexual predators present a dichotomy, Weinstein, by all accounts, certainly did. But Weinstein was also notoriously violent and had a volcanic temper. While that is not Chapman's fault, Van Meter didn't ask her how it made her feel to be married to a man with uncontrollable urges. We are left wondering if she was spared that side of her husband for the 10 years they were married.
The profile, which was in the works for months and involved at least four interviews, both in person and on the phone, leaves a lot of questions unasked and unanswered, and doesn't give the reader a sense of confidence nearing what Wintour expresses in her letter. The story does not note that Chapman is bound by a non-disclosure agreement, nor does it indicate she was unwilling to discuss certain topics.
Unmentioned is the now infamous 2015 incident in which Chapman's husband was accused by model Ambra Gutierrez of sexual assault. Gutierrez recorded an interaction organized by New York police detectives of her confronting Weinstein about assaulting her the night before. After a week, and under a cloud of controversy, the Manhattan District Attorney's Office shuttered the investigation.
What did Chapman think of the incident? How did her husband explain it to her? How does she process the incident today? We don't get answers to those critical questions in Van Meter's profile. Typically, women who are married to sexual predators reflect on behavior they noticed but ignored ― hindsight is 20/20. Chapman offers no such reflection in this profile, and it's not clear if Van Meter ever asked her about it.
In the profile, Chapman says that when The New York Times first published its now Pulitzer Prize-winning investigation, she felt like she could perhaps work things out with Weinstein, saying, "And it was difficult because the first article was about a time long before I'd ever met him, so there was a minute where I couldn't make an informed decision." Chapman went on to tell Vogue that as the stories detailed more heinous allegations, particularly Ronan Farrow's explosive investigation in The New Yorker, her situation with Weinstein became untenable.
We now know that Weinstein knew about The New Yorker investigation from the time that Farrow started looking into allegations against him in January 2017. He knew about The New York Times investigation, and also that accusations of rape that would likely appear in actress Rose McGowan's book. By all accounts, Weinstein was consumed by trying to quash these stories. Did he completely isolate Chapman from all of this? Did she see nothing? Did she see him in a state of panic in the first 10 months of 2017? We don't get answers to these questions. Nor do we get her reaction to the stunning follow-up report by Farrow in The New Yorker detailing how Weinstein, through his longtime attorney David Boies, hired private investigators, and ex-Mossad officers, to chase down his accusers in advance of the story. Again, Chapman doesn't have to answer for her husband's activities and behavior, but can we at least learn what she thinks of what he did?
The portrait Van Meter paints of Chapman is a woman who is shocked and stunned by the allegations against her husband, who is surrounded by loving and loyal friends, and who veers between a state of despair to being resolute. "There was a part of me that was terribly naive ― clearly, so naive," she tells Vogue. "I have moments of rage, I have moments of confusion, I have moments of disbelief! And I have moments when I just cry for my children. What are their lives going to be?"
Chapman goes on to say: "What are people going to say to them?" ... "It is almost unbearable to witness, this broken person in front of me." ... "I just can't bear it for them!"
Wintour, in her editor's letter, says Chapman "was near mute with shock, trying to process the emotions ― anger, guilt, revulsion, fear ― as well as grappling with the terrible wider human cost in all of this."
I've talked to friends of Chapman's over the past months, and all of them speak of her lovingly. They're protective of a woman they claim knew nothing about her husband's behavior. I believe they are earnest, but that doesn't mean they're right.
While Vogue's profile may satisfy some, it's not likely to provide answers to the Weinstein survivors who spent years living in fear of Chapman's soon-to-be ex-husband. Some of them have wondered, in conversations with me, whether she was scared of him, too, like they were. If not, why wasn't she? Did she not see what they saw so easily every time they saw him in public? Did she not sense the terror of these survivors when she was at his side, when they were forced to interact with him?
Related
Before You Go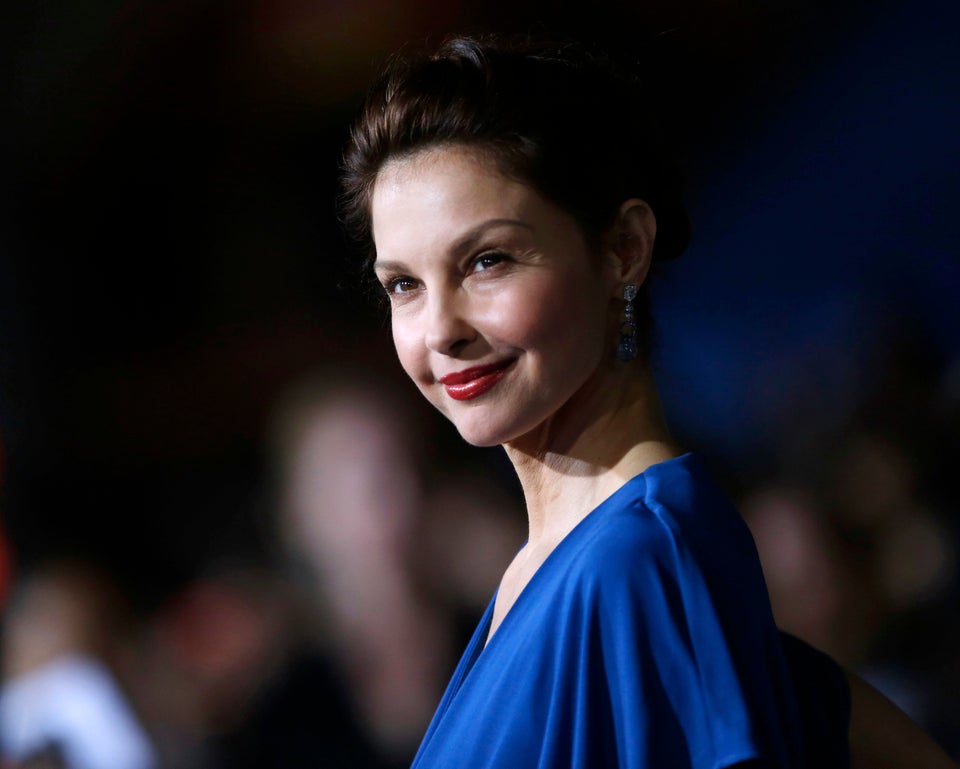 Celebrities React To Harvey Weinstein